Life insurance is about looking to the future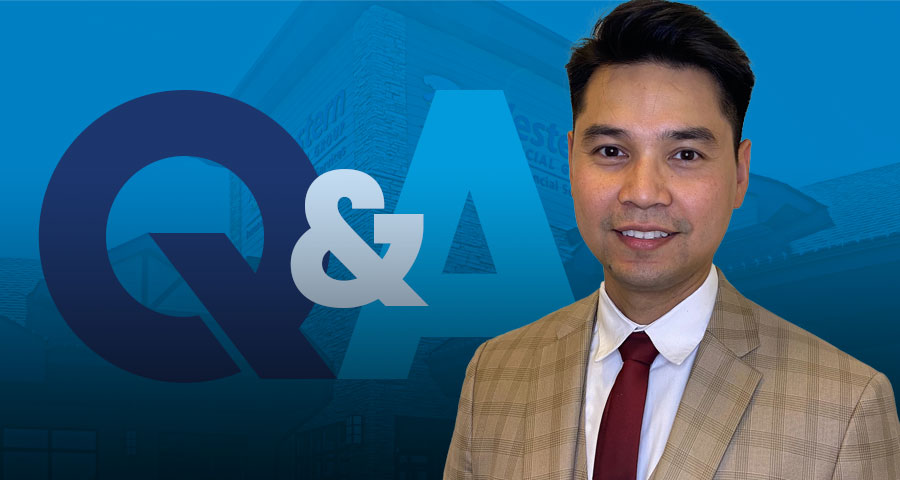 Gerard Feliciano, Director of Financial Services, discusses how Western can help you meet your life insurance needs.
I'm Western's Director of Financial Services and I am based in Calgary. My mission in life is to "help create a better future by helping others create theirs." I came to Canada from the Philippines in 2013 to give my family a better life. I started my career as an advisor myself and developed a passion to help people through empowering them to make the best decisions about their financial future.
Q: Tell us the importance of life insurance for a family and then for an individual?
A: We've heard the saying that life is like a journey and at the end of that journey, there are certain goals we want to achieve. You want to retire at a certain age, and you want your children to have a good life, finish university and get a good job. But the road of life is not always smooth with potholes and sometimes deep trenches. Right? Critical illness, cancer, stroke, heart attack, premature death.
Think of insurance as a bridge that takes you from point A to point B. It's a bridge that makes sure that whatever happens in life, you get to that goal and your family gets to that goal.
You need to remember that there are three truths in life. Everybody gets old, everybody gets sick, and everybody passes away. And the more you're prepared for those incidents in your life, the better off you are. You can use life insurance to make sure that your family and its future generations are taken care of. And so, the impact of having life insurance is not just for this lifetime. Life insurance is for people who look to the future.
For people who are single, life insurance can take care of the basic stuff, such as funeral expenses, taxes & probate costs. More importantly, you would have assets that you would like to gift to someone or maybe a charity when you pass away. Life insurance is a powerful tool you can use to accomplish these goals.
The question we always ask is what do you want life insurance to do for you? That's where the conversation starts with a Western life insurance expert.
Q: Why choose life insurance at Western? What sets us apart?
A: Western is one of the largest brokers in Canada. When it comes to life insurance, that means expert advice from our caring, experienced, and well-trained advisors who specialize in life and health insurance solutions. A second reason is that Western provides choice. Choice is always important because it's not one-size-fits-all for everybody. The access to a variety of insurance companies and the ability to provide a choice of solutions, that's where Western excels. And lastly we take pride in providing exceptional client experience by providing the right insurance solutions. Because we care.
We're also in the business of building relationships with clients. We're very embedded in the community. One advantage that you have with Western is the relationship that you're going to build with our experts.
Q: How important is it to make the process easy for the customer and for that customer to feel comfortable enough to reach out?
A: Generally, people fear or stay away from things they don't understand. Life insurance should not be complicated, and it should not be a subject we choose to avoid.
I always tell my advisors: You will need to talk about things that are hard to talk about. You ask the hard questions like, "What will happen to your family if you pass away tomorrow?" Life insurance needs to be understood in a way that it relates to the current need and situation of the individual. Life insurance should not be feared. It needs to be discussed in such a way that you understand it well enough to realize its value as part of your financial plan.
It starts with a conversation. And that one conversation will give you a better idea, a better comfort level so that you can make an informed decision.
At Western, we will take the time to talk to you, understand your needs, and find the right insurance solutions for you. We guide you through the good times and we are there with you and for you through the worst.
For more info contact us at: Life.Support-Network@westernfg.ca