Group Health Benefits in Ontario
Join 1,700 Canadian businesses and over 35,000 members already enjoying Western Financial Group Insurance Solutions' pooled approach to health & dental plans. With strength in numbers, we're able to spread risk. You won't have to worry about rate changes based on how your employees use the plan.
Step up your employees' group health benefits with a robust plan today.
Advantages to jumping into the pool
Long-term rate stability
Your business in Ontario will no longer be rated based on just your employees. In fact, with tens of thousands of people in our program, your business will become even more stable than the largest corporations in Canada. One person claiming more will no longer affect your rates.
Opportunities to save
Immediate savings are realized when you join our employee health and dental group program.
Dedicated insurance advisor
Any questions you may have, you speak directly with your dedicated licensed insurance advisor time after time. We'll even provide you their direct contact details — that's a promise.
Program flexibility
We've provided members many different coverage options to which we will build their plan.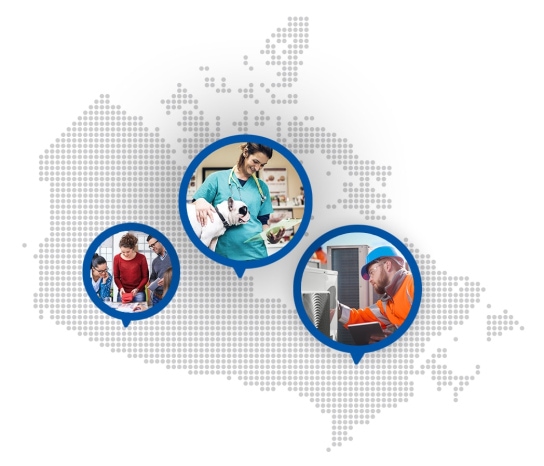 Our insurance experts are ready to deliver you the right group health and dental insurance solutions for your business. With over 40 years of experience servicing all provinces and territories, across Canada, our sales professionals are here to help you, wherever it is that your business operates in Ontario. We also serve the Greater Toronto Area (Mississauga, Brampton and Hamilton etc) as well as Ottawa. Contact us today at 1-866-272-2907 to learn more.
Extended health coverage helps your employees pay for necessary medical expenses, many of which may not be fully covered under their Ontario provincial health care plan.
Depending on what you require, we offer dental coverage — basic maintenance, major restorative services and orthodontics. Design a plan which covers these costs for your employees and their families.
Coverage for drug and professional services is also available, which helps pay for prescription drugs, often a large expense, as well as chiropractors, massage therapists and physiotherapists etc.
Vision provides employees with coverage for regular eye exams, eyeglasses, contact lenses as well as laser eye surgery etc.
Health care spending accounts provide your employees with additional flexible coverage for health-related expenses not included in their plan, or to top up their group health benefits.
Interested in a tailored group health benefit plan?