Celebrate Canada Day with Get-Togethers and Festivities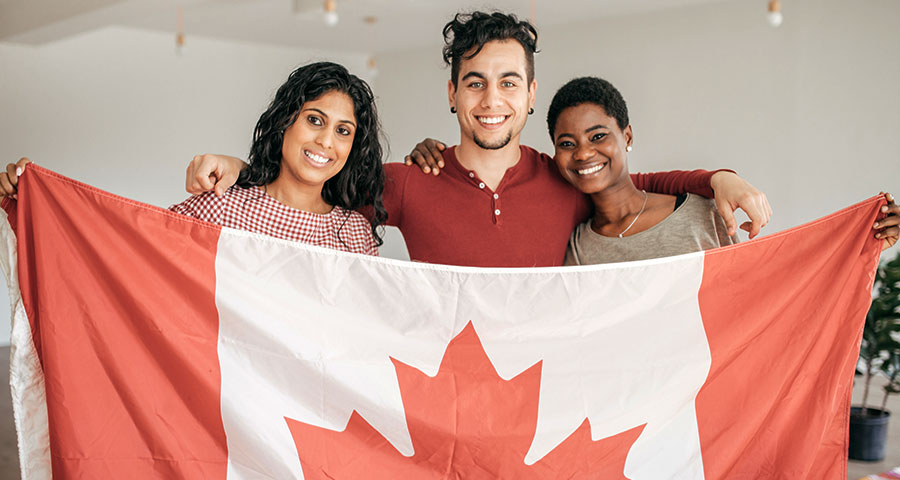 July 1 is Canada Day!
The Canada Day website encourages Canadians to celebrate Canada Day in their own way.
"The pathway we take on Canada Day 2022 shines a light on people in Canada, as well as on Canadian diversity, inclusion and youth. Wherever you are, take part in July 1 activities and celebrate what makes you proud!" says the Canada Day website.
This Canada Day, celebrate with a family get-together or by attending festivities across the country. Whether you want a fun night at home with family or would like to join a larger celebration, Canada Day 2022 has options for everyone.
Host a Canada Day family get-together
Have the whole family over for a classic Canada Day BBQ.
Fire up the grill
Nothing says Canada Day family get together like dinner on the barbeque. Whether you have a tried and tested BBQ you love, or a new one with all the bells and whistles, grilling some family favorites is the core of a great Canada Day family get-together. Cook some Canadian-themed food like sliders, grilled salmon tacos, and grilled portobello mushrooms for the vegetarian in your family. Add bacon and maple syrup to the already Canadian classic drink, the Caesar.
Keep the kids entertained
Give the kids something fun to do with some Canada day themed activities:
Decorating your sidewalk with red and white chalk
Printing Canada Day word puzzles
Getting them to dress up in red and white and painting their faces
Having a family game night with trivia and board games
Canada Day Festivities across the country
There is something fun for everyone this Canada Day.
Here are some highlights of festivities across the country to attend with your friends or family. You can find events close to you on websites like Meetup.com or your local city website.
Ottawa - Canada Day Fireworks Boat Party
Dance the night away in Ottawa on a 3.5-hour cruise with "breathtaking views of your city Ottawa as we sail through Ottawa river. Not only do you get to experience the summer sunset, you also get to enjoy the stunning fireworks display as we party into the night."
Toronto – 2022 Canada Day Celebrations
"Start the day with brunch, then pay a visit to some of Toronto's top landmarks as we make our way south to Harbourfront. Board the ferry for an afternoon at the Toronto Islands with us. And end the day's festivities with dinner at 7 pm and fireworks at 10 pm," says the event description.
Vancouver - Latin Boat Party
Enjoy a 4-hour Latin cruise with "breathtaking views of your city Vancouver as we sail through False Creek, English Bay and into the inner harbour" in Vancouver's hottest Floating Night Club!
Calgary - fireworks on the Centre Street Bridge
Fireworks are a classic Canada Day activity for the whole family, and you can watch fireworks set off from the Centre Street bridge from anywhere you can see the sky above the bridge.
Edmonton – fireworks over Edmonton's river valley parks and the North Saskatchewan River
The City of Edmonton says to "enjoy the magnificent fireworks display over Edmonton's river valley parks and the North Saskatchewan River," which can be seen from locations like the Alberta Legislature Grounds, Victoria Park, Ezio Faraone Park (west entrance to High Level Bridge on 109 Street north), and Government House Park.
Winnipeg – Canada Day on the Prairie Dog Central Railway
Tourism Winnipeg suggests Canada Day on the Prairie Dog Central Railway: "...however today we don't only celebrate our Country, we celebrate No. 3, Canada's oldest regularly scheduled operating vintage Steam Locomotive, turning 140 years old! Relax onboard our vintage coaches as we travel through the blooming Prairies making our way to the rural community of Grosse Isle."
Saskatoon – Concert in the Park
Canada Day Saskatoon suggests the Concert in The Park: This is a free concert being held in Victoria Park on July 1st, 2022. Offered in partnership with Saskatchewan Jazz Festival generously funded in part by the Government of Canada.