Foundation grants boost community infrastructure projects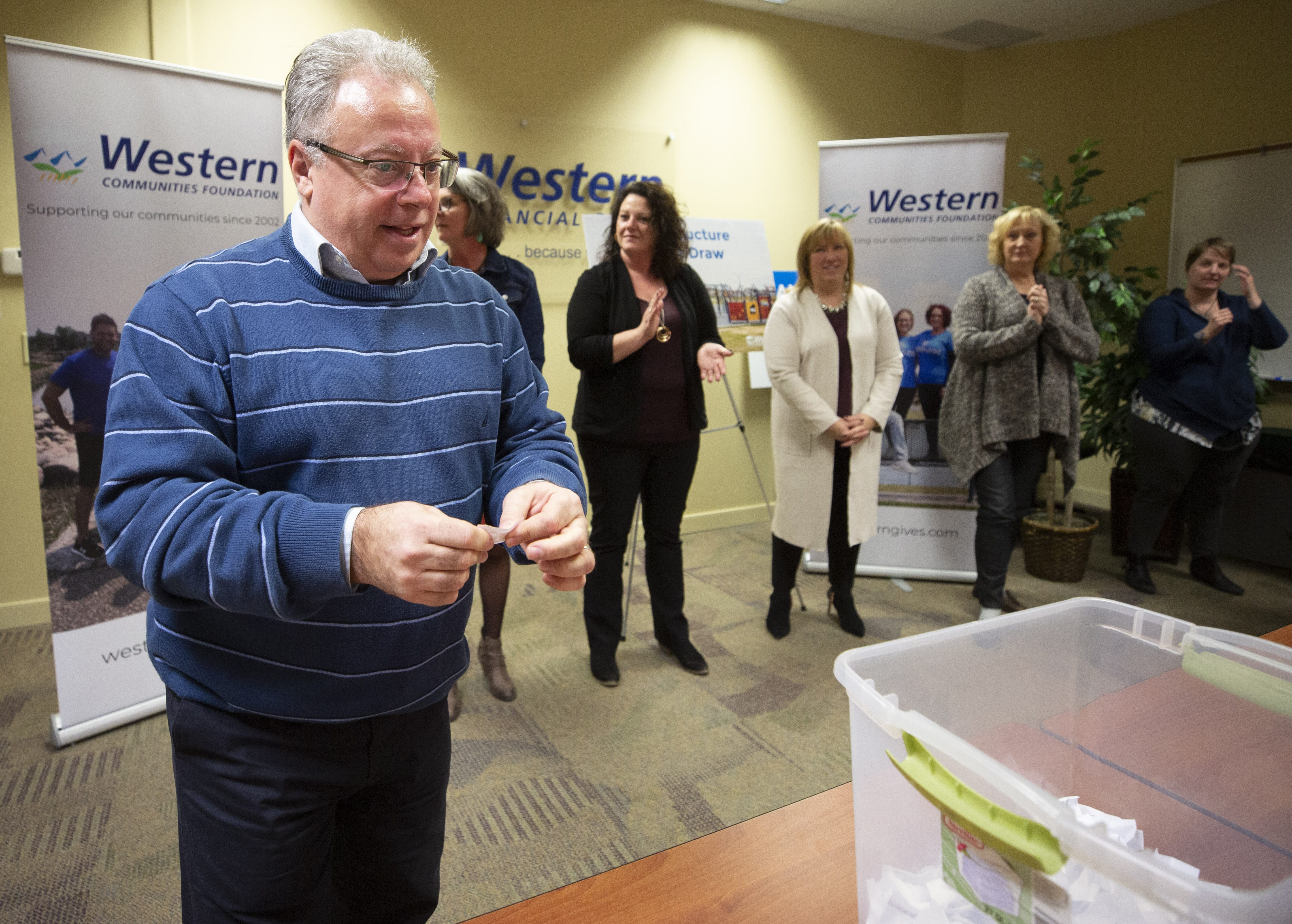 Kenny Nicholls, president and CEO of Western Financial Group, during the infrastructure grant draw
An exciting time for Western Financial Group, leaders with the Western Communities Foundation (WCF), our charitable arm since 2002, presented $125,000 in infrastructure grant funding in 2019.
In announcing these grants, 25 of them at $5,000 each, we're ecstatic to join our people in recipient branches as they jubilantly publicize support of each project.
The communities in which we work and play are our homes as well — our team at Western is working to build a stronger Canada for generations to come by way of our Foundation.
"The Western Communities Foundation is thrilled to see these projects develop in 2020," Laurette LaPlante, WCF director, said. "By building on our sense of place, that's when our communities shine."
2019 Infrastructure Grant Recipients:
Alberta:
Claresholm – buying a new fridge and freezer for the Claresholm Food Rescue Initiative.
Clive – upgrading the eating area at the local arena.
High River – helping to fund the pump track in the northwest.
Mayerthorpe – upgrading and improving the Mayerthorpe Curling Club.
Wainwright – buying a CT scanner for the Wainwright Health Centre.
British Columbia:
Broadmoor – funding the community's Mazdis bike racks.
Cloverdale – supporting the Bill Reid Memorial Shelter's therapeutic farm.
Fernie – upgrades to town's pickleball courts.
Kaslo – ball diamond improvements funded by grant.
Langley – building an indoor playground at Willoughby Elementary School.
Mill Bay – creating an eating area for Mill Bay Nature School students.
NIO/Victoria – Eagle View Elementary Learning Commons to receive bench seating and storage.
Port Place – supporting the Nanaimo & District Hospital Foundation.
Salmo – Salmo Ski Hill will use grant to upgrade operations.
Shelbourne – funding upgrades to the Doncaster Intermediate Playground.
Sparwood – The Sparwood Archery Range at Sparwood Golf Club will receive funding.
Steveston – building natural learning environments for Williamsbridge Elementary School.
West Broadway – upgrading equipment at the Vancouver General Hospital through the Future of Surgery health care campaign.
Westshore – building an accessibility path for Willway Elementary School.
Saskatchewan:
LeRoy – The grant will support an upgraded LeRoy Assisted Living Facility.
Nipawin – enhancing the suppression system at the community hall.
Wolseley – lending a hand to the Wolseley Sportsplex rink project.
Manitoba:
Gilbert Plains – buying trees for Gilbert Plains Centennial Campground and the Negyrch Ukrainian Pioneer Homestead.
Roblin – buying curling rocks for the Junior Curling Club.
Souris – supporting a renovated Souris-Glenwood Community Hall.