Western laces up for charity with Medicine Hat Tigers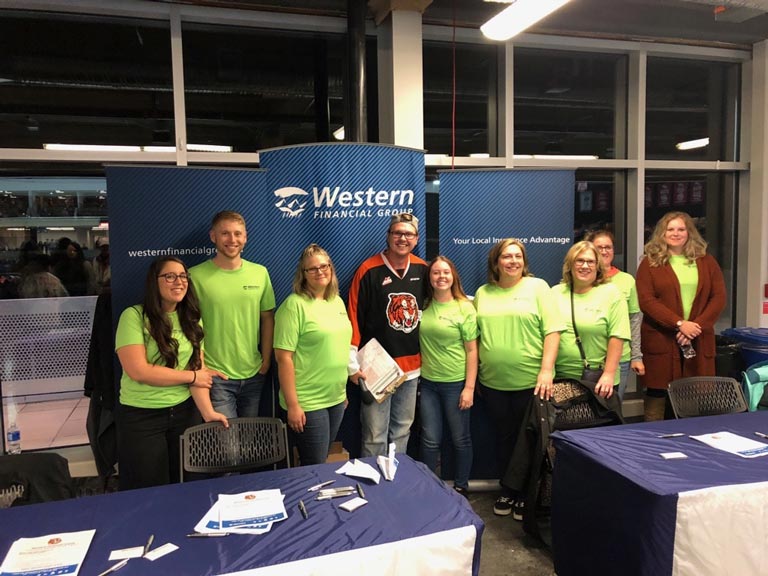 Western Financial Group's downtown Medicine Hat branch and players with the Medicine Hat Tigers (Western Hockey League) are lacing up for the second annual Save for Charity campaign. A tremendous crowd rocked the Canalta Centre during the Tigers' 2018/19 season home opener on Sept. 22 against the WHL Lethbridge Hurricanes.
As the game one sponsor, members of Western's team attended for further community support.
"It doesn't matter the sport," Derek Mettauer, branch manager, said. "I believe in sports, teamwork and getting together. (This is) one thing I love to support in our community."
In addition, Mettauer said his team partnered with the Medicine Hat and District Food Bank. Community members—including Western staff—came to the game with their donations ready, he said. Now in Western's second year collaborating with the Tigers, $1 will, again, go to a local charity for each save the Tigers' goalie makes during home games.
The 2017/18 campaign finished and $846 will be presented to HALO Medevac Rescue Helicopter.
"It's so important," he said about the rescue team. "You could see (them) in Western Canada just this past summer with all the fires. You know they're always contributing and helping."
Mettauer said it's a worthwhile not-for-profit for his branch to assist. The Save for Charity campaign is important, but one thing is certain—it's enjoyable.
"It's fun," he said. "Every save (that is made), you know you're contributing to a local charity."
The 2018/19 Save for Charity campaign started this past weekend at the season opener. At this moment, this year's non-profit has not yet been selected by the Medicine Hat Tigers. Western also presented a $500 gift to a lucky audience member at the game.
The downtown Medicine Hat team enjoys volunteering, Mettauer said. Western's Good Heart Program—in which employees are given a day a year to volunteer—is well utilized.
"Sometimes we go a little over and above," he said, adding that he strongly believes in being involved within the community. "We want to be visible."
Mettauer said the branch team is getting ready for their annual food drive in November.