Drive-Thru offers social distancing care for Fort St. John clients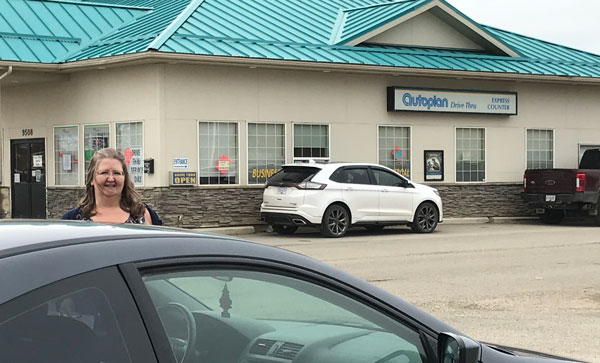 A leader in customer service, our Western Financial Group team — Canada's Insurance Broker — in Fort St. John takes our Drive-Thru one step further by providing the same expert care with social distancing.
Wanda Erickson, branch manager, said her team at our 9508 93 Avenue brokerage, one of the busiest ICBC branches in British Columbia, is excited to maintain the same service and a little bit of normality.
"I'm grateful we have this opportunity," she said. "It's nice to know you still get to see the customer face-to-face even though it's through a sheet of glass."
This location also serves home, farm, renter's, RV, travel medical, life policies etc., as a one-stop shop.
With Western branches temporarily closed to walk-in traffic and social distancing guidelines in action, our experts have adapted to provide the right insurance solutions at the best value — in any situation.
ICBC has relaxed many transactions that were once in-person. We complete out of province transfers, new plates, renewals, cancellations, temporary operating permits etc. via drive-thru and phone.
Helpful Drive-Thru tips
If customers are being served ahead of you and our phones ring busy, we will advise you when a line becomes available. We'll get your details by phone with payment at the window.
One of our licensed professionals will get your paperwork from you in your vehicle, if needed.
"Here you're still in your own vehicle and you're safe," Erickson said. "Customers see that we have wiped down the debit machine and clipboards. We're doing that all the time."
Providing customer service excellence comes first for all Western teams. It has always been our mission to help people find the insurance and driver solutions they require — now is no different.
The Drive-Thru serves 120 to 140 people a day — an increase from 60 to 80.
"Our customers don't mind waiting because they get the same service they had before," she said.
For more information, please call our team at 250-785-9957. Our hours of operation are Monday to Friday 9 a.m. to 8 p.m., Saturday 9 a.m. to 6 p.m. and Sunday 11 a.m. to 5 p.m.