How to Navigate Icy Roads and Snowstorms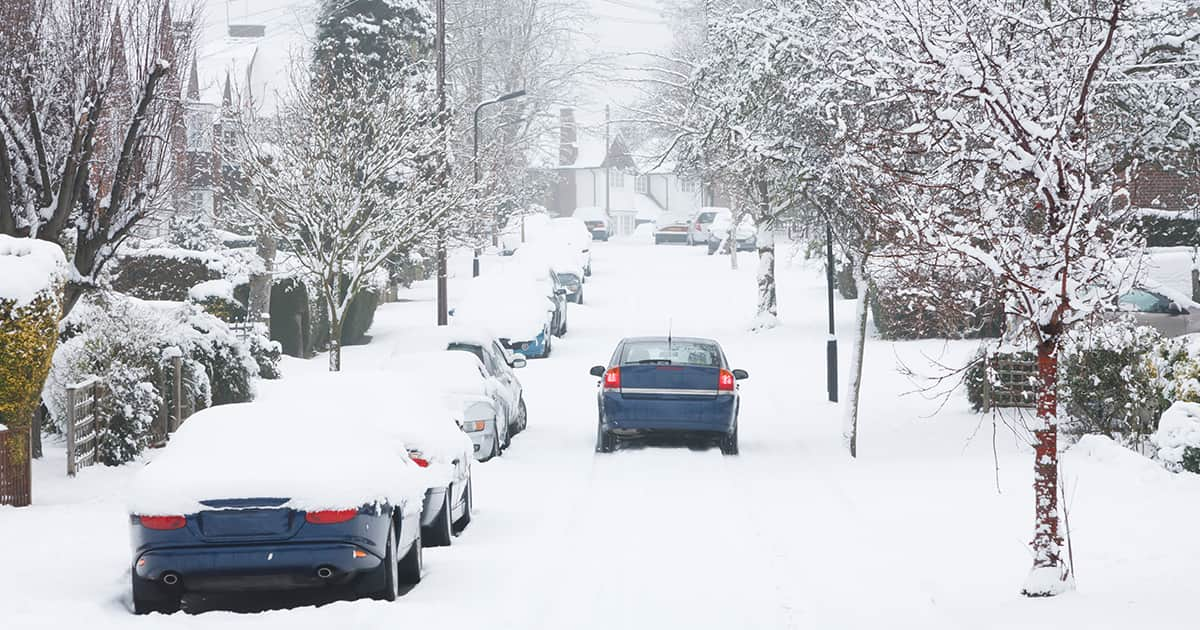 Icy roads and snowstorms can be treacherous, but with the right knowledge and precautions, you can navigate them safely.
Here's how to drive safely in really bad winter weather:
Icy conditions
Reduce speed
One of the most important rules when driving on icy roads is to slow down. Reduce your speed well below the posted limit to give yourself ample time to react to any unexpected situations.
If your car starts to slide on an icy road, avoid stamping on the brake. Gently use your steering wheel and gently use the brake to guide your car out of the slippery slide it's in.
Increase following distance
Maintain a generous following distance between your vehicle and the one in front of you. This distance should be at least double what you would typically maintain on dry roads.
Gentle braking and acceleration
Avoid sudden movements, including sharp braking and rapid acceleration. Instead, apply the brakes and accelerator gently to minimize the risk of skidding.
Use chains or studded tires
In extremely icy conditions, consider using tire chains or studded tires for added traction. Check local regulations, as some areas have restrictions on their use.
Avoid cruise control
Don't use cruise control on icy roads. You want to maintain full control over your vehicle's speed and braking.
Navigating snowstorms

Snowstorms can create whiteout conditions and reduce visibility to almost nothing. Here's how to stay safe when driving in a snowstorm:
Drive with caution: Drive slowly and cautiously in a snowstorm, following the tire tracks of vehicles ahead. Keep a safe distance, and avoid sudden manoeuvres.
Clear snow and ice: Remove all snow and ice from your vehicle, including windows, mirrors, headlights, and taillights. Ensure your windshield wipers are free of ice and use a snow brush and scraper to clear your car completely.
Emergency kit: Carry an emergency kit in your vehicle that includes items like blankets, a flashlight, extra batteries, non-perishable food, and water. You never know when you might get stuck in a snowstorm.
Emergency preparedness: Have an emergency kit ready with essentials like non-perishable food, bottled water, flashlights, blankets, and a battery-powered radio in case of power outages.
Surviving frigid temperatures

Frigid temperatures can affect both your vehicle's performance and your own well-being. Here are some tips for dealing with extreme cold:
Warm up your car: In very cold weather, allow your vehicle to warm up for a few minutes before driving. This helps the engine and fluids reach operating temperatures.
Dress for the weather: Bundle up in warm clothing, including gloves and a hat. If you were to become stranded, having adequate clothing can be a lifesaver.
Check your antifreeze: Ensure that your vehicle's antifreeze is at the right level and mix. Antifreeze prevents your engine from freezing in extremely low temperatures.
Be cautious of black ice: Black ice is often invisible on the road, making it particularly dangerous. If the road looks wet but the temperature is below freezing, assume it could be icy and drive cautiously.
Car insurance and winter driving

Now that we've covered how to drive safely in winter, let's focus on how your car insurance can play a crucial role in protecting you during the colder months.
Winter tire discounts
Many insurance companies offer discounts for installing winter tires on your vehicle. These discounts can vary, but they can help offset the cost of purchasing winter tires. Contact your insurance provider to find out if you're eligible for this discount.
Comprehensive coverage
Consider adding comprehensive coverage to your auto insurance policy. This coverage can help repair or replace your vehicle if it's damaged due to winter-related incidents such as collisions with ice or snowbanks, falling branches, or hail damage.
Towing and roadside assistance
Check if your insurance policy includes towing and roadside assistance services. These services can be a lifesaver if you find yourself stranded on a cold winter day.
Update your policy
Review your insurance policy to ensure it adequately covers you during the winter months. If you're unsure about your coverage, contact your insurance agent for clarification.
Preparing your car for winter
Before you venture out onto winter roads, it's crucial to ensure that your car is adequately prepared for the challenges ahead. Here are some essential steps to take:
Winter tires
Invest in a set of winter tires if you live in an area with harsh winter conditions. Winter tires provide better traction on icy and snowy roads, significantly improving your vehicle's grip and stability. Many insurance companies offer discounts for installing winter tires, so check with your insurer to take advantage of potential savings.
Check your battery
Cold weather can put a strain on your car's battery. Ensure that your battery is in good condition, and consider replacing it if it's more than a few years old. A reliable battery is essential for starting your vehicle in freezing temperatures.
Maintain fluid levels
Check your vehicle's fluid levels, including engine oil, coolant, and windshield washer fluid. Use the appropriate winter-grade fluids to ensure optimal performance in low temperatures.
Replace worn wiper blades
Visibility is critical when driving in winter conditions. Replace worn wiper blades with high-quality, winter-specific blades to maintain a clear view of the road during snow or sleet.
Driving safely in winter requires preparation, caution, and the right mindset. By following the tips outlined in this guide, you can reduce the risk of accidents and ensure a safer journey during the cold season. Don't forget to consider the role of car insurance in protecting you and your vehicle when the winter weather takes a turn for the worse. Contact your Western Financial Group car expert if you have any questions.
Stay safe, stay informed, and enjoy the beauty of winter while keeping your travels secure.