Leading by example at Western's North Battleford branch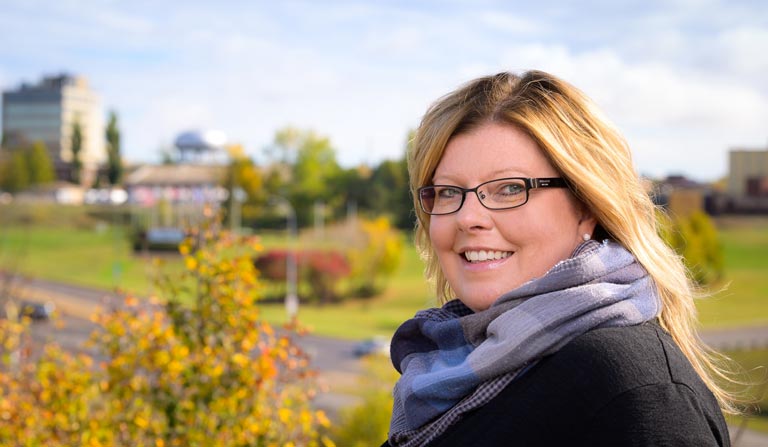 Customer care is key for Val Wasmuth, Western's North Battleford branch manager
Oct. 1, 2019. Customer care is the foundation of Western Financial Group — our knowledgeable teams in our branch locations across Canada are the experts you need to provide the right insurance.
It's a mission Val Wasmuth, our branch manager in North Battleford, Saskatchewan, has championed in her 23-year insurance career — client education on the products and services we offer is everything.
"As long as we're looking after the customer, educating them so they can make informed decisions and that they're feeling satisfied when they leave here, that is our key driver right there," she said.
Wasmuth started in the insurance industry in 1997 as a receptionist and, soon after, a personal lines broker. Then, in 1999, she advanced to commercial lines and joined Western Financial Group in 2011.
Starting in our North Battleford location as a business account executive, by 2015, she was branch manager. The office won a Battlefords Best of the Best award in 2018 for Best Insurance Office.
If you have questions about your policy — asking our brokers is the right thing to do. We take the time to answer your inquiries about premiums, insurance limits, coverages and insurance products etc.
This branch was nominated in the community contribution category of the 26th annual Battlefords Business Excellence Awards, to be held Oct. 8 — a night said to be akin to the Academy Awards.
"My team and I were so excited; some of us had tears in our eyes just to be nominated," Wasmuth said.
This recognition was made even more special, as a customer had put their name forward. Wasmuth shared her appreciation for her brokers who put clients and their communities first every day.
"It's heart equity that we put into it," she said. "That's volunteering and people have recognized that."
Our North Battleford branch puts tremendous value on giving back, as seen by their commitment to the Battlefords Chamber of Commerce, Battlefords 100 Women and Meals on Wheels, among others.
Once a month for an entire week — just under an hour each day — the group delivers meals. Now in their fourth year with the not-for-profit, Wasmuth said some of the recipients know them by name.
"We're only gone from the office for 45 minutes and we change the world for some people," she said.