The Western Communities Foundation, a not-for-profit that partners with other charitable programs focusing on health, public housing, education and recreation, is a pillar of our organization.
At Western Financial Group, we support the communities in which we live and do business. The foundation has positively affected infrastructure, services and community pride.
Helping Local Communities
Assisted countless projects in local communities. Watch for May's annual fundraiser, the Support the Cause (STC) walk.
The core giving programs that the Western Communities Foundation supports are: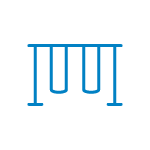 Community Infrastructure Grants
Each year, the Western Communities Foundation awards a series of $5,000 infrastructure grants to support community projects identified by Western staff.

Western Inspirational Award
The Western Inspirational Award is a bursary given to a local high school graduate in communities that are served by Western Financial Group/Coast Capital Insurance.

Western Matching Grants
In 2005, the Western Communities Foundation launched the Matching Grant program whereby it matches – up to $500 – funds raised by employees in support of a local community project.

Goal Achievers Community Projects
For those locations that achieve their fundraising goal ($100 per employee) in the Support the Cause Campaign, they will be able to apply to keep 50% of the total funds raised.