Record 50 Infrastructure Grants awarded by Western Financial Group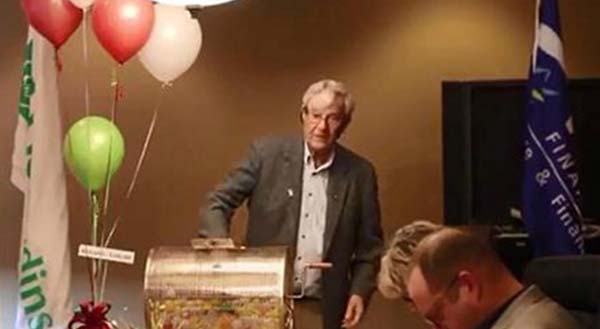 Funds support local projects aimed at strengthening communities in Western Canada
High River, AB – Western Financial Group (Western), through its charitable arm, the Western Communities Foundation, has awarded a record 50 infrastructure grants totaling $250,000 for 2016. The number of grants awarded this year increased from 40 awarded in 2015. Each $5,000 grant will go toward various projects supporting public health, public housing, education, and recreation in the communities where Western operates. In accordance with the program guidelines, grants must be awarded to municipalities or registered charities.
Funds for the infrastructure grants are raised by employees of Western through an annual Support the Cause Day Walk and other charitable ventures. Winners are then chosen from a pool of deserving nominees put forth by each office.
"We are beyond excited that our budget allowed us to add an additional 10 grants this year. These communities support us, and we love that we are able to support them in return," said James Bond, Executive Chairman of the Western Communities Foundation.
2016 Grants include:
Alberta
Barrhead: Community pool
Bashaw: Volunteer fire department – new rescue unit
Bassano: Curling rink – repairs
Bow Island: Senator Gershaw School – greenhouse project
Brooks: New library – shelving and furnishings
Clive: Clive School – greenhouse project
Cold Lake: Lakeland Humane Society
Coleman: New mobile stage for community use
Hanna: City of Hanna – upgrade to Arena
High River: Notre Dame School – outdoor seating
Mayerthorpe: New splash park
Red Deer: City of Red Deer – new downtown arena
Turner Valley: Boys & Girls Club – new bike track
Vermilion: Community hall – sound system
Wainwright: Wainwright Elementary School – new playground
British Columbia
Coquitlam: Tri-cities – dialysis unit upgrade
Coronation: City of Coronation – new seating area for the swimming pool
Cranbrook: East Kootenay Regional Hospital – MRI machine
Cranbrook: Idlewild Park – dam replacement & park upgrades
Duncan: Chemainus Elementary School – playground equipment
Fernie: Tom Uphill Manor – facility upgrades
Fruitvale: Fruitvale Elementary School – new playground
Golden: Community park – upgrade washroom structure
Houston: Child care facility – rebuild & expansion
Lake Country: Okanagan Rail Trail
Nanaimo: Uplands Park Elementary School – playground
Nanaimo: Eden Gardens – new facility for dementia patients
Richmond: Homma Elementary School – courtyard upgrade
Salmo: Salmo Community Golf Course – facility and ground upgrades
Sidney: Tulista Skatepark
Smithers: Field house replacement and playground equipment
Sooke: Fred Miln Field – grass replacement
Sparwood: New community skatepark
Surrey: Peace Arch Hospital – emergency room expansion
Surrey: Pacific Heights Elementary School – playground replacement & equipment
Vanderhoof: New swimming pool
Victoria: View Royal Elementary School – playground replacement of
Victoria: Colwood Creek Water / Spray Park
Victoria: Little Waves Daycare – upgrade for deck & handicap access
Victoria: Glanford School – playground replacement
Victoria: Westshore Family Centre – playground upgrade
Victoria: Victoria Native Friendship Centre – new playground at community centre
Manitoba
Brandon: New women's home for those struggling with addictions
Gilbert Plains: Electronic sign for community events
Roblin: Roblin Swimming Pool – stair replacement
Winnipeg: Wildlife Rehabilitation Centre – Hospital & Education Centre
Saskatchewan
Estevan: Habitat for Humanity
LeRoy: Humboldt District Hospital – horizon clip applicator for operating room
Weyburn: Weyburn Humane Society – shelter upgrade
Wolseley/Glenavon: Glenavon Curling Rink – upgrade / ceiling repair
About Western Financial Group and the Western Communities Foundation
Western Financial Group is a diversified insurance company that serves more than 800,000 customers across western Canada. Founded in 1996 and headquartered in High River, Alberta, Western provides personal and business insurance services through more than 162 office locations and affiliates. With a skilled team of approximately 1,900 employees, Western is committed to building the strongest insurance brokerage network in Western Canada. Western Financial Group is a subsidiary of Desjardins Group, the leading cooperative financial group in Canada.
The Western Communities Foundation was founded by Western Financial Group in 2002 as a non-profit organization under the Income Tax Act of Canada (Registration #87030 2619 RR0001). The Foundation's core donation programs include community infrastructure grants, exceptional achievement bursaries for graduating high school students, and matching grants. Since its inception, the Western Communities Foundation has raised more than $2 million to support the communities in which Western Financial Group operates.