Tips for Elderly Seniors to Travel Safely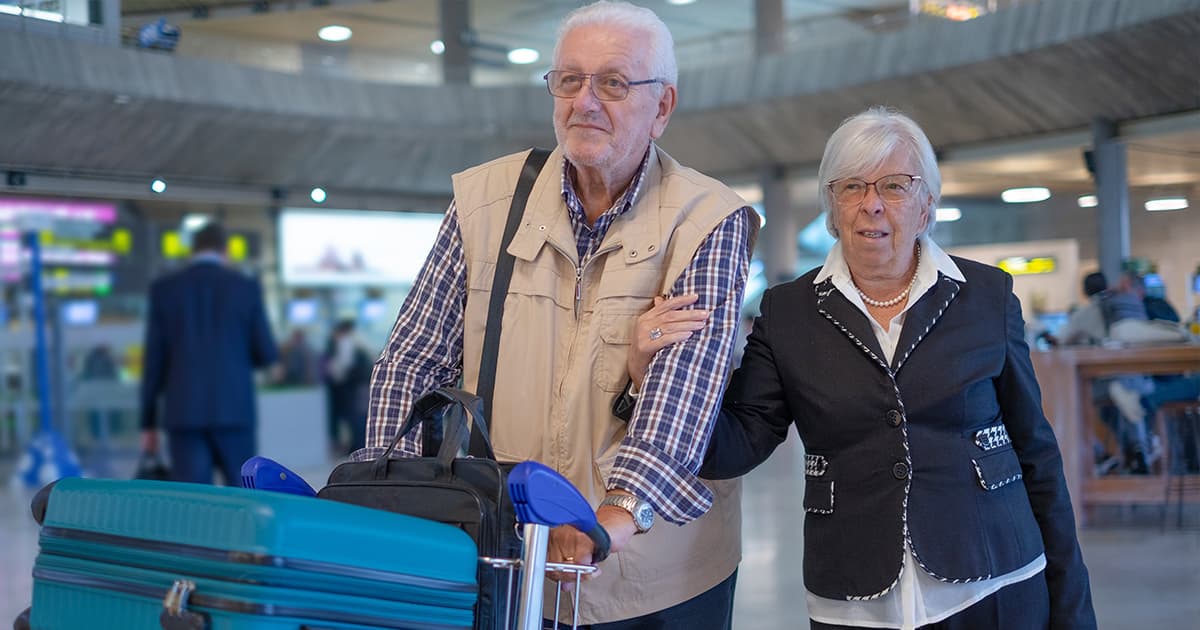 Travelling can be an enriching experience at any age, but for seniors aged 80 and above, it often requires a bit more planning and consideration to ensure a safe and enjoyable journey.
No matter how long you are on vacation as, even if it's just for a day on a cross-border trip, travel insurance is needed for elderly seniors.
Whether you're exploring new destinations or visiting loved ones, your safety as an older traveller should always be a top priority.
Here are some top tips to stay safe while travelling as an elderly senior, including insights on travel insurance and potential discounts.
Prioritize health and well-being
Consult your doctor: Before your trip, schedule a thorough check-up with your healthcare provider. Discuss your travel plans, medications, and any specific health concerns you may have. They can provide valuable advice and ensure you're fit for travel.
Medication management: Ensure you have an ample supply of your prescription medications, along with a list of their names and dosages. Carry your medications in their original containers to avoid any confusion.
Vaccinations and immunizations: Stay up to date with necessary vaccinations, especially if you're traveling internationally. Some destinations may require specific vaccinations, so consult your doctor well in advance.
Emergency contact information: Carry a list of emergency contacts, including your doctor's contact details, family members, and any relevant medical information. Keep this list easily accessible in case of an emergency.
Plan your trip carefully
Choose senior-friendly destinations: Consider destinations that are known for their senior-friendliness. Look for places with good healthcare facilities, easy access to amenities, and a climate that suits your preferences.
Travel companion: If possible, travel with a companion. Having someone with you can provide additional support and peace of mind.
Travel insurance: It's essential to have travel insurance, which can provide financial protection and peace of mind during your trip. When searching for travel insurance, consider the following:
a) Coverage for pre-existing conditions: Ensure that your travel insurance covers any pre-existing medical conditions you may have.
b) Trip cancellation and interruption: Look for coverage that protects you in case you need to cancel or cut short your trip due to unexpected circumstances.
c) Medical coverage: Make sure your policy includes adequate medical coverage, including emergency medical evacuation, in case you require medical attention during your travels.
d) Senior discounts: Some insurers offer discounts to seniors. It's worth exploring these options to reduce the cost of your travel insurance.
Packing essentials
Prescription medications: Pack all your necessary medications, along with extra doses in case your trip is extended.
Medical supplies: If you require specific medical supplies such as a cane, hearing aids, or a CPAP machine, ensure they are in good working condition and pack them securely.
Travel documents: Keep all your essential documents, including passports, travel insurance policies, driver's license, and a list of emergency contacts, in a secure, easily accessible location.
Travel pill organizer: Consider using a travel-sized pill organizer to keep track of your daily medication doses.
Comfortable clothing and footwear: Choose clothing and footwear suitable for the climate of your destination. Comfort is key, especially for long journeys.
First-aid kit: Pack a basic first aid kit with band-aids, antiseptic wipes, pain relievers, and any specific medical items you may require.
While travelling
Stay hydrated: Dehydration can exacerbate health issues. Drink plenty of water, especially on long flights or road trips.
Frequent breaks: If you're on a long journey, take regular breaks to stretch your legs, move around, and avoid blood clots.
Adapt to time zones: If crossing multiple time zones, adapt your sleep schedule gradually to reduce jet lag's impact.
Dietary considerations: Pay attention to your diet. If you have specific dietary restrictions, research local dining options in advance.
Safety on the road
Transportation choices: Consider the most comfortable and safest mode of transportation for your journey. Trains and cruises, for example, can provide more stability and space compared to long-haul flights.
Travelling by air: If flying, request wheelchair assistance and priority boarding to make your airport experience smoother.
Ground transportation: If you plan to rent a car or use rideshare services, make sure you're comfortable with the vehicle and driver.
Travel insurance: Ensure you have all necessary documents related to your policy with you.
Accommodation considerations
Accessible accommodation: Prioritize booking accommodations that offer accessibility features, such as wheelchair ramps, handrails, and bathroom aids if needed.
Ground-floor rooms: If possible, request a ground-floor room to minimize the need for climbing stairs or using elevators.
Safety features: Check for safety features in your accommodation, including well-lit paths, secure locks, and smoke detectors.
Inform staff: Inform the hotel staff of any specific needs or concerns you may have. They are often willing to assist with accommodations.
Stay informed and aware
Local healthcare resources: Research the availability of healthcare facilities at your destination. Know the location of hospitals and clinics, just in case.
Local emergency numbers: Familiarize yourself with the local emergency contact numbers at your destination.
Language barrier: If you're traveling to a foreign country, consider learning some basic phrases in the local language to help with communication in emergencies.
Travel alerts: Stay updated on travel advisories and alerts for your destination. Sign up for notifications from your government's travel website if available.
Keep loved ones informed: Share your itinerary and contact information with a trusted friend or family member so they can reach you in case of emergencies.
Enjoying your trip
Plan rest days: If you're embarking on a multi-day adventure, plan rest days to recharge and prevent exhaustion.
Local experiences: Immerse yourself in the local culture through low-intensity activities like guided tours or leisurely walks.
Stay active: Incorporate light exercises into your daily routine, such as stretching or gentle yoga, to maintain mobility.
Socialize: Don't hesitate to strike up conversations with fellow travelers or locals. Engaging with others can enhance your travel experience.
Remember that safety and well-being should always come first, allowing you to make the most of your travel adventures, no matter your age. So, pack your bags, embrace new horizons, and savor the joys of travel in your golden years!