Western Financial Group and World Professional Chuckwagon Association creating customer and community connections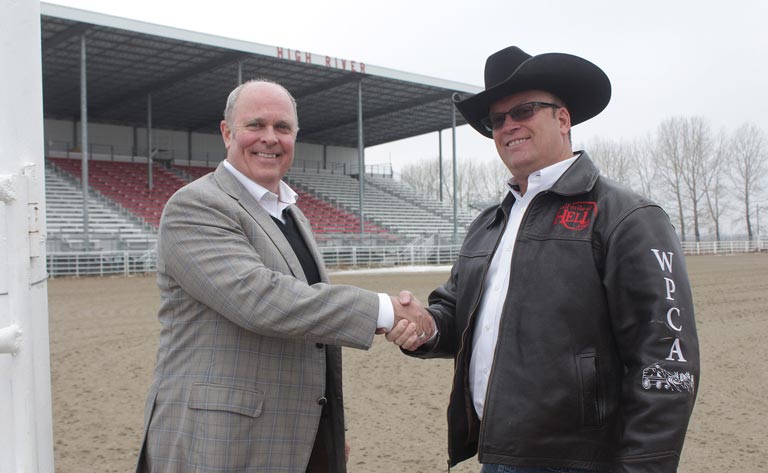 Western Financial Group and the World Professional Chuckwagon Association (WPCA) today announced a two-year extension of their strategic partnership.
Leaders with Western Financial Group and the WPCA made the announcement in High River, a WPCA Pro Tour stop and a town associated with the man who started the races, legendary cowboy and promoter Guy Weadick.
"We continue to build this strong relationship," Rod Cunniam, Western's head of digital and brand, said. "We share our values with the WPCA, including a focus on community and families and pride in our western Canadian roots."
Western Financial Group has insured the WPCA circuit for the past three seasons and insurance brokers are excited to, once again, host engagement boosting activation events at many of the 2019 race tour stops.
"When our drivers get on racetracks in communities across western Canada, we have always been able to count on Western's people and their tradition of caring for customers," Bryan Hebson, WPCA marketing director, said.
Canadians, and visitors alike, will experience thunderous chuckwagon action in Alberta (Grande Prairie, Medicine Hat, High River, Ponoka, Calgary, Strathmore, Rocky Mountain House and the Century Downs World Finals), Saskatchewan (Saskatoon) and British Columbia (Dawson Creek) in 2019.
Western Financial Group Inc.
Western, a diversified insurance services company, is focused on creating security and has provided over one million Canadians the right protection for more than 100 years. Headquartered in High River, Alberta, Western provides personal and business insurance services through 179 locations, its affiliates and a variety of connected channels, with an engaged team of approximately 1,800 people. Western is a subsidiary of Trimont Financial Ltd., a subsidiary of The Wawanesa Mutual Insurance Company.
World Professional Chuckwagon Association
Chuckwagon racing has been associated with western Canadian heritage since the sport's pioneers first took to the track in the 1920s. While the WPCA celebrated its first season in 1981, the organization's history dates to 1949 with the first champion, Lloyd Nelson. Today's races inspire awe in audiences with the WPCA at the forefront promoting the sport and its preservation to fans of all ages. An expansive roster of skilled drivers and outriders round the tracks, powered by their beloved horses, their own talents and the generations before them.
Information (for journalists only):
Kevin Rushworth
Communication Leader
Western Financial Group
1-866-843-9378 ext - 508
kevin.rushworth@westernfg.ca