3 tips for motorcycle safety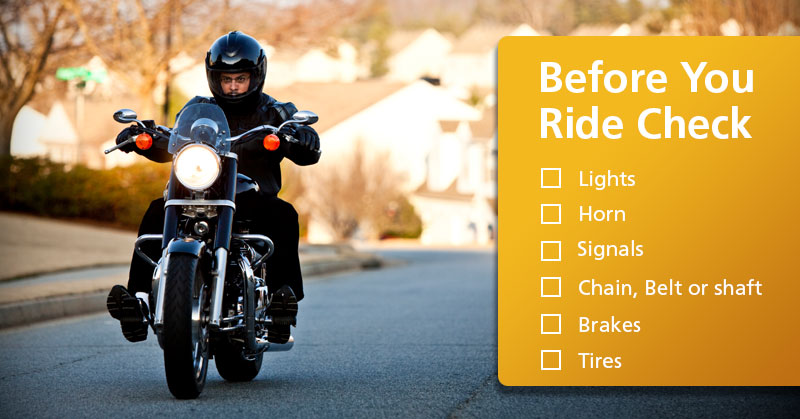 Heed the call of the open road – safely.
When the open road calls, you'll be anxious to pull your motorcycle from its winter sleep and head out on the highway. Before you do, make sure you have the skills and knowledge to stay safe – especially if it's your first season as a biker.
1. Get licensed
A motorcycle is a vehicle that requires you to have a Class 6 Motorcycle License to operate it on a public roadway. You will need to get a Learners License, take a drivers course, and then take a driving test to get your Class 6 License.
The first step is to go to your licensing bureau to take a Class 6 Knowledge Test. Once you pass the Knowledge Test, you'll be given a Learners License, which will allow you to ride your motorcycle under certain conditions such as:
You must be 16 or older
You must have another class of driver's license
You may ride only between the hours of sunrise and sunset
You may not carry any passengers
You may not exceed 60 km/h
Check with your provincial licensing bureau for specific conditions as they vary across the country.
You can take a motorcycle course through your licensing bureau, but you may find that the course isn't enough to make you a confident driver. It's a good idea to sign up for a more extensive driving and safety course before getting your Class 6. There are many motorcycle rider training programs available, such as those through Gearing Up.
Look for a course that covers:
Traction control
Skills for the open road
Balance and braking
Starting the engine
Slower speed control
Higher speed control
Basic traffic behaviour
Emergency techniques
Riding with a passenger
Even if you're an experienced rider, you may want to consider a refresher course.
2. Keep these safety tips in mind
Canadian roads are getting busier all the time - especially during the summer, making motorcycle drivers more vulnerable. To stay safe, heed these tips:
Make sure your bike is ready. Before you jump on and drive, do a walk around your bike to check the lights, horn and signals. Check the chain, belt or shaft and the brakes. Inspect the tires for wear, and make sure they have the right pressure.
Wear the right gear. Leather is the fabric of choice for bikers, and with good reason. Leather is strong enough to protect your skin if you happen to be in an incident that causes you slide along the pavement. Leather can also protect you against other road hazards like flying rocks, bugs and cigarette butts. Other than leather, wear bright or florescent clothing during the day and reflective clothing at night.
Don't forget the helmet. Studies show that wearing a helmet reduces your chances of getting into a crash by 40%. Make sure your helmet fits properly – not too tight or too loose. It should cover most of your head, but make sure you can still see properly. For the best protection, choose a full-face helmet.
Watch your toes. Footwear is very important when you're driving your bike for a couple of reasons. To shift gears, you lift up with your toes, which can become painful without proper protection. And because you're sitting on the engine and a hot exhaust system, it's easy to burn your feet. When riding a motorcycle, get sturdy shoes or boots with reinforced toes for protection and rugged soles for stability.
Stay on the pavement: It may seem obvious, but according to the Government of Alberta, the most common mistake new drivers make is to drive the motorcycle off the road. Driving off the road gives you less traction and increases the chances that you'll lose control of the bike.
Keep a safe distance from other vehicles: Two-wheel vehicles are simply not as stable as four-wheel vehicles. If the road is wet or dusty, braking takes longer than you might expect. If you give yourself enough room, you will avoid the need to brake suddenly.
Pass with caution. Give yourself about twice as much room to pass as you think you need. If you are riding beside a vehicle, remember that you are likely to be in the driver's blind spot. Signal before you pass in case the driver in front of you has plans to pass the vehicle in front of him at the same time. If you want to change lanes to bypass slower traffic, look around to make sure no vehicles are also eyeing the free spot you are. Check the car behind you to make sure it slows down after you have signaled your intention to pass.
Save the riding for sunny days. Check the forecast before you head out. If heavy rain, snow or ice is predicted, stay home or use the car instead. A bike has half the traction of a vehicle in the rain and no windshield wipers, which compromises your visibility. If you get caught in the rain, pull over and wait it out, especially right after a storm starts. When rain first hits the road, it brings oil and other residue to the surface, making the road very slippery.
Keep an eye open for road hazards. The road poses many dangers for motorcycles such as sand, wet leaves and pebbles that can cause your bike to slide unexpectedly. You need to watch for bumps and potholes too. If you can't avoid them, slow down as much as possible before hitting them. Approach railroad tracks at a right angle to reduce skidding.
Avoid distracted driving. Don't use your smartphone or search for music on your iPod, or take your hands off the bike for any reason – ever.
Prepare passengers. Carrying a passenger can jeopardize everyone's safety. Practice riding with a passenger so you get used to the bike and the extra weight. Make sure your passenger is properly outfitted with helmet and protective clothing.
Have the right insurance
Motorcycle insurance is mandatory. Here's what you need to know:
Motorcycle insurance covers third-party liability and accident coverage. In case of an accident, your insurer will pay a portion of your medical bills and damages. (This amount of coverage varies from province to province.) Other coverage may include funeral expenses, disability income, death and impairment.
Collision or upset coverage can be added, which covers damage to your bike if you overturn it and if you collide with objects like lampposts, trees or potholes.
Comprehensive coverage often covers all perils (unless specifically excluded) such as fire, theft, lightning, falling objects, or impact with an animal. Collision is generally excluded.
If you want both collision and comprehensive coverage, choose an all-risk policy. These policies insure by exclusion. Peril is covered, unless specifically excluded in the policy.
Some insurers allow you to add items such as aftermarket performance kits, windshields, hand grips, handlebars, exhausts, custom paint, aftermarket seats and chrome to your policy. Private motorcycle policies can often cover attached sidecars and trailers as well.
Now that you're prepared for a safe ride, what are you waiting for? Get out and enjoy the exhilaration of being out on the open road!