4 Facts About Remembrance Day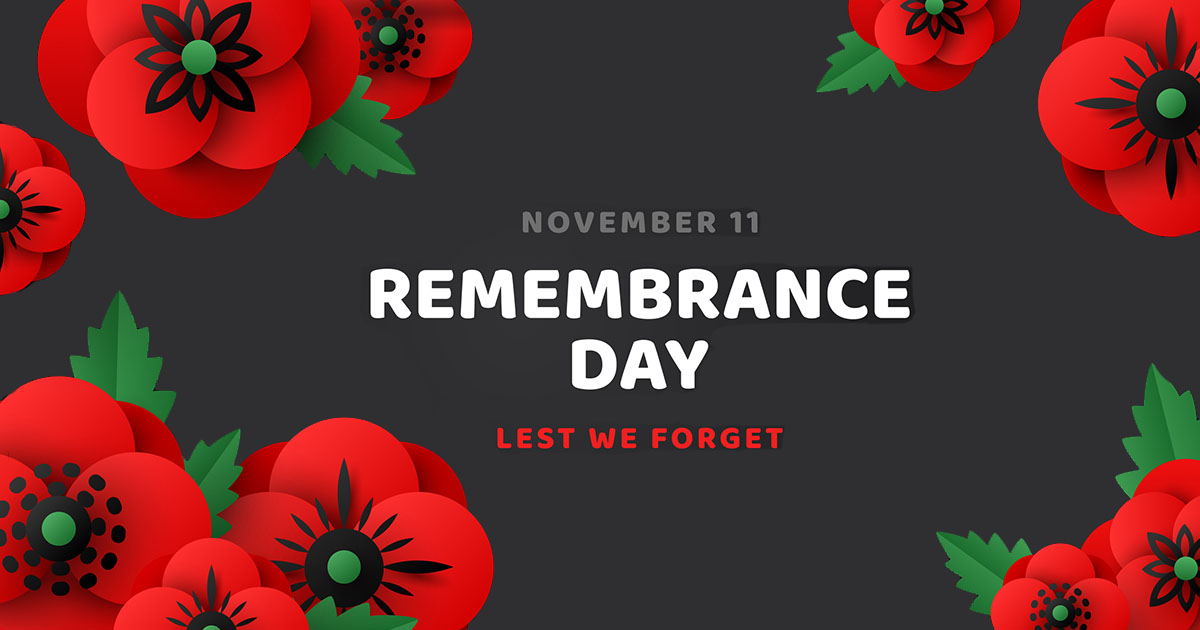 Every year on November 11, Canadians honour the sacrifices of veterans on Remembrance Day by wearing a poppy, participating in two minutes of silence, and going to Remembrance Day ceremonies.
Here are some answers to questions you might have about Remembrance Day.
Why do we wear a Poppy?
The poppy was significant for over 110 years before being adopted in Canada. Records from the Napoleonic Wars of the 19th century indicate that poppies grew over the graves of soldiers in Flanders, France, where none had grown before.
Lieutenant-Colonel John McCrae, a Canadian medical officer during the First World War from Guelph, Ont., wrote "In Flanders Fields" after the death of another soldier in 1915.
In 1921, Madame Anna Guérin from France was inspired by McCrae's poem "In Flanders Fields" and came up with the idea for the Remembrance Poppy. She founded a charity to help rebuild France and made fabric poppies to raise funds. She presented her idea to France's allies, including the Great War Veterans Association (the precursor to The Royal Canadian Legion) and it was adopted on July 6, 1921.
Today, the Poppy is worn during the Remembrance period to honor the fallen and wearing a poppy is encouraged at funerals and commemorative events for veterans.
Why do we have two minutes of silence?
On November 11, all Canadians are encouraged to participate in two minutes of silence, whether from work or home. Canadians pause for two minutes of silence at 11 am on the 11th day of the 11th month, the time when the First World War ended in 1918, to honor the Fallen and to recognize the sacrifices of servicemen and women.
Is Remembrance Day a holiday?
Remembrance Day is a federal holiday but not a stat holiday, which means that government workers in all provinces get the day away from work to reflect and honour all of those that have served for our Country.
It is a statutory holiday in British Columbia, Saskatchewan, Alberta, New Brunswick, Newfoundland and Labrador, Prince Edward Island, and the three territories. In Ontario, Quebec, and Manitoba, employers decide whether to give employees the day off and in Nova Scotia, many businesses are prohibited from working by the Remembrance Day Act.
What Are Veteran's Week Posters?
Veterans Affairs Canada commissions a commemorative Veterans' Week poster every year. These posters remind us of the sacrifices and achievements of Veterans, both in war and in times of peace. Reflecting on their past and current contributions helps preserve the values they fought for – freedom, peace, justice, and truth. Veteran's Week posters go back to 1982 and have been photographic and artistic in style with a range of themes like battles, events, and the personal side of war and peace. Posters from past years can be found here: https://www.veterans.gc.ca/eng/remembrance/get-involved/posters
How to participate in Remembrance Day 2022
There are many ways to honor Canadian veterans this Remembrance Day:
Wear a poppy.
Observe two minutes of silence.
Watch the national Remembrance Day Ceremony from the National War Memorial on TV or on The Royal Canadian Legion's Facebook Page here: https://www.facebook.com/CanadianLegion/
Find a Remembrance Day ceremony in your area.