Backyard heater and fireplace safety tips for you and your family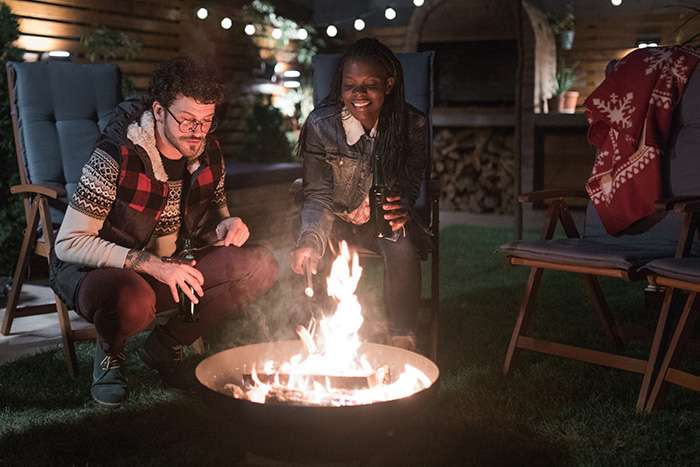 May 14, 2020. Backyards, decks, and patios are great for some family time and fire pits and heaters are an enjoyable way to stay warm. Follow safety precautions so you can enjoy your heater or fire pit without risking a fire. Choose a well-ventilated area and make sure the carbon monoxide detectors in your home are working.
Family fire safety rules
Establish fire safety rules for your family and make sure your kids understand them and know what to do in an emergency.
Do not let kids touch fireplaces or heaters and do not let them near propane tanks.
Place your heater or firepit where it will not be knocked over by children or pets.
Ensure an adult is present when your outdoor heater or fireplace is being used.
Wood fire pits and fireplaces
A wood fireplace or fire pit adds warmth and style to your family's outdoor space but can be a fire hazard.
Be aware of bylaws and advisories so you are not risking starting a wildfire.
Only build fires in contained areas. Place your fireplace or fire pit on stone, brick, or metal and at least 10 feet from your house. Chairs should be at least 3 feet away from the fire.
Tie your hair back and do not wear loose clothing.
Have a fire extinguisher, buckets, and water.
Store firewood and flammable materials away from the fire.
Do not burn treated wood, plastic, or toxic materials so your fire does not get out of control or create hazardous fumes.
Do not use flammable liquids to ignite your fire.
Keep leaves and debris away from the fire so it does not spread.
Make sure your fire is completely extinguished before you leave. It is easier to see sparks when you have your fire after dark.
Propane and gas heaters
It is important to maintain gas and propane heaters regularly and use them safely. Follow these safety tips and your backyard will be an enjoyable and comfortable place for spending time with your family.
Choose the right heater for your space. The heat your backyard heater emits is measured in British Thermal Units or BTUs. Your heater should emit about 5,000 BTUs for every 100 square feet of your outdoor space.
Choose one that does not have a naked flame and will not tip over.
Your heater must have a thermocouple that will turn off the gas if the flame goes out.
Look for a CSA safety rating.
Make sure there is no debris or flammable materials near your heater.
Check the connections and lines in your propane or gas system. Look for leaks in the hose or nozzle; they can be caused by loose fittings or damage. Shut the heater off at the tank if you smell gas and do not use it until the leak has been fixed.
Check the condition of your propane tank. It should be replaced if it is damaged or when it is at its expiry date.
Dispose of old tanks.
Store tanks in a safe place where they will not be knocked over and do not bring them inside.