Be smart and stay safe on all-terrain vehicles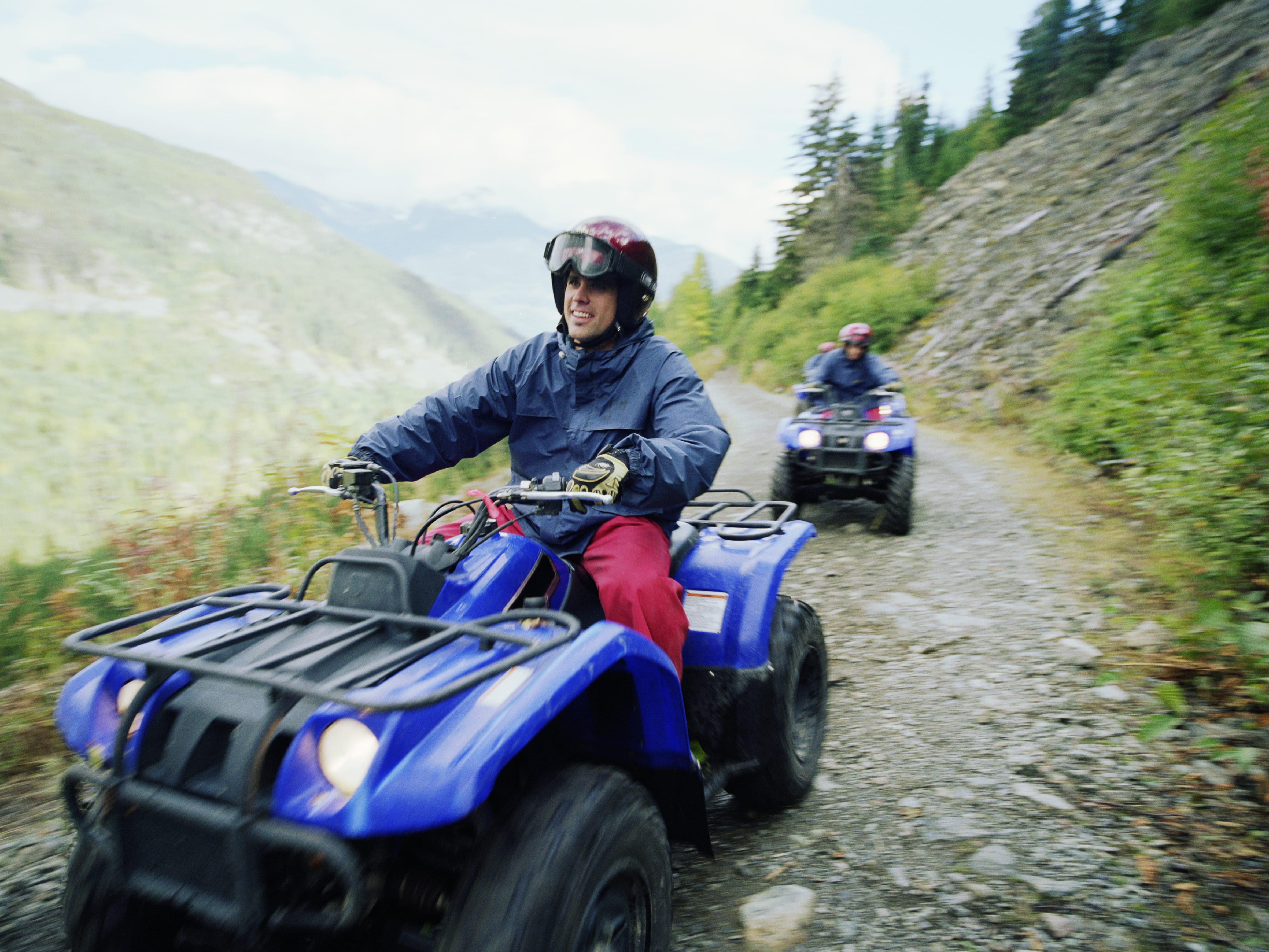 If you're an off-road vehicle (ORV) or all-terrain vehicle (ATV) owner, you know how much fun these recreational vehicles can be. But they are also dangerous machines if not operated in a safe and smart way.
In the 2004/05 reporting year, 4,104 people were admitted to Canadian hospitals for injuries related to an ATV crash.1
Ontario reported 5,584 emergency department visits for ATV injuries in the 2005/06 fiscal year, while Alberta reported 5,283 emergency department visits for ATV injuries in 2010.1
In the five years between 2007 and 2011, 912 riders lost their lives in Canada due to mishaps involving ATVs and other off-road vehicles (an average of 182 per year). 1
Before you jump on your ATV, take note of these tips so you can enjoy the adventure and return home safe and sound.
1. Train before you ride
While taking a course isn't mandatory in all Canadian provinces, the Canada Safety Council strongly recommends that ATV owners take a rider safety training course. The ATV Rider Course offered by the Canada Safety Council is taught by CSC-certified instructors. The curriculum includes learning controls, reading terrain, turning and climbing hills. Call 613-739-1535 x230 to check instructor availability in your area.
2. Wear the right protective gear – starting with an approved helmet
In 2009, the Alberta Trauma Registry recorded that of all ATV accidents, just over half of the riders were not wearing a helmet. And of those, 6 out of 10 that were badly hurt were not wearing a helmet.
Most provinces require ATV riders to wear a helmet. In Alberta, a law mandating helmets for riders on off-highway vehicles (OHVs), which include ATVs, snowmobiles, dirt bikes, four-wheel drive vehicles and side-by-side vehicles, came into effect on May 15, 2017.
Make sure you use an approved motorcycle or ATV helmet, and that it fits snug and is securely fastened. Fines range from $93 for not wearing an approved helmet to $155 for failing to wear a helmet.
In addition to a helmet, make sure you're wearing eye protection such as a helmet shield or riding goggles, boots, gloves and rugged clothing.
3. Leave passengers at home
Mostaa ATVs are intended for use by a single rider. When an extra person is added, the ATV becomes unstable and unpredictable. If you do own an ATV that is designed for passengers, they should not be under the age of 16. Never attach passenger seats to your ATV.
4. More smart riding tips
Do not operate an ATV if you've been drinking or doing drugs.
Do not ride at excessive speeds. Stick to a speed that is right for the terrain, visibility conditions and your level of experience.
Ride only during the day when you have clear visibility. You need to be able to see the terrain so you can adjust your driving accordingly.
Make sure the headlight, taillight and muffler are all working.
Be respectful and share the trails with hikers, cyclists, horseback riders and animals.
If you're riding in unfamiliar territory, don't ride alone. Ride your ATV with another ATV rider who does.
Obey posted signs and stay on the trails to avoid unexpected surprises like ditches, drop offs, cliffs and trees.
Check the weather conditions before heading out. Poor weather such as a sudden downpour can change the trails dramatically.
5. ATVs are not safe for children
According to the Canada Safety Council, children under the age of 16 make up almost one third of ATV injury-related emergency department visits.
Children under 16 simply should not ride or operate any size of ATV. ATVs can go up to 105 km/h and can weigh up to 272 kg (600 lbs.). They are not toys.
The younger the rider, the harder the machine is to control. Young people don't have the size, strength and cognitive and motor skills to operate an ATV safely. Children and young teens run the risk of going too fast or riding on uneven terrain, losing control and being thrown from the machine or caught underneath it.
6. Do your part to prevent forest fires
It may not occur to you that riding an ATV could spark a wildfire, but it can and does happen. ATV riders are expected to do their part to prevent fires by keeping these tips in mind:
When the woods and grasses are dry, don't ride in them - The heat from the exhaust system on your ATV can actually cause dry grasses to ignite. Riding in the tall grass or idling near it is a very bad idea. Remember too that grass can build up near the muffler and around the engine. When it dries, it could fall to the ground and the heat from it could start a fire. Stop frequently to inspect your ATV for captured grass and mud. At the end of your ride, clean off grass and other debris to prevent it from falling on a future ride.
Make sure your ATV has a spark arrestor – There is a small mesh screen located inside the muffler designed to trap sparks and prevent them from landing on the ground. Some ATVs have had the spark arrestor removed for gains in horsepower. Check to make sure yours is still intact.
Carry fire suppression tools - If you do happen to start a fire, be ready to extinguish it right away. Carry a small fire extinguisher, a collapsible pail and a shovel to stomp out a flame quickly before it spreads.
Follow these common-sense tips, and your ORV or ATV adventures can be accident-free for many years to come.