Dangers of distracted driving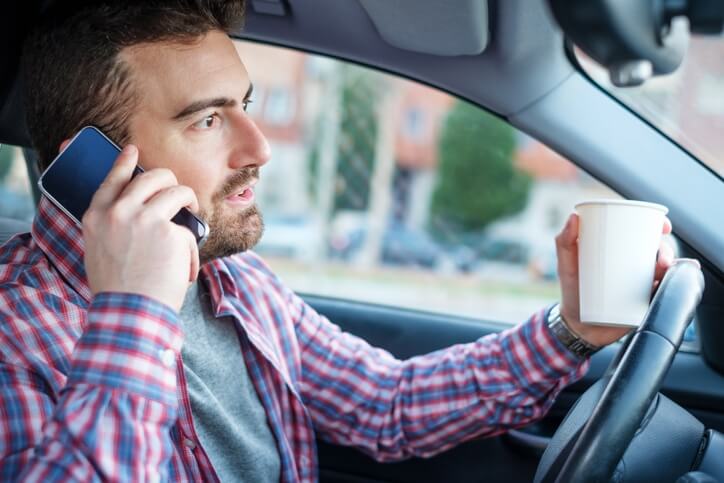 January 31, 2020. If another activity is taking your attention away from driving, you are distracted. Common distractions include:
Using cell phones

Using other electronic devices such as laptops, tablets, and video players

Programming audio or GPS units

Reading and writing in the car

Personal grooming
It is illegal to engage in these activities while driving, even in drive-throughs.
Other distractions, such as passengers or pets, while obviously not illegal, can keep you from paying attention to the road. Always make sure there is nothing going on in your car that will keep you from focusing only on driving.
Why is distracted driving so dangerous?
A split second can be the difference between a close call and an accident. Not paying attention, even momentarily, in a moving vehicle can lead to a collision.
Distracted driving and insurance rates
According to the CBC, insurers have been paying out, on average, $1.12 for every $1 in revenue, which has led to approximately $2 billion in losses in the last five years. An increase in claims is one of the main factors in underwriting losses to insurers. Because the number of claims has gone up, insurance rates are also going up.
Distracted driving is on the rise and is such a major problem that it is one of the factors in the insurance rate increase in 2020. The number of claims has been increasing in Alberta and across the country, with distracted driving accounting for many of them. According to the CBC, fatal collisions due to distracted driving have doubled in Ontario since 2000.
Even if you personally do not text and drive, for example, because it is so common and results in more claims, your insurance rate could go up as rates increase overall.
Make sure to shop around when insuring your vehicle because your risk might be interpreted differently by different insurers and your rate could vary from company to company.
Tips to avoid distracted driving
Make sure you are comfortable and make any adjustments to your seats, mirrors, and vehicle systems before you leave. Know how to get to your destination and set the GPS before you start the car.

Make sure children and pets are secured and if they need attention while you are driving, pull over instead of trying to help them while on the road.

Do not let passengers distract you and ask them for help instead.

Store your possessions where they will not roll around while you are driving.

Do not attend to dressing or grooming while on the road.

Have a snack before you leave and avoid eating in the car if possible. If you get hungry, eat something that is not messy and distracting.

Do not use electronic devices while driving. You can use hands-free in an emergency.

Watch the road, check the mirrors, and be aware of what is happening around you.