Fall prevention month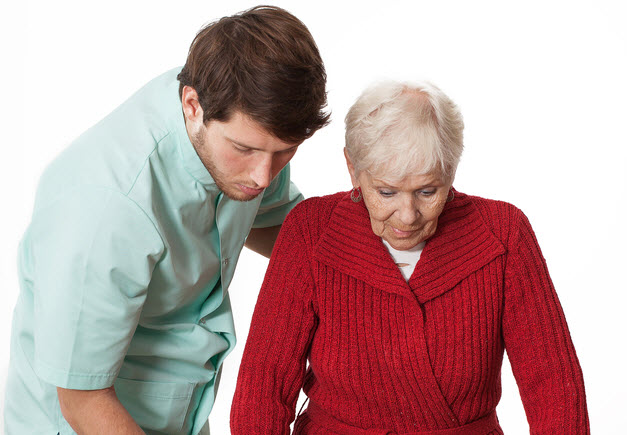 Standing On Your Own Two Feet
Everybody falls once in awhile. Most of the time, you pick yourself up and carry on. But the frequency of falls and severity of injury from them increase as we age. In fact, falls are the leading cause of injury among older Canadians. November is "Fall Prevention Month". We take a look at what can cause falls, and how to prevent them.
Anyone can fall. But the frequency of falls and severity of injury from them increases as we age. Falls are the leading cause of injury among older Canadians. In fact, injuries from falling are more common than heart attack, stroke and breast cancer combined.
Twenty to thirty percent of seniors have one or more falls each year. Falls are the cause of 85% of hospitalizations for Canadian seniors. The average Canadian senior stays in hospital ten days longer from injuries from falls than for any other cause. Healthcare costs to treat injuries after falling is over $2 billion annually.
Preventing falls and therefore injury from falls is critical to remaining mobile and independent. Suffering an injury from a fall can be debilitating and prevent you from doing things that most of us take for granted such as playing with grandchildren, getting in a car, getting up out of a chair, carrying groceries and simply walking.
Osteoporosis is our bones' enemy
For people over 50 years of age, osteoporosis, a condition that causes bones to become thin and porous, poses a considerable threat to bone health. Osteoporosis is responsible for over 80% of all fractures in people over the age of 50. Osteoporosis causes 70% to 90% of 30,000 hip fractures in Canadians each year.
Osteoporosis affects men and women, and can strike at any age, but some people are more at risk than others. Ask yourself:
Have you broken a bone from a simple fall or bump since age 40?
Has either parent had a hip fracture?
Do you smoke?
Do you regularly have three or more alcoholic drinks per day?
Do you have a condition that requires a glucocorticoid medication such as prednisone?
Do you take medication that can cause osteoporosis such as an aromatase inhibitor for breast cancer or hormonal treatment for prostate cancer?
Do you have a medical condition that can cause bone loss or fractures such as rheumatoid arthritis, celiac disease, gastric bypass surgery, chronic obstructive pulmonary disease or chronic liver disease?
Did you go through menopause before age 45?
Have your periods ever stopped for several months (other than for pregnancy or menopause)?
Have you ever suffered from impotence, lack of sexual desire or other symptoms related to low levels of testosterone (male sex hormone)?
Have you lost more than 10% of your body weight since age 25?
Have you recently had an X-ray that showed a spinal fracture?
Have you had an X-ray that showed low bone mineral density?
If you are over 50 and answered yes to one or more of the above, you could be at risk for osteoporosis, and you should consult your doctor.
How to prevent falls
There are many reasons why falls may occur such as poor balance, weak muscles, certain medications, improper footwear, sudden dizziness, poor vision, or icy sidewalks.
The goal is to do what you can to prevent falls and injury.
Keep active - Exercises that increase muscle strength such as strength or resistance training, combined with weight-bearing exercises such as dancing, walking or climbing stairs, help to prevent bone loss. Activities such as Tai Chi and yoga improve your balance and coordination.
Limit alcohol – Drinking excessive amounts of alcohol can increase the risk for brittle bones and fractures. The guidelines recommend no more than two drinks a day for women, and no more than three drinks a day for men. However, even one alcoholic beverage can make one a little tipsy and susceptible to falling, so consume alcohol sparingly.
Check your medications annually - Some medications actually increase your risk of falling – on their own or when two or more are combined. Also as you age, the effect medications have on you may change thereby increasing your risk of falling. Ask your doctor or pharmacist to review all your medications every year including prescriptions, over-the-counter pills, vitamins and herbal supplements.
Walk consciously – Walking around is second nature to most of us. Rarely do we actually "think" about walking. But it's important to walk with awareness so you can adjust as necessary. Consider your surroundings, your shoes and your vision, and these tips:
Wear flat shoes that support your feet and have soles with good grip.
Avoid rushing and doing too many things at once. Take your time.
Walk cautiously on ice, cracks and uneven surfaces – or avoid them altogether.
Keep pathways, halls and stairways well-lit and free of clutter. Remove throw rugs or make sure they are secure. Look out for pets.
Speak up about dizziness – Dizziness can strike without warning and send you off balance. Tell your doctor if you often feel dizzy or lightheaded.
Have your blood pressure checked regularly.
Sometimes a drop in your blood pressure can happen when you get up from a lying or sitting position. If this happens to you, change your position slowly.
Dehydration can make you dizzy. Drink 6 - 8 glasses of fluids including water each day.
How to get up from a fall if you're alone
If you do fall, and you're by yourself, first check yourself for pain from injury. If you're hurt, try to call for help. If you're not hurt, look for a sturdy chair or piece of furniture, and then:
Roll onto your side.
Crawl over to the chair or sturdy furniture.
From a kneeling position, put your arms up onto the seat of the chair.
Bring one knee forward. Place that foot on the floor.
Push up with your arms and legs. Pivot your bottom around.
Sit down. Rest before trying to move.
Falling can happen very suddenly and could have disastrous consequences for your health. It's important to do what you can to remain on your own two feet so you can be mobile, active and independent every day.