Getting married? Get insurance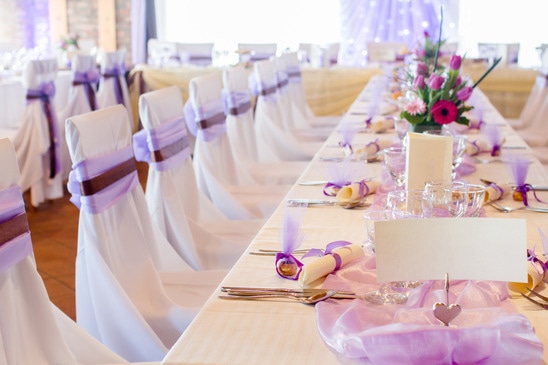 No one wants to think about what could go wrong when you're on cloud nine, but when you spend as long as two years to plan your wedding, a lot can happen during that time. What if a fire destroys your wedding venue, your wedding planner goes out of business taking your hefty deposit with her, or a typhoon strikes your honeymoon destination?
Wedding insurance protects you in the event that something goes horribly wrong. Considering insurance now means you can get back to romantic side of planning your wedding sooner.
Wedding Insurance coverage
A wedding insurance package could cover things like missing tuxedos, out-of-business vendors, stolen gifts, a damaged wedding gown, the cost to retake lost wedding photos and other misfortunes that are simply out of your control. Talk to your broker about wedding insurance packages to make sure that you have every possible scenario covered.
Event Liability Insurance
To avoid financial liability if someone is injured or property is damaged during your wedding, it's important that you secure short-term event liability insurance. This insurance provides coverage if you are found legally responsible should something go wrong during your reception. You can modify your liability insurance to include options like liquor liability, medical expense coverage and more.
Travel Insurance
Whenever you plan a trip, it's a good idea to purchase insurance in the event that something happens. Most couples spend a great deal on their honeymoon. Make sure that you have insurance to cover trip cancellation, medical coverage should you fall ill on your trip, and missing luggage.
Homeowners Insurance
Often wedding and financial gifts are gathered up and brought to a home for the couple to open or take care of at a later date. It may be the next day or even after the honeymoon. Check with your broker to see if wedding gifts are covered under your policy. You may want to consider adding a rider to your home insurance in the event that your wedding gifts are destroyed or stolen.
Before you buy insurance
Check with each of your vendors such as caterers and photographers to see what their own policies cover. You don't want to pay for overlapping coverage if it isn't necessary.
Some venues will expect you to buy event liability insurance before you can host your wedding there. Be sure to read the fine print.
Even though you don't want to think about the unthinkable, getting the right insurance coverage means that you can relax and bask in the glow of marrying the love of your life.
Talk to an Insurance Expert
Call Us Now 888-594-3105