Spook-tacular Safety Halloween Tips for Little Goblins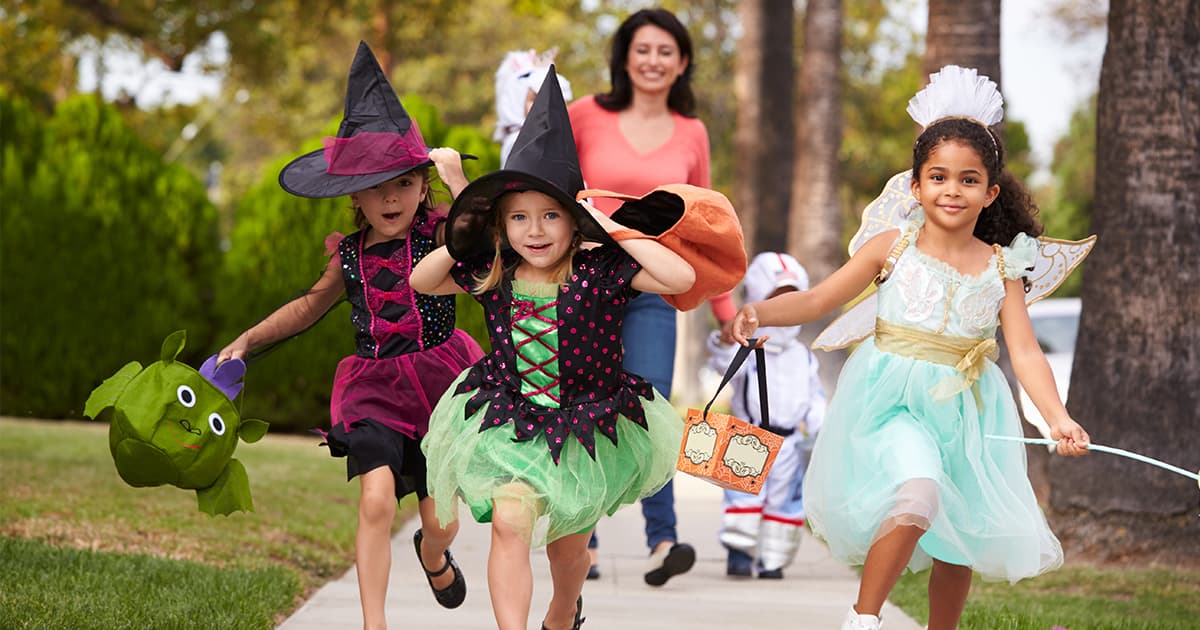 Halloween is a fun and festive holiday for children with lots of treats, but it's also important to prioritize safety.
Here are some Halloween safety tips for children:
Plan a safe route: If your child is going trick-or-treating, plan a safe route in advance. Stick to well-lit streets and areas you're familiar with.

Use sidewalks: Always walk on sidewalks when available. If there are no sidewalks, walk facing traffic.

Cross streets safely: Teach children to cross streets at crosswalks, traffic lights, or stop signs. Look left, right, and left again before crossing.

Stay visible: Add reflective tape or stickers to costumes and treat bags to enhance visibility. Carrying a flashlight is also a good idea.

Safe costumes: Ensure costumes are flame-resistant and not too long to avoid tripping. Use face paint and makeup instead of masks, which can obstruct vision.

Well-fitting costume: Make sure the costume fits well to prevent trips and falls.

Buddy system: Children should always go trick-or-treating with a trusted adult or in a group.

Inspect treats: Parents should inspect all treats before children eat them. Discard any unwrapped or suspicious items.

Safe props: If the costume includes props like swords or wands, make sure they're soft and flexible to prevent injuries.

Respect stranger danger: Remind children not to enter a stranger's home, and to only accept treats at the door.

Road safety: Teach children to be aware of cars and traffic. Avoid walking between parked cars and don't dart into the street.

Be cautious of allergies: If your child has food allergies, be vigilant about checking labels and educating them on what to avoid.

Pet safety: If you have pets, ensure they are secure and can't escape when opening the door for trick-or-treaters.

Set time limits: Establish a curfew for older children to return home.

Alternative activities: Consider Halloween parties, events at community centers, or trunk-or-treating at a local church as alternatives to traditional trick-or-treating.

Teach 911: Ensure children know how to dial 911 in case of an emergency and when it's appropriate to use it.
Here are some places to trick-or-treat on Halloween:

Residential neighborhoods: Trick-or-treating in local neighborhoods is a classic and popular choice. Many people decorate their homes for Halloween, and it's a great way to meet neighbors.

Shopping malls: Some shopping malls host Halloween events where children can visit stores to collect candy and treats in a safe and well-lit environment.

Trunk-or-treat events: These are often organized in church parking lots, school campuses, or community centers. People decorate the trunks of their cars and hand out candy to kids.

Local businesses: Some local businesses, especially those in downtown areas, participate in trick-or-treating events by giving out candy to young trick-or-treaters.

Community centres: Many community centers host Halloween events with games, candy, and entertainment for children.

Zoos and aquariums: Some zoos and aquariums host family-friendly Halloween events where children can trick-or-treat and enjoy special exhibits.

Festive haunted houses: Some "haunted" houses open for the Halloween season to offer kid-friendly events with trick-or-treating, games, and activities.

Senior living communities: In some areas, senior living communities welcome children to trick-or-treat safely within their community.

Schools and preschools: Some schools and preschools organize Halloween parades or events where children can trick-or-treat within the school grounds.

Amusement parks: Some amusement parks offer Halloween-themed events with trick-or-treating and rides.

Churches: Many churches host trunk-or-treat events or fall festivals, providing a safe and fun place for children to collect treats.

Libraries: Some libraries organize Halloween programs for kids, including trick-or-treating and storytime events.

Apartment complexes: In urban areas, children can trick-or-treat within apartment complexes where residents participate.

Community festivals: Look for local community festivals or events that may include trick-or-treating among their activities.

By following these Halloween safety tips, you can help ensure that children have a fun and safe Halloween celebration.