Does Home Insurance Cover Extreme Weather and Disasters?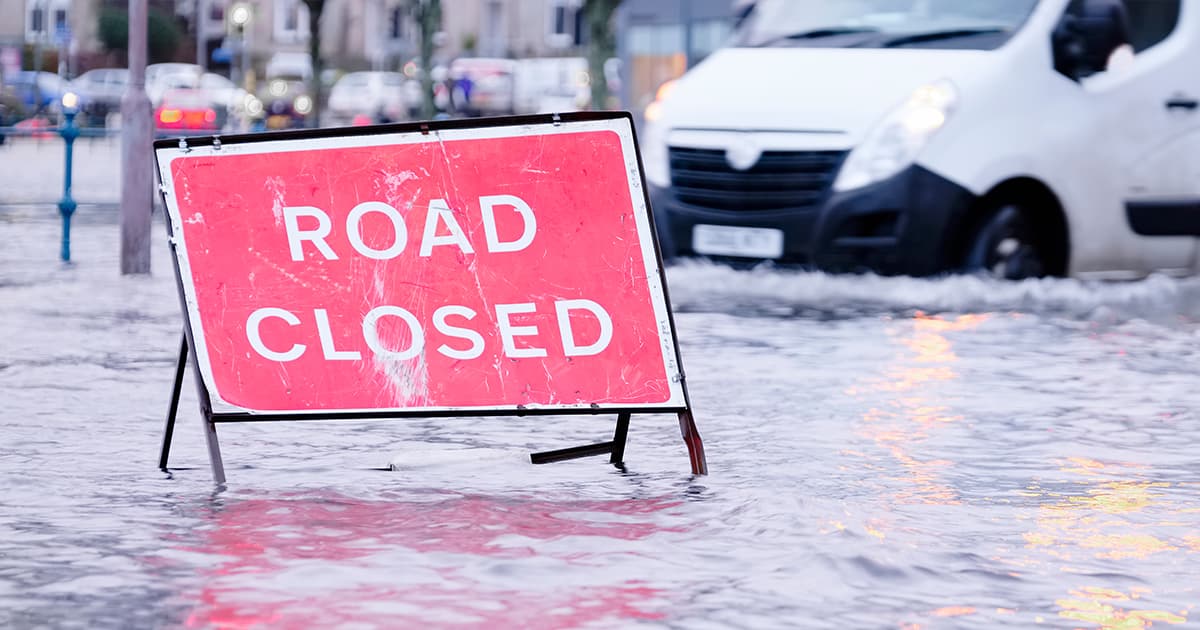 Many homeowners will experience extreme weather or a natural disaster at some point. Your home insurance policy can typically cover damages caused by unexpected events including fire and wildfires, wind-related weather storms, tornadoes and hurricanes, and ice and hail.
Generally, home insurance policies don't cover certain types of unexpected events, such as earthquakes, landslides, floods, and sewer backup. You may be able to get optional add-on coverage for some risks that are not covered by your policy.
Does home insurance cover extreme weather?
Most severe weather is covered by home insurance and extra coverage can be added to your home insurance policy as an endorsement, also known as a rider or extension. However, there is no insurance for landslides.
Endorsements can cover:
Earthquakes
Floods
Sewer backup
Your Western Financial Group home insurance expert will answer any questions you may have about home insurance and extreme weather.
Home insurance and floods
Water damage is the most common home insurance claim, but home insurance policies usually do not cover water damage from outside your home, like flooding. You may be covered if water enters your home when a tree falls on it, but a flood will not be covered by basic home insurance.
Flooding can happen when lakes and rivers overflow, heavy rain cannot drain away fast enough, or there is a flash flood during a storm or hurricane.
Coverage for flooding was not available until recently. But heavy rain and floods have been increasing in frequency because of climate change and insurers have responded by adjusting coverage options. Flood coverage can be added as an endorsement on your home insurance policy. It might be called overland flood insurance, enhanced water damage coverage, or inland flood insurance.
What does flood insurance not cover?
Flood insurance does not cover:
Tidal waves
Rising water tables
Tsunamis
Storm surges
Salt water
Flooding from coastal waters
Sewer backups
Home insurance and tsunamis
A pacific plate is moving east at about 6-7 cm per year about 75 km under Vancouver. This may seem insignificant, but this slow and steady pace makes experts believe a large earthquake along the coast is almost certain. An underwater earthquake will cause a tsunami.
While the Olympic Peninsula and Vancouver Island provide some protection from a Pacific Ocean tsunami for Greater Vancouver, earthquakes in the Straight of Georgia and underwater landslides in the Fraser River delta are considered a threat. The coast between Echo Bay and White Rock is in tsunami notification zone E. Vancouver, the lower mainland, Victoria, and eastern Vancouver Island have a lower tsunami risk than other parts of BC, but homeowners should be aware that a tsunami could occur. A map of BC tsunami notification zones is available here: zone_e.pdf (gov.bc.ca)
Most insurance companies will not cover tsunamis, so shop around to see if there is an insurer in your area that will. Also, be prepared by following a flood preparedness plan, retrofitting your property, bringing at-risk items indoors, and evacuating if necessary.
Home insurance and earthquakes
Insurers identify two types of earthquake-related damage.
Damage caused indirectly by an earthquake, such as explosion, smoke, or fire after an earthquake is covered by most home insurance policies. For example, if a gas line breaks because of an earthquake and starts a fire in your home, the fire damage may be covered.
Damage caused directly by an earthquake is not covered by most insurance policies but can be added in the form of an earthquake insurance endorsement.
What does earthquake insurance cover?
This type of insurance covers damage and loss to your home and personal property caused by the shaking of the earth. It could also cover additional living expenses, which means that if you had to move out because of an earthquake, your expenses would be covered.
What does earthquake insurance not cover?
There are a few situations in which earthquake insurance cannot help you. Ask your insurer for details about your policy.
Earthquake insurance generally does not cover a tidal wave or tsunami, even if it was caused by an earthquake.
If an earthquake damages the land your home is built on, neither home insurance nor earthquake insurance will compensate you for the lost value.
Another issue to be aware of is that earthquake coverage typically has a high deductible, around 5-20% of your earthquake coverage limit. If your deductible is $50,000, for example, and the damage is less than that, you will have to pay for repairs yourself.
Which parts of Canada need earthquake coverage?
Earthquakes can occur across Canada, but some places have a more significant risk than others. Parts of the Yukon and the BC coast are more high-risk. Montreal, Quebec City, and other cities on the Ottawa and St. Lawrence rivers are also higher-risk areas. Lake Ontario's western shore and western New Brunswick have a moderate risk. Seismic hazard maps of Canada are available here: https://www.seismescanada.rncan.gc.ca/hazard-alea/simphaz-en.php
For more information from the Government of Canada about how home insurance covers natural disasters and unexpected events, visit this link: https://www.canada.ca/en/financial-consumer-agency/services/insurance/unexpected-events-disasters.html