It might not look cute, but the benefits of a pet life jacket for your dog are clear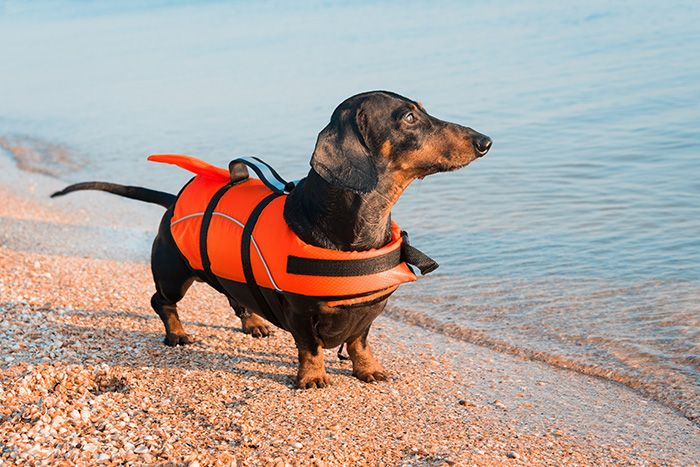 Consider purchasing a life jacket for your dog for use on your boat and around the water. We've put together some important features to consider when looking for a life jacket for your furry friend.
A life jacket is not the same as a life vest. Life jackets are

buoyant,

visible and cover more area. Life vests cover less of your dog and make it a little easier for your dog to swim

. Boating can be dangerous and a life jacket for your dog provides additional protection. Certain breeds

of dogs can have more difficulty with swimming than others (ie. bulldogs).

Make sure there is a D-ring on the life jacket so you can attach a leash.

Choose a dog life jacket that has a bright color and a reflective strip so you can easily see your dog in the water.

Pick a dog life jacket with a handle

so it is easier to pull them from the water. A handle is also helpful when teaching your dog how to swim.
Tips for boating with your dog
Dogs are family members. Everyone will have that much more fun if they can come on your boat trip. It's easy to protect your dog and ensure everyone is practicing safe boating out on the water.
Make sure your dog has

ID
Your dog should have a harness with your information and a microchip. A harness is safer than a collar because your dog will be supported by the torso instead of the neck if they need to be pulled from the water.
Get your dog used to swimming and a life

jacket
Introduce your pup to the water gradually while wearing a doggy life jacket so they're used to it when you go boating. Make your first trip a short one so your furry friend does not get overwhelmed.
Supervise your

dog
Keep an eye on your pup at all times. Accidents can happen even if they are wearing a life jacket. A life jacket might not keep your dog's face out of the water. Dogs can also get excited and be a distraction when you need to focus on tasks like docking.
Have a

plan
Know what to do if your dog ends up in the water. Have a plan for who will control the boat and who will go help your pup.
Keep your dog

comfortable
Make sure your dog stays hydrated and that there is some shade. Bring sunscreen for areas that might get sunburned and medication from your vet in case of seasickness. Make sure you have a first aid kit. The deck could get too hot for doggy paws so bring boots for your pup.
Dog-proof your boat
Put away hazards like fishing equipment or anything else that can injure your dog, make them sick or cause an accident.
Train your

dog
Make sure your dog is well trained before you bring them on the boat so everyone can be safe and enjoy the trip.
Create a dog

run
Install a safety line on your boat that lets your dog explore without letting them go overboard.