Keep the merry in the company holiday party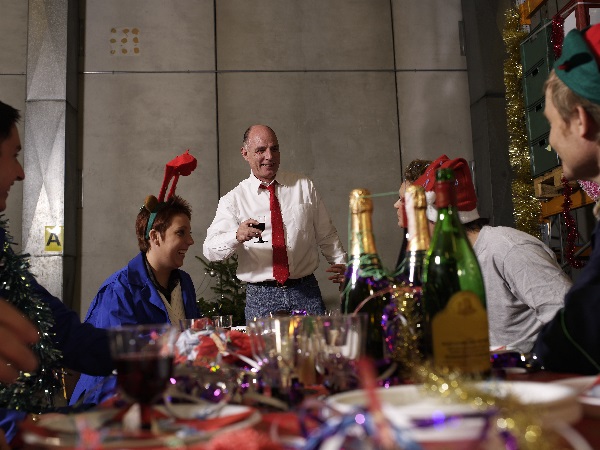 A holiday company party is the perfect way to thank employees for their hard work and dedication throughout the year. It's often the most anticipated event of the year for your staff.
But party revelry can easily end on a sour note if things get out of control, putting you and your business at risk. That's why it's important to plan carefully and take steps to minimize your liability exposure.
Alcohol Consumption
Perhaps the most important consideration of all, alcohol consumption can result in a number of serious problems. In all the merriment, guests can lose track of how much alcohol they drink, which can blur their senses and lead to poor decisions such as drinking and driving.
As the host, your company is responsible for your guests' consumption. Here are some ideas for reducing the risk of alcohol-related problems.
Circulate a memo in advance of your event advising all guests to be responsible. Include a reminder to drink in moderation and to avoid driving and drinking. Emphasize to management that they are expected to lead by example.
Consider hosting an alcohol-free event.
Make your party a lunch or brunch occasion rather than an evening party when guests will be inclined to stay longer and consume more alcohol.
Use tickets or vouchers to keep track of how much alcohol is being served. Give attendees a limited number of tickets for the bar, and when the tickets are used, they must purchase their own drinks. Or do not pay for alcoholic beverages or have an open bar at all. Guests tend to drink less when they have to pay for their own beverages.
Consider serving only beer and wine - no hard liquor.
Have lots of options for non-alcoholic beverages including sodas, sparkling juices, bottled water, and festive-inspired drinks.
Serve appetizers immediately so guests are not drinking on empty stomachs.
Employ professional servers and bartenders who will ask for ID and limit the alcohol consumption of intoxicated guests. Ensure that they are adequately insured.
Provide taxi vouchers or another type of transportation service for employees to make their way home safely.
Recruit company managers and members of your party planning committee to keep their eyes open for guests who have had too much to drink – and to make appropriate arrangements for their safe transport home.
Look for ways to get people on their feet such as speeches and awards, a silent auction, games and dancing.
Limit the number of hours when the bar is open, close the bar during dinner and again at a reasonable time of the evening to wind down your event.
Sexual Harassment
Unfortunately the relaxed atmosphere of holiday parties mixed with alcohol consumption can be a recipe for bad behaviour including unwanted advances or inappropriate touching.
For the benefit of everyone involved, it's important to acknowledge that this behaviour takes place, make others aware of it, and do what you can to prevent it.
Send a memo to all guests before the event as a reminder of the company's anti-harassment policies. Emphasize that these policies apply at all times – not just company parties. Make sure everyone understands that the rules apply to relations between all co-workers, and superiors and subordinates.
Hold a refresher course on what constitutes harassment, how to avoid it, and what steps victims can take.
Recruit company managers and members of your party planning committee to keep their eyes open for signs of harassment. Advise them on what to do if they witness or hear of anyone crossing the line.
Invite guests from outside the office. Instead of limiting attendees to employees, invite spouses or families, clients or business partners. The presence of others may help keep everyone's behaviour in check.
Rethink some holiday traditions. Mistletoe may not be appropriate décor for an office party. Cancel the holiday conga line. Don't invite Santa. Avoid the gag gift exchange.
Shed more light on the event. Turn the lights up so everyone can see comfortably. Keep the lights brighter near the bar, around the washrooms and in other corners.
Protect Your Business
As the event host, your company automatically assumes the burden of responsibility as it relates to the supply of alcohol. It's called "Host Liquor Liability".
If property is damaged or someone is injured or killed in an accident, your company could be deemed responsible in a court of law.
Make sure that your insurance broker is aware that you will be hosting this event, and that have adequate levels of coverage including liquor liability.
Everyone looks forward to celebrating during the festive season. Do what you can to ward off potential hazards so the holidays are merry and bright for your employees.