Get Kids Involved in School Lunches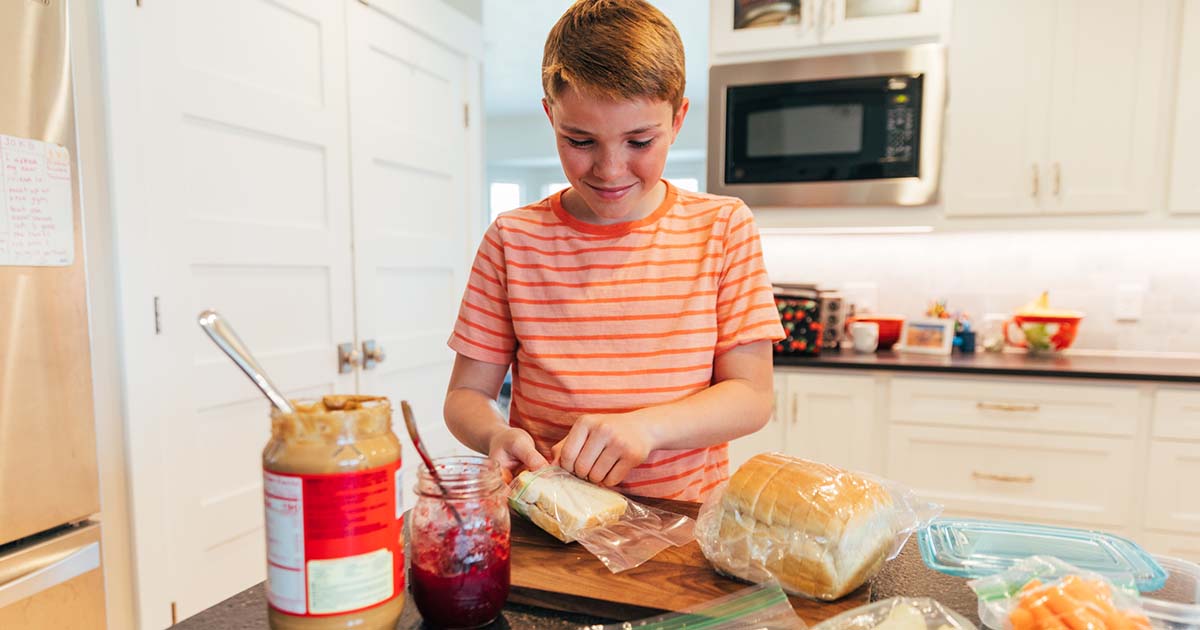 Get kids involved in school lunches by teaching them cooking skills that are appropriate for their age. Let them help with meal planning, too, and take them grocery shopping.
How to get kids involved in school lunches
Food is often a struggle because kids try to establish independence by being picky about food while parents try to maintain authority. When you get kids involved in school lunches, you eliminate battle lines and create a sense of ownership.
When kids are involved in food preparation and grocery shopping, they should be excited to try the meal they created and are less likely to be fussy eaters and more likely to eat their school lunches.
Get kids of all ages involved in school lunches
Let kids of all ages help in the kitchen and teach them about healthy food and how to be safe in the kitchen.
Even younger kids can be involved in school lunches. Kids as young as preschoolers can help with meal prep, wash, and peel fruits and vegetables, stir batter, and rinse and spin lettuce.
Kids 6-9 years old can start learning how to use a knife and cook on the stove with supervision. Make simple recipes for school lunches together.
Kids in grades 4-6 can start finding recipes they like and cooking with less supervision. Once they have learned to use the stove, you can teach them how to use other appliances like the air fryer or Instant Pot. Show them how to make a grocery list for recipes they want to try next.
Kids in junior high and high school can be independent cooks but there is still lots to teach them, like turning leftovers into school lunches.
Come up with a simple formula
Choose a formula for lunches, for example, a main item, a fruit, a vegetable, and a snack or treat. You can choose the main course, but let kids choose items for different categories that go in their lunch bag.
Make kids feel included
Getting kids involved in school lunches and food preparation makes them feel included and they are more likely to eat food they feel invested in.
When you pack lunches or eat a meal your kids helped prepare, praise them for the work they did.
Involve kids in grocery shopping. Go when you have enough time and do not take them for the large, weekly grocery shopping trip. Avoid the junk food isles and have them choose fruit or healthy food to cook.
Make a list of ideas and keep it posted in the kitchen. You can have a seasonal grocery list or a weekly meal planning dry erase board.
Make school lunches part of your routine
Pack school lunches right after dinner before you clean up or in the morning but with a deadline. Let your kids organize their lunches by food that needs to go in the fridge overnight and items that can go right in their lunch box.
Teach your kids how to prepare their lunch by doing it with them a few times and eventually they will be able to take this task over, freeing up your time and making them feel involved in the school lunches they make.