Outdoor decorating safety tips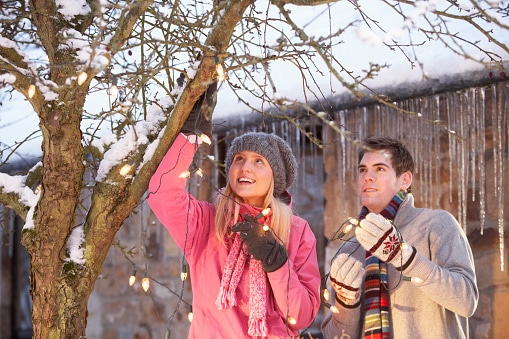 Light up your home safely
What are the holidays without the twinkling lights adorning rooftops and trees?
Stringing lights outdoors can be a big job – and dangerous. It's important to make safety your first priority when decking your home for the holidays.
What are the holidays without the twinkling lights adorning rooftops and trees, turning the neighbourhood into a fantasy wonderland? For wide-eyed children and excited parents, it is the most wonderful time of the year. If you're the one tasked with hanging lights and taking them down again, you may have a different opinion.
Stringing lights outdoors can be a big job, and if you have a high roofline or tall trees, or the weather isn't co-operating, it becomes all the more onerous – and dangerous. It's important to make safety your first priority when hanging holiday decorations.
Before you begin
Have an idea of where you plan to hang your lights, and ensure that you have all the lights, gutter clips and extension cords you need create your display.
Purchase shorter light strings. They are easier to manage on the ladder, and they are less expensive to replace if a string stops working.
Use low-burning LED lights instead of the traditional larger bulbs, which have a higher wattage and burn much hotter.
Wait for a day when it isn't wet or cold. Poor weather conditions can make your ladder slippery, and very dangerous. Never use ladders during snowstorms or in windy weather.
Confirm that extension cords and lights are manufactured for outside use.
Use lights that have been tested and rated by Intertek (ETL Semko) or Underwriters Laboratory (UL). They should be clearly marked on both the packaging and the labels attached to the electrical cords.
Test all new and used bulbs and inspect fuses to make sure they are in good working order before you start. Replace any burned out bulbs. Look for frayed cords. If they are frayed, discard them. Damaged cords can cause an electrical short, damage other holiday decorations and possibly start a fire.
Avoid electrical hazards
Securely fasten outdoor lights to trees, your home or other solid supports to prevent them from sustaining wind damage.
Keep all extension cords and light strings away from standing water.
If you are using spotlights, make sure spotlights are protected from weather, and place them a safe distance from flammable items.
Be extra careful if you're working near power lines. Stay at least 10 feet away from power lines.
Avoid overloading electrical outlets with too many decorations or electrical devices. They can overheat and cause a fire.
Make sure that cords are not pinched in doors, windows or under heavy outdoor furniture. This could damage the insulation of the cords.
Never use nails, tacks or staples to hang lights. They can tear or pierce the protective insulation and create a fire hazard. Use gutter clips especially designed for hanging holiday lights.
When plugging in extension cords, make sure they don't pose a tripping hazard. Keep them loose – not taut, and out of the way of foot traffic. You could be liable if someone trips and falls on an extension cord that is poorly placed.
Don't string extension cords from the inside of your home to the outdoors. Use outside outlets for outside decorations.
If you need to replace bulbs and fuses after they are hung, always unplug your decorations first.
Turn off all lights before leaving your home or going to sleep.
How to use a ladder safely
The ladder is generally the mandatory tool required for hanging lights. Most of us take the ladder for granted, but it can be very dangerous when used improperly. Be safe with these important guidelines:
Make sure your ladder meets the CSA standard, and is suitable for the job and for your weight.
Before using the ladder, check that it:

Is the right height for job
Has no signs of warping, rust or corrosion
Has no missing parts
Is placed on level, firm footing
Is securely locked and braced into place

Be sure there are no power lines or exposed electrical wiring nearby.
Lean the ladder against a wall at a ratio of 4:1. For example, if the ladder is four metres tall, the foot of the ladder must be one metre from the wall.
To climb a ladder:
Wear well-fitting, slip-resistant shoes or boots.
Use the buddy system. Have someone hold the ladder at the base.
Climb up the centre holding the ladder firming with both hands. Always keep a minimum of three points of contact on the ladder. E.g. two feet and one hand.
Don't carry tools with your hands. Use a tool belt.
Do not step on the top two rungs of the ladder. This could cause the ladder to tip.
Working on a ladder:
Don't try to overextend your reach. Only work within your arm's length.
If you can't reach what you need, climb down and reposition the ladder. Never try to reposition the ladder while you're on it.
Never bring packages of lights up the ladder to unpack while you're working. Unpack your lights on the ground and work with each string individually.
Do not use a ladder if you are on medication or have a health condition that may cause you to lose your balance.
Hiring a light-hanging service
You have likely noticed signs and ads for companies offering holiday light installation services at this time of year. Hiring this service can save you many hours of work and frustration. Just be sure to ask a few questions to find the best company.
Are they insured and properly licensed? The company must have adequate insurance should an employee fall off a ladder or become injured while working on your property, or there is an electrical incident or a fire resulting from the installation of your holiday decorations.
Are they trained? The holidays are a busy time for these companies. They need to build up their workforce quickly. Ask if their installers are adequately trained, and how long their people have been working for them.
Do they provide their own equipment? They should bring all their own ladders and other equipment. If you loan them your own ladder and an employee falls from it, you could be liable.
Will they install your own lights? Some companies will install your own lights, but if there is an electrical incident relating to the lights, you are liable.
What does the service include? Ideally the service should include lights and installation accessories, professional installation of the lights and removal of the lights at the end of the season. They should also be available to service the lights during the season if required.
This festive season, be sure to stay safe when you deck your home for the holidays.