Purchasing a farm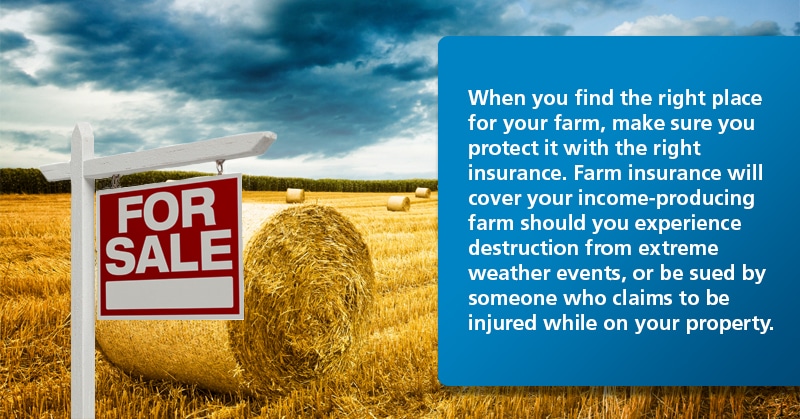 Do you dream of owning your own farm? Purchasing a farm takes time, forethought, land and of course, financing. Let's take a look at what's required before you take that big step into farm life.
What type of farmer will you be?
First of all, you need to know a few things about yourself. What type of farmer do you want to be? Do you want to grow crops or raise animals? What specific skills do you have to help your farm grow and flourish? Where do you see your business going in the next five and 10 years?
Finding your field
Next you'll need access to land. If you were raised on a farm or farming is in your family, you may already have that part figured out.
If you don't have land or access to land, you can lease land from another farmer or landowner. Leased land is a smart option for start-up farmers. Leasing land can be a more economical way to test your farm ideas out before going "all in."
The other route would be to purchase land or an existing farm. A good place to start is by inquiring at local farm-related businesses and popular hangouts. Residents of farm communities are usually aware when a farmer is selling or thinking of selling. Even in this day and age, rural land changes hands without ever placing an ad. If you engage the help of a realtor, make sure he or she has experience in farming properties.
Once you find a piece of land or a farm that suits your needs, do a little detective work before you commit. You want to make sure that:
The water is clean and sufficient for the needs of the farm and humans if you plan to live there
The soil is farmable, the climate is suitable for your growing requirements, and you have sufficient drainage and irrigation
Any buildings, fences and utilities on the property are in good working condition – and if not, that you have the time and money to improve them
There are no environmental issues with your farm (Having an onsite environmental audit done would help ensure that you are not buying an expensive cleanup project.)
There are no special easements tied to the land and the amount of land you're buying matches a recent survey (If there is no survey, consider having one done.)
To ensure there are no regulatory restrictions to producing your product, check with your municipality or regional government. Obtain information on land use ordinances (including zoning) and current land uses.
TIP: Download Google Earth and get a virtual bird's-eye view of the area surrounding your farm. This tool is useful in spotting things about an area that make not be readily visible from the ground level such as active landfills.
Coming up with the money to buy the farm
If you don't have the funds, you will need to take a loan for all or a portion of what is required to buy and operate your farm. It's a good idea to develop a business plan so you have a realistic idea of what you will need to support yourself and your farm, and to assist you with obtaining a loan.
As a start-up farmer, one of your best sources for a loan is through the Canadian Agricultural Loans Act (CALA) Program - a loan guarantee program designed for existing farmers, start-up farmers, farmers taking over the family farm, and agricultural co-operatives. You can access CALA loan through most major banks.
You can use the CALA loan to purchase:
Land with the full $500,000 or $350,000 for other items
Equipment
Building /Construction
Livestock
You may also be able to access funds through the Canadian Grants Business Center, which offers a wide range of programs including grants, loans and other funding options for Canadian Farmers and Agri-Business. Visit the Canadian Grants Business Center website for information.
Getting equipped
Farming is an asset-heavy endeavor. You need equipment to run the farm. When you're just starting out, buying new doesn't always make the best business sense. If you or someone on your team possesses solid mechanical skills, then buying used is a good option. Also be sure to check out local mechanics to make sure there is someone in the area who can repair farm equipment when necessary because downtime is rarely an option on the farm.
If you need equipment for short periods of time, you may be able to borrow a piece of equipment from a neighbouring farmer or barter for services in exchange for product or working hours on your neighbour's farm.
If you must buy new, consider a leasing arrangement. While leased equipment will cost you more in the long run, the monthly payments are cheaper than purchasing and may help to spread out your expenses in the beginning.
Protect your investment
When you find the right place for your farm, make sure you protect it with the right insurance. Farm insurance will cover your income-producing farm should you experience destruction from extreme weather events, or be sued by someone who claims to be injured while on your property.
Of course these guidelines are just the first steps of your rewarding farming journey. Those who choose to make farming their life's purpose know that it also requires a great deal of sweat equity to build and sustain your field of dreams.