Safe Kids Week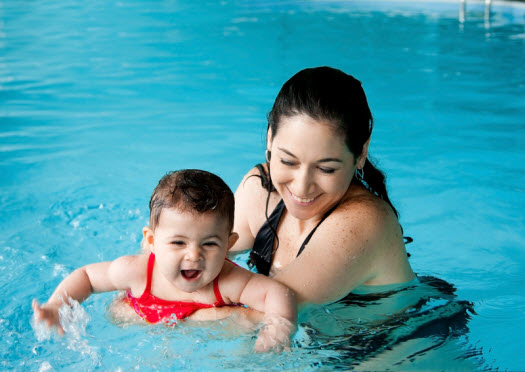 As the school year comes to a close, the kids are looking forward to long sunny days playing with their friends. Although the backyard holds much promise for a summer of fun, it can also be a potential source of injury for your children and their guests.
This week is Safe Kids Week – the perfect time to assess your backyard for possible hazards, and take steps to keep youngsters on your property safe and sound.
Fire pits
There's nothing like sitting around the fire pit, roasting marshmallows and enjoying summer nights. However, a fire pit also comes with significant risks. Someone could get seriously burned if they accidentally trip and fall into it. Flying embers could start a bigger fire and destroy personal property. A high degree of care must be used around a backyard fire, especially if there are young children in the midst. Heed these tips:
Fire pits must be built into the ground and made of brick or stone. Portable fire pits must sit on a foundation of brick or stone.
Keep debris out of the fire pit and ensure that there are no overhanging branches that can catch fire.
Keep a fire extinguisher nearby to extinguish flames if necessary.
Mark a perimeter around the pit so children know not to cross that line, and implement a "no running" rule when there is a fire burning.
Check your city's bylaws for specifics on fire pit placement, fire bans and other stipulations [1].
Contact your insurance company to see if your fire pit is covered under your policy that insures personal property. In some fire-prone areas, having a backyard fire pit is banned[2] and wouldn't be insured.
Swimming pools
Swimming pools and wading pools are enticing additions to the backyard to escape the summer heat. Sadly, backyard swimming pools are the number one cause of downing in children under five[3]. Here are some steps you can take to limit that risk:
Enclose your pool with a fence (no less than 1.2 m or four feet high) and a locked gate.
Install a pool alarm that alerts you when someone enters the pool.
Keep your pool covered when not in use to discourage young children from entering.
Always supervise children - never let them swim alone.
Empty wading pools when not in use - children can drown in only 2 inches of water.
Let your insurance company know if you have or are installing a backyard pool. Basic homeowner's insurance will not cover you if someone is hurt or drowned in your pool. You'll need liability insurance to protect you in the event of a lawsuit.
Trampolines
Who doesn't love bouncing on a trampoline? However they are also very dangerous, especially if more than one person is jumping. Seventy-five percent of trampoline injuries occur when there is more than one person on the trampoline[6]. Injuries can range from a sprained ankle to a serious neck injury.
Install a safety net around the trampoline to prevent jumpers from falling over the side.
Limit the number of jumpers, preferably to one at a time.
Check the springs regularly to make sure they are firmly attached, and watch for signs of wear in the fabric.
Note that the high-risk factor of trampolines means that some insurance companies exclude them from homeowner policies. That means you'll be paying for any medical expenses that may be incurred as a result of trampoline injury. If you install a trampoline, even if you tell your insurance company about it first, your premium may go up, or the insurance company may cancel your home insurance altogether[7].
Swing sets
While swing sets seem like a backyard staple, seventy percent of deaths from a playground occurred at home[8].
Whether or not your insurance covers a swing set depends on the policy, but they will want to know that the swing set was installed properly – if not professionally, and is in good working condition.
Take these steps to make your swing set safer for little ones:
To absorb falls, set it on a soft foundation such as mulch, wood chips or fine sand.
Space the swings safely to prevent collisions and entanglements. They should be 56 cm or 22 inches apart.
Close the "S" hooks that connect the seats to the chains. Open hooks can snag children's clothes as they get on and off the seats.
Check the kids' clothing for items that could get caught and cause choking and other injuries such as drawstrings, connected mittens, hoods, and scarves.
Wasp/bee safety
To keep safe from bee or wasp stings, be sure to:
Check your property frequently for nests in nooks and crannies like animal burrows and behind overturned objects.
When mowing the grass or trimming hedges, keep children inside in case you disturb a nest by accident.
If children are drinking pop or juice outside, use a container that can be covered to prevent them from getting stung when they take a drink. Bees and wasps are attracted to sugary drinks and food.
If you are stung, run away in a straight line away from bees and wasps. Don't flail your arms as it aggravates them even more.
If a child has been stung, try to cover all exposed skin so they won't get stung anymore, and then seek medical attention if necessary.
Poisons
Though most parents know how to keep children away from poisons within the home, there are hazards in the backyard as well. In fact, consuming poisonous plants is a leading cause of poisoning in preschoolers[9]. Some things you can do to make your backyard poison-free are:
Remove or fence off any poisonous plants or weeds.
Do not allow children near pesticide-treated gardens for at least 48 hours.
Store any pesticides, fuel and chemicals in a secure area.
Your backyard is your family's oasis – especially in the summer. Do what you can to address potential hazards and ensure everyone's safety. Then you can relax and let your kids and anyone who plays on your property have a fun-filled, carefree summer.
[1] http://www.calgary.ca/CSPS/Fire/Pages/Safety-tips/Safety-tips-home/Fire-pits.aspx
[2] https://www.allstate.com/tools-and-resources/home-insurance/ask-agent-fire-pit.aspx?intcid=ILC-Internal-Search-Results-120808:fire%20pit:result%201&_ga=1.156713467.1120633202.1463621449
[3] http://www.lifesavingsociety.com/media/157475/2013-cdndrowningreport.pdf
[4] http://www.redcross.org/prepare/disaster/water-safety/home-pool-safety
[5] http://www.parachutecanada.org/downloads/programs/safekidsweek/SKW_tip_sheet-AT_PLAY.pdf
[6] http://www.cbc.ca/news/health/doctors-warn-of-trampoline-injury-risks-1.1250737
[7] http://thetrampolinemom.com/does-a-trampoline-increase-my-homeowners-insurance/
[8] http://www.cdc.gov/HomeandRecreationalSafety/Playground-Injuries/playgroundinjuries-factsheet.htm
[9] https://www.healthychildren.org/English/safety-prevention/at-home/Pages/Backyard-Safety.aspx
[10] https://www.healthychildren.org/English/safety-prevention/at-home/Pages/Backyard-Safety.aspx
[11] https://www.healthychildren.org/English/safety-prevention/at-home/Pages/Backyard-Safety.aspx