Back to School Safety Protocols for Students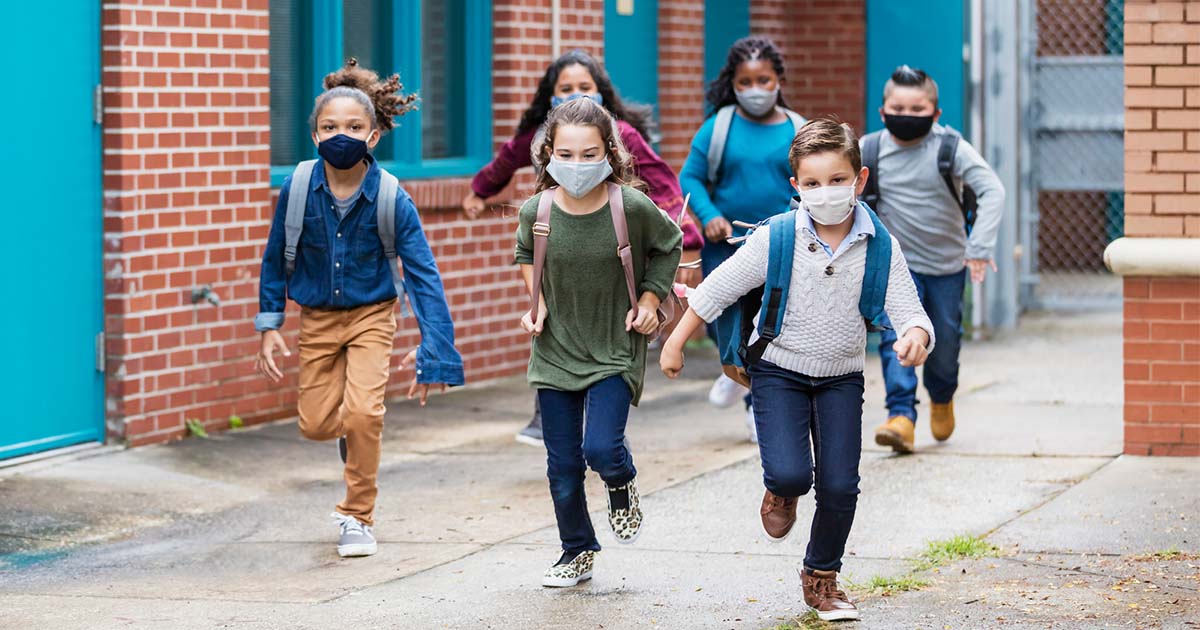 As you get ready for back-to-school for 2022-2023, each province is determining school safety protocols for the pandemic.
Some previous restrictions are in place and some schools do not have back-to-school restrictions. It's best to check with your local school board or district.
School protocols
School COVID-19 protocols for the 2022-2023 school year vary from province to province and include hand hygiene, rapid testing, masks, improved ventilation, staying home when unwell, making physical distancing possible, online learning options, and encouraging vaccines and boosters.
For example, in Ontario, school COVID-19 protocols include HEPA filter units, rapid COVID-19 tests, and funding to offset online learning costs will remain in place. Additional tutoring, mental health supports, and funding for new schools will also be available. School boards will offer virtual learning for the 2022-2023 school year.
School security protocols in some provinces may include asking visitors to wear masks, screening for COVID-19 using a checklist, and asking them not to visit if feeling unwell.
Negative impacts of school closures
When schools closed to curb the spread of COVID-19, there were unintended negative consequences that could impact 5.7 million children in Canada. The negative impacts of school closures due to COVID-19 include:
Worse mental health
Children feel isolated.
In-school mental health support may be less available.
Statistics Canada found that 64% of youth ages 15-24 experienced a decrease in mental health during the pandemic in 2020.
Children and families without access to devices or the internet are affected.
Families where no one can support learning from home are also negatively impacted.
Children with learning disabilities experience negative impacts of school closures.
Vulnerable groups are impacted
Information about the negative impacts of school closures can be found here: https://www150.statcan.gc.ca/n1/pub/71-607-x/2021009/sc-fe-eng.htm
Back-to-school COVID-19 recovery funding
Because of the negative impact of school closures, some provinces are continuing with programs and funding that were put in place for the 2021-2022 school year. Others are implementing additional school covid-19 recovery funding for the 2022-2023 school year.
In Ontario, $26.6 billion has been budgeted for elementary and secondary education for 2022-2023. $10 million is going towards student mental well-being and resilience. More information is available here: https://www.ontario.ca/page/plan-students-catch-up
Alberta is providing an extra $10 million for helping grade 2-4 students get back on track this school year and its 2022 budget allocated $110 million over three years for addressing Covid-19 learning loss, wellness, and mental health.
B.C. has allocated $19 million over four years towards mental health and wellness in schools.
Manitoba's recovery plan has allocated an extra $77 million for the 2022-2023 school year, with $5 million of that funding going towards addressing pandemic learning impacts.
Saskatchewan school divisions will receive $1.99 billion in funding for the 2022-2023 school year and $6 million will go to learning supports like psychologists, occupational therapists, and speech language pathologists.
COVID-19 back-to-school restrictions by province
Information about COVID-19 school restrictions and support across Canada is available here:
British Columbia: https://www2.gov.bc.ca/gov/content/education-training/k-12/covid-19-safe-schools
Alberta: https://www.alberta.ca/moving-forward-in-k-to-12-schools.aspx
Saskatchewan: https://www.saskatchewan.ca/government/health-care-administration-and-provider-resources/treatment-procedures-and-guidelines/emerging-public-health-issues/2019-novel-coronavirus/about-covid-19/schools-and-daycares
Manitoba: https://www.edu.gov.mb.ca/k12/covid/looking_forward.html
Ontario: https://files.ontario.ca/edu-plan-to-catch-up-en-2022-07-25.pdf
Quebec: https://www.quebec.ca/en/education/guidelines-education-covid
Yukon: https://yukon.ca/en/education-and-school-supports-covid-19
Nunavut: https://www.gov.nu.ca/%C3%A9ducation
Nova Scotia: https://backtoschool.ednet.ns.ca
Northwest Territories: https://www.ece.gov.nt.ca/en/jk-12-schooling-during-pandemic
Prince Edward Island: https://www.princeedwardisland.ca/en/topic/back-to-school
New Brunswick: https://www.nbpschools.net/