Stay safe on the water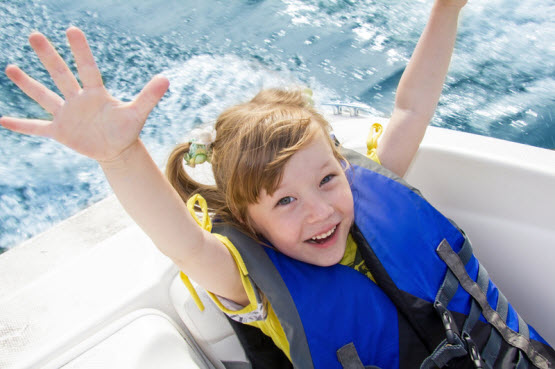 For many Canadians, the main ingredients in summer fun are water and boats. Unfortunately, many boating accidents occur as a result of carelessness, negligence or the use of alcohol. This summer, be sure to bring your boating smarts out on the water with you.
Be proactive and play it safe
The best way to protect yourself is to be proactive and do as much as you can to ensure the safety of everyone on board.
Take a course - Make sure you take a boat safety course and obtain your Pleasure Craft Operator Card – a requirement in Alberta. It certifies you as a qualified recreational vehicle operator. There are many Boating License Courses to prepare for certification, and many of them can be taken online. Note that failing to have your Pleasure Craft Operator Card on board can result in a $250 fine.
Choose the proper lifejackets - and have enough for every person on board. Choose lifejackets or personal floatation devices (PFDs) that:
Turn the wearer on his or her back to keep his or her face out of the water, even if the person is unconscious
Can be manually or orally inflated
Are red, orange, or yellow for better visibility
Come with some thermal protection (if you're boating in colder water)
Before you head out
Check the weather forecast and plan accordingly
Let others know where you are boating and approximately what time you'll be back
Ensure your boat and all equipment is in good working order
Make sure your gas tank is full
Carry waterproof flashlights and flares
Carry a compass
Have a supply of food kept in a waterproof cooler
Don't consume alcohol and operate a boat at the same time
Always operate the boat safely – improper operation is subject to a $500 fine
You don't need boat insurance – or do you?
Boat insurance is not legally required in Canada. Yet each year, there are 4,000 accidents involving boats on Canadian waters, resulting in over 600 fatalities, over 3,000 injuries, and $35.5 million dollars in property damage.
Boat insurance protects your investment against unexpected damage like hitting something in the water, or theft or vandalism. Insurance also protects you in the event that you are the cause of an accident, and find yourself involved in a legal suit.
What to look for when purchasing boat insurance:
Don't assume your boat is covered by your home insurance policy. Most home insurance policies cover only small boats with or without an engine, so depending on the class and type of your vessel, it may not be covered.
Just as you purchase an insurance policy for your vehicle, you should have a separate policy that is specifically designed to cover your boat.
Consider $2 million liability coverage at a minimum.
Make sure you have liability coverage for water sports.
Inquire about theft coverage.
Summers come and go quickly, so when the warmer weather arrives it can be tempting to jump in a boat and sail those blue lakes. But before you do, take some initial precautions to ensure you enjoy safe, sunny days on the water.