Tips for getting your car ready for spring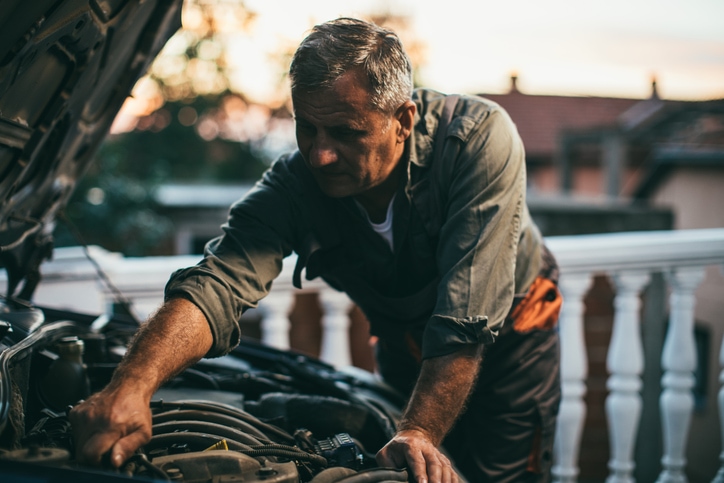 Man on his driveway working under the hood of his car
May 29, 2019
Switch your winter tires for summer tires
Exchange your winter tires for summer ones. Winter tires are made of softer rubber to help them adhere to the road in winter. In the summer they will wear out quickly and they also have a longer stopping distance, which is dangerous in emergencies.
Check the pressure of your tires
A temperature change can cause a change in the pressure of your tires, especially after a cold winter. Check your owner's manual for the recommended tire pressure. Inflating your tires to the proper level will extend the life of your tires, make your vehicle more fuel efficient and improve handling.
Clean the underbody of your car
Salt from the roads in the winter can cause corrosion over time and you should clean your car thoroughly to get rid of it in the spring. Also clean under the hood and in the wheel wells.
Clean the inside of your car
Vacuum your car, wash the floor mats, and wash the windows. Waxing your car twice a year will preserve the polish.
Check your battery
Cold weather is hard on the starter and alternator, so your battery has to work harder as well. Test your battery to make sure it has the right voltage. It should measure at 12.6 volts or higher and you can test it easily using a voltmeter or multimeter.
Check your brakes
Salt can cause leaks in your brake system. Have your brakes checked every 6 months or 20,000 km.
Have your oil changed and fluids topped-up
Getting your oil changed and topping up your fluids improves your car's performance and needs to be done regularly. Check your owner's manual to see whether there is a recommended type of oil to use for your vehicle.
Replace your wiper blades
After a long Alberta winter, your wiper blades have probably sustained some damage and you need to be able to see clearly when driving in a spring downpour. Changing your wiper blades is quick and easy and something you can do yourself or get done when you bring your car in for an oil change.
Check your lights
Wires can corrode or become disconnected over the winter. Make sure all your vehicle's lights are working.
Make sure the air conditioning is working
Turn the air conditioning on high and see if it cools the car quickly. It will be important for keeping not only you, but your vehicle's engine as well, cool in the summer.
Revise your car or truck insurance policy
If you do not review your vehicle insurance policy when it comes up for renewal, you may want to do so every spring when you do your car maintenance.
Check your deductibles. If you are comfortable raising your deductible, you can save money on your premium.
Consider your collision and comprehensive coverage limits. They cover damage to your vehicle. You may want to get collision and comprehensive coverage if you have a newer vehicle or drop them if your vehicle is older. Find out the actual cash value of your vehicle and decide whether the premiums you pay are worth it.
Think about your liability limits and if they are high enough to cover you in case of an accident. You should have at least $1,000,000 in coverage and many drivers are choosing to have $2,000,000.