Tips for getting your motorcycle ready for spring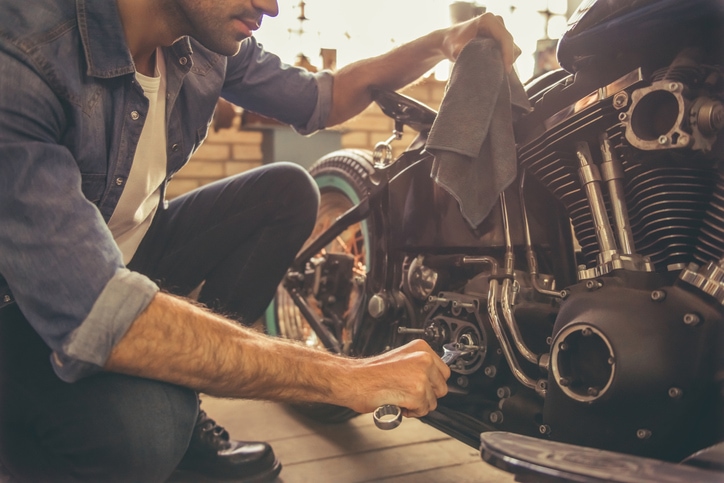 April 24, 2019. Doing a few simple things will help you prepare for a safe and fun riding season.
Tune up your wheels
Check the pressure of your tires.
Make sure tire pressure matches the recommendation in your owner's manual. You will probably need to top your tires up after a long winter.
Inspect your tires for wear and tear
Look for cracks or dry rot and check the tread. Are the tires still in good shape or should they be replaced?
Look for bent, broken or missing spokes and replace any damaged parts
Controls
Check your controls to make sure everything is functioning properly.
Test your throttle, clutch and steering
If anything seems off, now is the time to take your motorcycle to the shop
Check your battery
Your battery may need to be charged after sitting all winter
Test your battery
Make sure the terminals are clean and the cables are connected securely.
Check your oils and fluids
Change your oil if you did not do it at the end of the last season
Check your owner's manual for instructions and choosing the right oil.
Check and top off brake fluid, transmission oil, coolant, hydraulic clutch fluid, and fork oil.
You may need to flush and replace fluids you suspect have degraded over the winter. Check the owner's manual for instructions and the recommended maintenance schedule.
Check your lights
Make sure your low and high beams, brake light, taillights, flashers, and turn signals are working and replace any burned out bulbs.
Check the brakes
Brakes need to be in perfect working order, especially your front brake, as that is where most of your stopping power comes from.
Check the brake pads for wear.
Squeeze the brakes and make sure your hand does not hit the handle bar and that they do not feel mushy.
Replace brake pads and fluid if needed
Check the chain
Clean off any rust
Oil it after a going for a short ride
Tighten the chain if it is too slack
Check your gear
Stay safe by making sure safety equipment is not damaged.
Check your helmet for cracks and replace it periodically
Replacing your helmet every 5 years is recommended by many manufacturers.
Check your gloves, boots, and visor
Replace them if there is excessive wear
Make sure your emergency road kit has any items you may need and replace anything that is missing.
Review your insurance coverage every season to ensure it meets your needs
If you do not remember the details of your insurance policy or have not thought about updating it in a while, you should think about doing it at the start of the season.
Drop coverage you do not need
If the replacement value of your motorcycle is low, you may want to consider dropping collision or comprehensive coverage.
Make sure you have all the coverage you need
If you do not have collision or comprehensive coverage you may want to consider adding them if you have a newer or high-value motorcycle.
Think about whether your deductible would be affordable and whether your monthly premium is affordable
Find the right balance between the cost of your insurance payments and your deductible. Increase your deductible to save money on insurance or pay more for a lower deductible.
Shop around to see if there is a better deal on motorcycle insurance
Staying with the same insurer for a long time does not always mean you are getting the best deal.
Find out if bundling your motorcycle insurance with your home or car insurance will lower your premium