Tips to Keep Remote Workers Healthy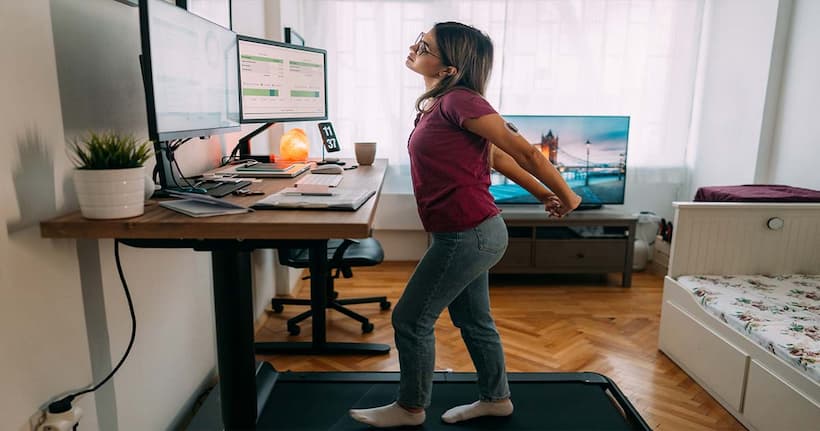 Follow these exercise, mental health, and healthy eating tips if you are a remote worker. They will help reduce stress, improve physical fitness, increase productivity, and give you more energy when you are working outside the office.
1. Wear your workout clothes all day, or not
If you dress in workout clothes, you will be more likely to do mini workouts throughout your day and you will be more committed to exercising.
Or you can work out when it suits you and get back into your office clothes during work hours.
Whatever makes you feel better!
2. Start the day with a dance party
Exercise does not have to be structured and dancing is a great way to reduce stress, feel happier, and get fit. Start the day with a solo dance party to your favorite song or join an online dance class!
3. Use a seven-minute workout app
Search an app store for a seven-minute workout app for quick and effective workouts you can do from home. You can get an app for free, and you do not need any special equipment.
4. Do an online yoga class
You can get the benefits of yoga from home by participating in an online class. Joining a group of people remotely will keep you motivated and all you need is a yoga mat!
5. Do a jump rope workout
A jump rope workout is one of the most effective workouts you can do in a small space. Do 20, 50, or 100 skips at once and try adding some lunges and a stretch after each set.
6. Get a spin bike
You might not always have time to get out of the house for some cardio and having a spin bike at home makes it easy to get some exercise every day. Find YouTube workout videos and make it part of your routine.
7. Have walk meetings
Go for walks when you have meetings to get some exercise and solve problems more creatively. Research suggests that walking allows for more divergent thinking.
8. Run to the store
Instead of driving or walking to the store, go for a run! This simple change will help you be more active and is easy to incorporate in your daily routine.
9. Plan mealtimes
It is important to eat when you are working from home to maintain your focus. Plan snack and meal times but avoid eating in between.
10. Do meal prep
Prepare lunches and snacks like you would if you were going to the office. Choose healthy, real food like veggies, protein, and healthy fats so you can think and feel better all day. Avoid buying junk food so you are not tempted to eat it instead of your healthy lunch.
11. Do not work near the fridge
It is tempting to snack constantly when working from home so do not work in the kitchen or with the fridge in your line of sight.
12. Drink water
Dehydration caused fatigue and headaches. Keep a water bottle on your desk so you are more likely to stay hydrated and make sure to avoid sugary drinks.
13. Have a schedule
Having a routine helps us mentally prepare for the day ahead. Shower, get dressed, and have breakfast, then head to a dedicated workspace where you can focus only on work. Have regular working hours and breaks and do not burn yourself out by working past your work hours.
14. Connect with others
Check in with your boss, coworkers, and peers. Take a coffee break and have a Skype or Facetime call with a friend and use social media for informal work conversations.
15. Get enough sleep
Get at least 7.5-9 hours of sleep every night to feel better mentally and physically.
16. Change your remote work setting
One of the benefits of remote work is that you can work from anywhere. You can use it as an opportunity to travel and work in different locations. Use the money you save by not commuting for a trip or something else you enjoy.
17. Take breaks
Schedule breaks throughout the day to manage stress and be more focused when you get back to work. Get out of the house for a bit or use this time to do a quick workout.
18. Ask for support
If your mental health is suffering from working at home, understand that you are human and everyone struggles at some point. Talk to your manager or HR leader about mental health support for working remotely if it is proving to be difficult.
19. Communicate
Be open with your work friends to eliminate feelings of loneliness and isolation. Encourage them to connect with you so you can work through challenges together.
20. Unplug after work
Live life outside of work and disconnect from it completely when your working hours are over. Uninstall work-related apps from your personal phone and do not check your work email. Work-life balance is key for mental health.