Top 5 tips for having a great cross country ski trip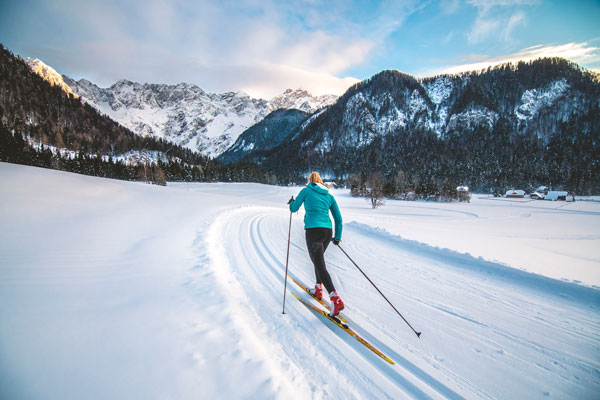 Cross country skiing is a fun and healthy way to get outside in the winter. A few simple tips will help you enjoy your trip whether you are going for a quick day trip or a longer getaway.
Safety
Cross country skiing does not seem particularly dangerous, yet there are precautions you should take to make sure you are safe.
Do not ski for long distances alone in case you get injured and cannot get back to your car.
Always tell someone where you are going and when you plan to return.
Bring enough clothing to keep you warm.
Ski on trails that are properly groomed. If the snow is not densely packed you will sink into it instead of gliding on top. This is not enjoyable and you will be exhausted before you gain momentum.
Learn how to wax your skis
Unless you are an experienced skier, chances are you use classic skis. Knowing how to wax them makes a big difference in how well your trip will go.
Your skis need to be waxed with glide wax once or twice a winter and you can get it done at a ski shop.
You can apply grip wax yourself and need to do it before every trip.
Powdery snow is "cold" and sticky snow is "warm." "Ideal" snow is in between. There are different kinds of wax for each kind of snow – green for "cold," red for "warm," and blue for "ideal."
The wax pocket of your ski is the part that does not touch the ground when you are standing on your skis with your weight evenly distributed on both of them. It is usually the middle third of your skis and this is where the grip wax goes.
If you are not sure which wax to use, use the "colder" one. You can always re-wax with a "warmer" wax if you need more grip.
If the weather is warm you can use waxless skis.
Dress well
Dressing appropriately is extremely important not only for your enjoyment but for your safety.
Always make sure to check the weather forecast and be prepared for unexpected weather changes.
Dress in layers so you can add or remove clothing as needed.
Wear clothing that is comfortable and allows you to move freely while staying warm.
Do not forget to bring a hat and gloves.
Wool and synthetic fabrics let sweat evaporate while cotton will hold moisture in, so avoid cotton as much as possible.
Wear the right socks. They should be performance socks that fit well and end just above your boot. Avoid seams on the toe. Merino wool socks are warm, wick moisture away from your foot, and adapt to your body temperature.
Cross country skiing is a great cardio workout and you will need to drink water throughout the day.
It burns a lot of calories so you will also need to make sure you eat so you can maintain your energy level.
Bring snacks that are nutritious and easy to carry and eat.
Pick a beautiful destination near you
Canada has many amazing places to go cross country skiing. No matter where you live, there is bound to be a great place to visit nearby. Head out for a couple of hours or a longer cross-country ski trip.
These are some popular destinations:
Saskatchewan
Little Red River Park
There are cross country trails that are maintained by the Prince Albert Ski Club.
Eb's Trails
Eb's Trails is only an hour from Saskatoon and has 55 km of classic ski trails.
Prince Albert National Park
Prince Albert National Park has around 150 km of cross-country skiing trails, with many that are easy or moderate.
BC
100 Mile House
100 Mile Nordics has 45 km of trails and night skiing.
Vancouver Island
Mount Washington has 55 km of trails and night skiing on the weekends.
The Okanagan
Sovereign Lake and Silver Star are resorts that are connected by 105 km of groomed trails.
Whistler
Callaghan Country hosted the 2010 Winter Olympic and Paralympic Games and has 90 km of trails.
Invermere
Lake Windermere has a 29.8 km loop for cross country skiing.
Ontario
Stokely Creek Lodge
Stokely Creek Lodge has 135 km of trails on various terrain with views of Lake Superior.
Algonquin Provincial Park
There are three networks of ski trails in Algonquin Provincial Park offering some of the best views of the park.
Alberta
Canmore
The Canmore Nordic Centre was created for the 1988 Winter Olympics and has 60 km of intermediate and advanced trails.
Kananaskis
Peter Lougheed Provincial Park has around 90 km of easy to moderate trails.
Manitoba
Whiteshell Provincial Park
There are eight locations in Whiteshell Provincial Park offering 70 km of amazing cross-country trails.
Quebec
Gatineau Park
Gatineau Park is near Ottawa and has 100 km of groomed trails.
The Laurentians
The Laurentians have over 1000 km of trails in 30 places.
Mont Ste Anne
Mont Ste Anne is the largest cross-country ski centre in the country with 208 km of trails.
Ontario
The Thunder Bay area has cross country ski trails in Sleeping Giant Provincial Park, at the Lappe Nordic Ski Centre, and in Quetico Provincial Park.
Newfoundland
The Blow Me Down Ski Club
The Blow Me Down Ski Club has 42 km of trails.
New Brunswick
Fundy National Park
Fundy National Park has 40 km of trails and beautiful views.