Top Tips for Opening the Cottage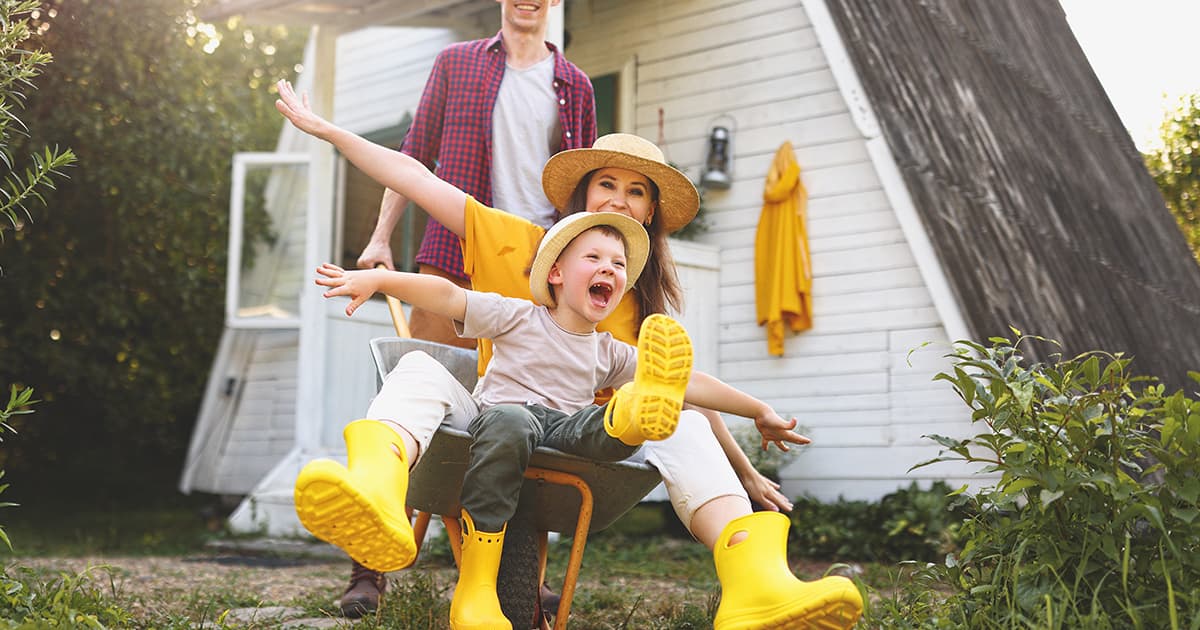 Typically, Canadians head to their cottages on the Victoria Day long weekend. So, it's time to open up the cottage again and get ready for the season.
Make sure to arrive prepared, check the exterior and interior of your cottage, turn the water and hot water tank on, get the septic system ready to go, and update your cottage insurance.
Here are some top tips for opening your cottage.
Before you go to your cottage
Opening the cottage starts before you get there. Make sure to:
Turn any utilities, internet, and phone services back on.
Prepare food, tools, cleaning supplies, clothing, batteries, keys, and filters.
Check that insurance documents for your cottage, boat, and RV are up to date.
Check the weather forecast before you head out.
Check the outside of your cottage
Take a walk around your property and make sure everything is in order.
Look for fallen branches in power lines.
Check for dying trees that could fall on the cottage.
Check phone lines for damage.
Inspect its roof for damage to shingles.
Inspect the chimney stack.
Look for damage on the deck.
Check the dock if you have one.
Inspect windows and screens for damage.
Look for loose boards or holes in the siding caused by animals.
Check the inside of your cottage
Take a look around inside the cottage and do a deep clean.
Disinfect counters and surfaces.
Open cupboards and closets to look for signs of mice. Open windows so your cottage can air out.
Check the ceiling for water damage.
Make sure the smoke and carbon monoxide detectors are working and have new batteries. The fire extinguisher should be properly charged.
Check and update your cottage insurance
One of the most important tips for opening the cottage is to update your cottage insurance. Here are some questions to consider:
Are you using your cottage more or less this year than in previous years?
If you use your cottage for one or two seasons, seasonal property insurance is for you. If your cottage is your principal residence, you will need more coverage.
Are you planning on renting out your cottage?
Talk to your insurer about how much time you will spend at your cottage and for how long it will be rented out. You may need insurance that reflects its commercial use and liability insurance is important in case a renter is injured at your cottage.
If you are renting it out, you should also have landlord insurance, which protects against risks like fire, smoke, and explosion. You may also want to consider rental income coverage and insurance for renters using your recreational watercraft.
Do you have enough coverage?
If you have upgraded your furniture or appliances or done renovations, you will need more coverage. Adding a structure like a shed, garage, or boathouse also means that you should insure them.
Double-check your policy for details about what kinds of perils are excluded. It could exclude vandalism, septic bed backups, theft, earthquakes, or damage from animals. Make sure you have all the coverage you need.
Does your cottage insurance policy include the replacement cost?
If you had to completely rebuild your cottage, would your policy cover it? If you are covered for actual cash value, you should consider upgrading your policy to include replacement cost.
Your cottage would cost a lot more to replace today than it cost to build decades ago. A policy that covers the replacement cost of your cottage also takes into account interior and exterior materials used and its type and size.
How can you save money on cottage insurance?
Security cameras, carbon monoxide detectors, having a first aid kit, and keeping watercraft off-limits to renters can help you save money on insuring your cottage. Ask about bundling your policy with car or home insurance or ask about a loyalty discount.
Other tips:
Inspect the pump and turn the water on
If you have a land-based pump, follow these steps:
Inspect lines for damage.
Install a new water filter.
Connect the hand pump to the priming valve for the water pump or manually fill the water line, then open the priming valve.
Draw water into the line and pump, then close the priming valve.
Open a cold water tap and make sure the cold water valve going into the hot water tank is closed.
Turn on the pump at the electrical box.
Open all valves between the pump and cottage and all cold water valves.
Inspect the lines for leaks and listen for hissing sounds, then close the taps.
Make sure the pump holds its pressure and is not running when you close the taps.
If you have a shallow well, have the water tested at least twice a year.
Turn on the hot water tank
Next, turn on the hot water tank.
Make sure the hot water tank breaker is turned off and the cold water intake valve is closed. Close all the taps.
Connect a hose to the drainage valve and run it outside.
Open the valve and open a hot water tap to push out residual water. Close the drainage valve.
Turn on the cold water intake valve. When the hot water tap runs normally, the hot water tank is full. Close the hot water tap.
Turn on the hot water tank breaker at the electrical panel.
Look for leaks in hot water pipes.
Maintain the septic system
Have the outhouse cleaned or the septic tank pumped before the start of the season to avoid any messy mishaps in the middle of your holidays.