Two useful skills to have when your car breaks down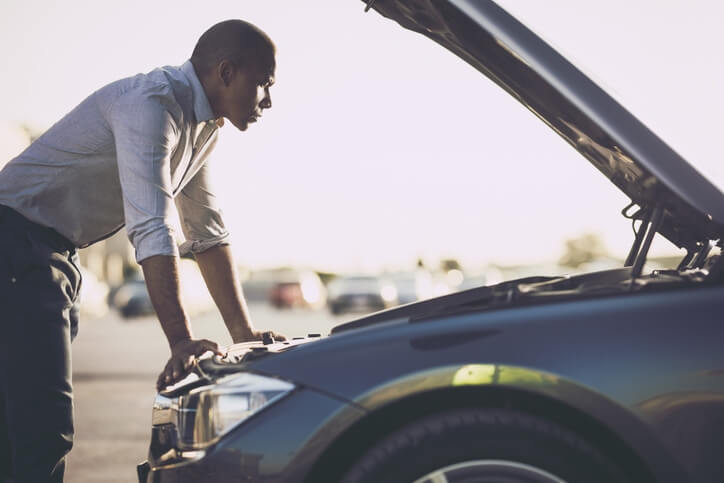 January 13, 2020. Your car breaking down can be stressful and time consuming and chances are you will experience at least one, if not all, of these common car breakdowns. Knowing how to deal with some common reasons for your car breaking down yourself or with the help of a friendly bystander can save you a lot of time and stress and make you feel like you have accomplished something.
How to jumpstart a battery
A dead battery is one of the most common reasons for getting stuck on the side of the road. Jumpstarting a battery is quick and easy. You will need jumper cables and another car with a charged battery.
Turn off both vehicles

Connect the positive (red or marked with a "+") jumper cable to the positive (bigger than the negative and may have "POS" or "+" on it) terminal of your battery. Some cars have remote terminals because the battery is inaccessible; if that is the case, use them instead of battery terminals.

Connect the other end to the other battery's positive terminal.

Attach the negative (black) jumper cable to the charged battery's negative terminal.

Attach the other black clip to something made of unpainted metal 18 inches or further from the battery.

Start the car with the good battery and let it run for a few minutes.

Try to start your car.

If it starts, drive around for at least 15 minutes. If it does not start next time you use it, the battery needs to be replaced.
Follow the steps outlined in your owner's manual so you do not risk damaging one of the vehicles.
How to get unstuck in the snow
You can save yourself a lot of time waiting for roadside assistance by knowing what to do when your car gets stuck in the snow. If your car is stuck, chances are many other cars are too and you could be waiting for hours.
Try not to stop and use your momentum to get through a tricky spot.

If you get stuck anyway, shift your automatic transmission to the lowest gear or your manual transmission to 3rd or 4.th Less power is better for keeping the tires from spinning.

Turn off traction control.

Point your wheels straight ahead.

Rock the car forward and backwards by driving forward and then putting it in reverse and then going forward again until it builds enough momentum to get unstuck.

Use the momentum to keep going until you are on firm ground.

Use traction devices like chains or kitty litter, rocks, or twigs if your car keeps spinning its wheels.

If you cannot get unstuck, let some air out of the tires. This increases the surface are that is in contact with the ground and might provide enough traction to get your car going again. Just make sure to inflate the tires to the manufacturer's specifications as soon as you can and drive slowly until then to avoid damaging the tires.

Sometimes digging is the only way out. Use a shovel, board, plastic cup, or anything else you can find to dig a gradual ramp from where the car is stuck back to solid ground.