What Do We Eat Most at Super Bowl Parties?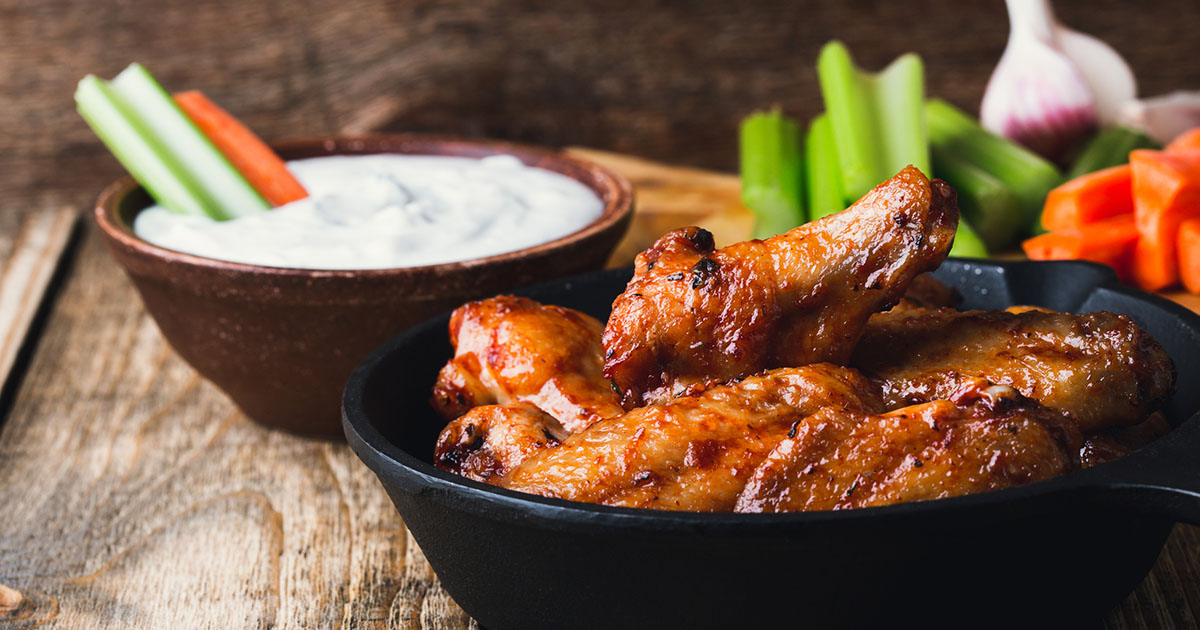 Don't even think of watching the Super Bowl on an empty stomach.
It's not just about cheering on your favorite team. It's about all the delicious snacking while you're watching the Kansas City Chiefs take on the Philadelphia Eagles this Sunday in Super Bowl LVII in Glendale, Arizona. (Game time is 6:30 p.m. Eastern)
Super Bowl Sunday is considered the second biggest "food holiday" in the U.S. after their Thanksgiving. Canadians can enjoy the snacking, too!
The rankings can change in year-to-year surveys, but the top Super Bowl foods are usually:
Chicken wings: As many as a whopping 1.4 billion chicken wings are eaten in the U.S.
Canadians eat wings on Super Sunday, too. The Chicken Farmers of Canada says Canadians will consume 76 million wings during the game this year and they continue to be our top choice!
Other fan favs:
Meatballs
Pizza
Guacamole
Tortilla Chips
Pigs in a blanket
Chili
Ribs
Popcorn
Nuts
Fun Super Bowl food facts:
Meatballs: For 2023, these meaty, bite-sized treats ranked as the No. 1 food football fans were searching for online.
Beer: It's estimated that about 325 million gallons of beer were consumed during last year's Super Bowl Sunday.
Tortilla Chips: Around 11 million pounds purchased; about 8 million pounds of chips purchased
Pizza: Super Bowl Sunday is usually one of the busiest days of the year for pizza shops. In 2022, an estimated 12.5 million pizzas were sold in the U.S. on game day, according to the American Pizza Community organization.
Calories consumed: The average U.S. household bought about 6,000 calories worth of snacks per person in 2022.
How much is money spent: The website statista.com estimates that a total of 16.5 billion U.S. dollars will be spent by consumers in the United States on Super Bowl related purchases in 2023. These purchases include, for example, food and beverages, game-related merchandise, other apparel, decorations and televisions.
What else do I need to know about the Super Bowl?
Half-time entertainment this year: Singer Rihanna
U.S. national anthem: Will be performed by country music star Chris Stapleton
America the Beautiful: R&B legend Babyface will sing it
Commercials: It wouldn't be Super Bowl without the commercials. This year 30-second spots cost a record $7 million, according to AdAge. One of the most iconic Super Bowl ads was Jeep "Ground Hog Day'" with Bill Murray.
How many watch the Super Bowl: Millions and millions. Globally, the 2022 Super Bowl pulled in nearly 100 million viewers.
Super Bowl History: It was created as part of a 1966 merger agreement between the NFL and the competing American Football League (AFL) to have their best teams compete for a championship.
It was originally called the AFL–NFL World Championship Game until the "Super Bowl" was adopted in 1969's Super Bowl III in Miami.