What to do around emergency vehicles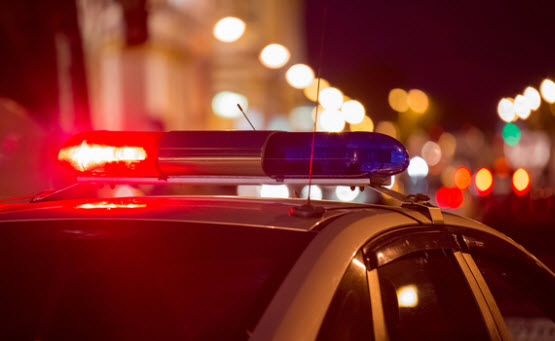 You're driving home from work, when a siren prompts you to glance at your rear view mirror. You see the lights of a speeding police car approaching from behind. Do you…. slow down and pull over to the side, get in another lane, or continue in your lane at the speed you were travelling and hope it drives around you?
A responding emergency vehicle may be a police car, fire truck, ambulance, or even a tow truck. When responding to an emergency, it typically has red and white flashing lights and sirens to alert motorists.
Many drivers don't know what to do when they're in front of or meeting a responding emergency vehicle. This lack of knowledge can lead to a ticket or even a serious accident. It's important that you know what to do when you suddenly have to share the road with an emergency vehicle.
If an emergency vehicle approaches from behind
Pull over and stop—If you see flashing lights and/or hear the siren of an approaching emergency responder, you must pull over to the far right of the road and stop your vehicle as soon as it is safe to do so, regardless of which direction the emergency vehicles are travelling. If there are more than two lanes of traffic, pull over to the nearest curb to allow the emergency vehicle a clear path around you.
Don't turn—If you're in the turning lane and see emergency responders approaching, do not make the turn. Instead, continue straight, then pull over to the right as soon as you can.
Look and Listen—After the emergency vehicle passes, look and listen for any other approaching emergency vehicles before proceeding on your way.
No following—Following a firetruck closer than 150 metres when it is responding to an emergency is illegal.
When approaching a stopped responding emergency vehicle
If you're driving and see an emergency vehicle stopped ahead with its lights flashing, you must slow down to 60km/h (or slower if the speed limit is lower). This only applies to vehicles in the nearest lane, but vehicles in any lane and either direction should approach with caution.
Tow truck drivers are emergency responders too
Many motorists don't realize that a tow truck with flashing lights on or stopped on the shoulder of the road is considered an emergency responder. Tow trucks often assist first responders and should be treated with the same caution. If you see one, slow down to 60km/hr, move into the lane farthest away from it, and give other drivers a chance to change lanes and slow down as well. Following these simple rules could save lives.
Speeding fines and insurance rates
Speed fines double for anyone who doesn't slow down to at least 60 km/hr or the posted limit (if it's lower) while passing a responding emergency vehicle. This is also true for construction zones and tow trucks stopped on the shoulder of the road. In Alberta, fines for speeding range from $78 - $474. If you're caught speeding in a construction zone or past emergency workers stopped on the shoulder, you could be paying anywhere from $156 - $949 in speeding fines.
Aside from the potentially astronomical fine you could pay for failing to slow down while passing emergency responders, you could face an increase in your insurance, too. Insurance companies pay particular attention to the severity of ticket infractions you may have. If you're caught speeding excessively past emergency responders, you could see a corresponding increase in your insurance rate.
Sometimes the sight of flashing lights can be disconcerting. But you need to keep your wits about you. If you hear sirens and see flashing lights, immediately pull over to the curb and stop to allow responders a clear path. If you see vehicles with flashing lights parked on the shoulder, slow down to 60 km/hr and keep an eye out for any emergency workers on the road. Even a single driver obeying the rules can encourage others to follow suit.
Minding these simple rules could save you more than just a speeding ticket and an insurance increase —it could save lives.