When should you update your home insurance policy?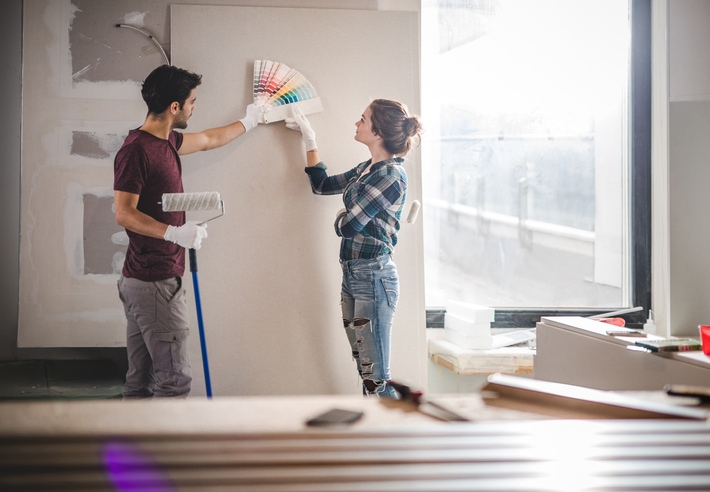 Young couple choosing paint colours for their renovations
April 4, 2019. If you're like many homeowners, you probably did a bit of research when choosing insurance for your new home. Buying a home is exciting and you want to choose the insurance policy that covers what you need at the best price.
It's great to find a policy that fits your needs, but you should update it regularly to reflect changes in your home and lifestyle. If you don't update your policy, you might not be covered if you're the victim of theft, fire, or other damage to your home. You should review your home insurance policy any time you change the value of your home.
When do you need to update your home insurance policy?
There are many reasons to update your policy and some are quite unexpected.
Renovations
When you're doing a major renovation that will add value to your home, you need to let your insurer know so they can make any necessary adjustments to your policy. Your home is now more expensive to rebuild so you need a policy that will cover its current value, not the value it had when you first got home insurance. Some renovations, like a new roof, could actually lower your insurance rate.
Adding a pool or hot tub
If someone is injured or drowns in the pool (even if they were there without permission), you will be liable. If you haven't updated your insurance to include the pool, you won't be covered by your home insurance. Because adding a pool or hot tub adds risk, your insurance premium may increase.
Getting a security system
Adding a security system makes your home less risky to insure and can save you about 5% in premiums each year.
Buying a high-value item
When you buy art, jewelry, collectibles, sports or music equipment, or electronics you should find out if your policy will cover the new item. Home insurance policies have limits on how much you can claim if a high-value item needs to be replaced and often won't cover its full replacement cost. You can add additional insurance specifically for the new item to your home insurance policy. This is called "scheduling personal property."
Quitting smoking
Not only is quitting smoking one of the best things you can do for your health, it also reduces the risk of fire in your home. If you let your insurer know, your home insurance premium might decrease.
Retiring
People who are retired tend to spend more time at home and have more time to maintain their homes. They're more likely to see a problem before it damages their home and less likely to be victims of burglary. Some insurance companies offer discounts to senior citizens and those that are retired.
Adopting a dog
Your insurer will see a dog as a risk because you will be liable if your dog bites someone, so you need to update your policy to cover that situation in case it ever happens.
Renting your house
You may need landlord insurance if you decide to rent your house. If you're planning to rent to the same person or family for about 6 months or a year or are renting an investment property or vacation home, you will probably need a landlord policy. For short-term rentals, you would need a hotel or bed and breakfast policy.
When your policy doesn't cover something your home or location is susceptible to
If you're not covered for certain "listed perils" (the circumstances that your policy will cover, such as fire and certain natural disasters) and would be more comfortable with coverage for events such as flooding, you may want to consider adding additional coverage. Your home itself may also be susceptible to problems that you may want coverage for, such as sewage backups, and you can get this extra coverage in an endorsement for about $100-$200 a year.
There are many options available to help you personalize your home insurance policy so it can do what it's intended to do – protect your home.