Why Thunder Bay is Part of Terry Fox's Legacy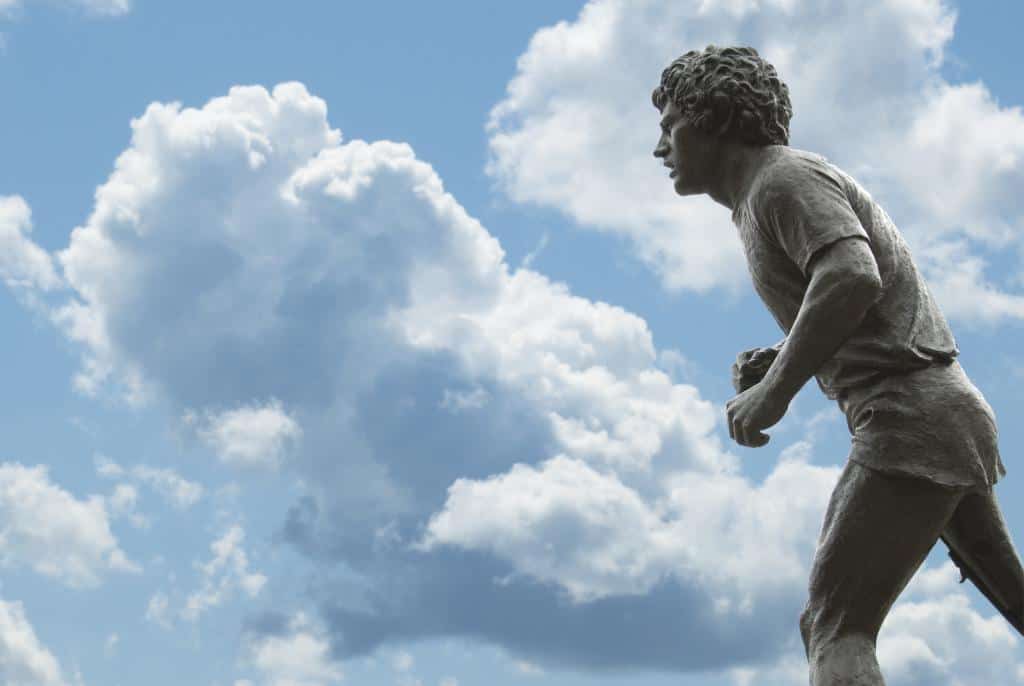 The Terry Fox Run on Sept. 17 is a fall tradition in Canada to raise money for cancer research.
Thunder Bay, forever entwined with Terry, participates in the annual Terry Fox Run along with more than 650 communities across Canada to raise money annually for cancer research projects.
How are Thunder Bay and Terry Fox connected?
Terry ended his run, called the Marathon of Hope, just outside Thunder Bay on Sept.1, 1980. X-rays showed that cancer had spread to his lungs after he had been experiencing chest pains.
His right leg had been amputated in 1977 due to cancer and he ran using a prosthetic leg that was basically designed for walking.
Terry had run 5,373 kilometres, nearly a marathon a day, through six provinces when he ended his Marathon of Hope and was flown home to British Columbia from Thunder Bay.
Before returning home for treatment Terry said if there was any way to finish his run, he would.
Statue and plaque of Terry near Thunder Bay
The Terry Fox Monument, on the outskirts of Thunder Bay, is a public monument commemorating Terry's Marathon of Hope.
The monument, which depicts Fox, is open to the public and has a scenic view of Thunder Bay and its surroundings.
The government of Canada has a commemorative plaque for Terry at Terry Fox Scenic Lookout, Highway 11/17, 7.5 km east of its intersection with Highway 102, near Thunder Bay.
Did you know that Terry Fox was designated a national historic person by the Canadian government in 2008?
How to join this year's annual Terry Fox Run
Where did the Marathon of Hope start?
It started in St. John's, Newfoundland and Labrador, where Terry dipped his artificial leg into the Atlantic Ocean.
Terry was 18 years old when he was diagnosed with bone cancer and had his right leg amputated 15 centimetres (six inches) above the knee in 1977.
While in hospital, Terry was so moved by other cancer patients, many of them children, that he decided to run across Canada to raise money for cancer research.
Terry called his run the Marathon of Hope.
Why is there an annual Terry Fox Run?
A day after Terry ended his run, plans took shape for the annual Terry Fox Run. Isadore Sharp, founder and chairman and CEO of Four Seasons Hotels and Resorts, contacted the Fox family on Sept. 2, 1980, with a commitment to organize an annual fundraiser in Terry's name.
What did Terry accomplish?
Before his death on June 28, 1981, Terry had achieved his goal of $1 from every Canadian for cancer research.
By February 1, 1981, the Terry Fox Marathon of Hope fund had raised $24.17 million.
The Terry Fox Run has raised more than $850 million since 1980 for cancer research.
"I want to set an example that will never be forgotten" -- Terry Fox
What did Terry say about his cancer and the Marathon of Hope?
"To me, being famous myself is not the idea of the run, and it wasn't from the very beginning. To me, the only important part is the Marathon of Hope."
"It took cancer to realize that being self-centered is not the way to live. The answer is to try and help others."