Why We Celebrate Thanksgiving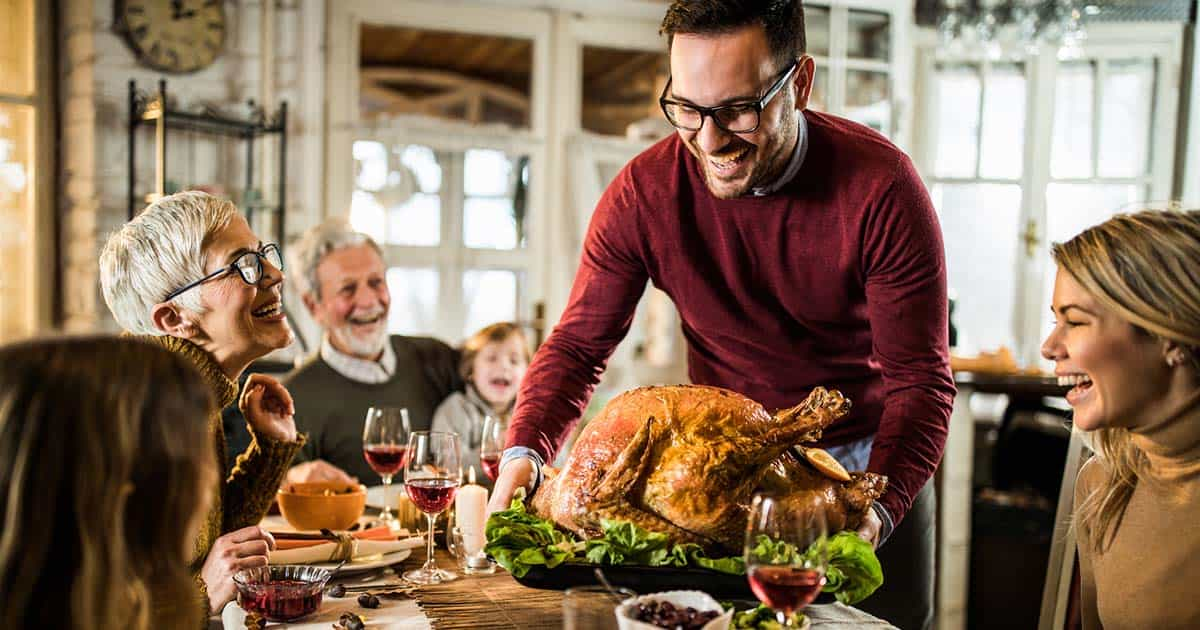 Traditional thanksgiving dinner has been around for centuries and has regional differences across Canada to celebrate the fall harvest.
Canada settled on the second Monday in October because of the generally nice fall weather.
Turkey and trimmings originated in Nova Scotia
Sir Martin Frobisher's crew had the first thanksgiving dinner in Canada in 1578 in the Eastern Arctic. It consisted of salt beef, mushy peas, and biscuits and was a celebration of their arrival in today's Nunavut.
Thanksgiving dinner of turkey, cranberries, and all the trimmings first originated in Nova Scotia in the 1750s. It featured turkey, squash, and pumpkin and became common across the country by the 1870s.
Today, different provinces have different favorite Thanksgiving dishes in addition to thanksgiving staples. Pumpkin pie is common across the country while Nanaimo bars are popular in BC and butter tarts in Ontario. In Newfoundland, Jiggs' dinner is more common than turkey. It is a traditional meal of salt beef, peas, cabbage, turnips, potatoes, and carrots.
Did you know?
Turkey is the only commercially available meat that is native to North America.
Stuffing has been around for two millennia.
Indigenous peoples used cranberries in dues and cakes, and they are native to North America.
Pumpkin pie was not around for the first Thanksgiving dinners because there were no ovens, but pumpkin was eaten at Thanksgiving, sometimes stewed with milk, spices, and honey.
Canada's first official thanksgiving was on November 6, 1879.
The history of Canadian Thanksgiving
The history of Canadian Thanksgiving began well before settlers arrived, with North America's Indigenous peoples anticipating a good fall harvest with rituals and dances.
The first European settlers to celebrate Thanksgiving are said to have been Sir Martin Frobisher and his companions in 1578. Samuel de Champlain and other inhabitants of New France started celebrating Thanksgiving in 1606, when Champlain organized a series of feasts at Port Royal in an attempt to prevent scurvy and invited local Mi'kmaq families.
In 1763, Halifax citizens celebrated the end of the Seven Year's War with Thanksgiving and Loyalists brought the tradition to other parts of Canada.
Canada's first national thanksgiving was in 1859 in the Province of Canada (now Ontario and Quebec) when the Protestant clergy adopted the American Thanksgiving holiday. It was a religious holiday, which some Canadians objected to because it blurred lines between church and state.
How we settled on a date for Canadian Thanksgiving
After Confederation, the first thanksgiving was on April 5, 1872. It was a civic holiday in celebration of the Prince of Wales (Kind Edward VII later) recovering from an illness.
The first annual thanksgiving in Canada was November 6, 1879, and the date for the following years was determined each year by Parliament. It sometimes coincided with American thanksgiving and occasionally occurred as late as December 6. The themes were celebrating the fall harvest and various anniversaries of the British monarchy.
The second Monday in October was the most popular date because of the nice fall weather.
Thanksgiving was designated an annual event in 1957 and takes place on the second Monday in October. It is a statutory holiday across Canada except in PEI, Nova Scotia, and New Brunswick.