Will you be trick-or-treating this Halloween?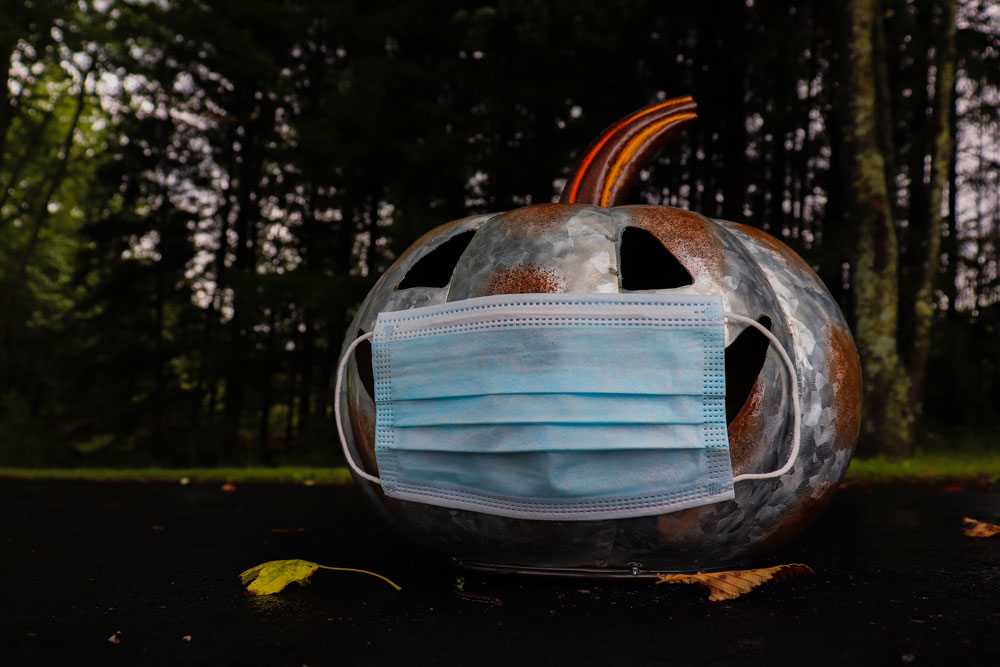 We know 2020 has been tough with the ongoing pandemic. Yet, with Halloween Saturday, your kids can still find safe ways to celebrate no matter where you live in Canada. While most areas agree on general guidelines, ensure you check with health authorities in your city or province whether trick-or-treating is encouraged. Each city's rules will be different, based on municipal leaders' best advice. For example, according to the CBC, Dr. Hinshaw, Alberta's chief medical officer of health, states trick-or-treating can be safe for Albertans — with proper protocol in place. On the flip side, it's recommended for places like Ottawa, Toronto, Peel and York that kids not go trick-or-treating due to more COVID-19 cases, as stated by Dr. Williams, Ontario's chief medical officer of health, and find safer alternatives.
Elsewhere, some Edmonton malls decided not to allow trick-or-treating, and cities, like Vancouver and Calgary, have Halloween activities to choose from. These include scavenger hunts, mini golf, ghost tours, haunted train rides, haunted houses and even haunted car washes!
Regarding British Columbia, Dr. Henry, that province's top doctor, expressed that Halloween events (ie. trick-or-treating) should be small and kept outside. All experts agree that now is not the time for parties.
In Saskatchewan, Dr. Shahab, chief medical health officer, said trick-or-treating is acceptable (with safety rules). Dr. Roussin, Manitoba's chief provincial public health officer, said it's up to individuals to determine if they can safely trick-or-treat with the right protocols in place.
If your kids are going trick-or-treating:
A few simple precautions can make trick-or-treating safe and fun for your kids.
Make sure kids wear a mask under their Halloween mask (if it does not impact their breathing).
Kids should not ring doorbells and can yell "trick or treat" instead.
Make sure your kids wash their hands when they get home.
If you or your kids have even mild symptoms, stay home. Do something fun in the house.
Go trick-or-treating with people in your bubble and stay in your community.
Before letting your kids eat their candy, make sure everyone's hands are washed and disinfect all of the candy packages.
You can quarantine Halloween candy for a few days and give your kids candy you already have on Halloween night.
If you are staying home and handing out candy:
Do not hand out candy if you are not feeling well or have any COVID-19 symptoms.
Wear a mask under your Halloween mask.
Leave your lights on so that parents and kids know you are participating in trick-or-treating.
Watch for trick-or-treaters so they do not attempt to ring your doorbell.
Make sure trick-or-treaters are clear on how you are handling trick-or-treating this year by displaying signs if needed. Some government websites have posters you can use to indicate whether your house is participating in trick-or-treating.
Consider creative no-touch candy delivery methods like slides or chutes.
Make a candy scavenger hunt in your yard.
Do not forget to stay six feet away from others.
Hand out candy with tongs instead of touching it.
Space out candy bags on a table or blanket instead of having a candy bowl.
If the weather is nice, consider handing out candy outside instead of at your door.
Halloween alternatives:
If you choose not to participate in trick-or-treating, consider one of these safe alternatives:
Look for outdoor experiences where it is possible to socially distance, like corn mazes, night markets, community costume parades, drive-in movies, night markets or apple picking.
Set up a scary movie screening in your backyard if the weather is warm enough.
Carve pumpkins at home with your family or with friends over Zoom.
Find indoor events where social distancing is possible, such as scary stories at the library, scary movies at the theatre with trick or treating, or escape rooms at the zoo.
Have a full moon viewing! There has not been a full moon on Halloween since 2001. This year there will be a blue moon, which means it will be the second full moon in one calendar month.
Whatever you choose to do this Halloween, follow your provincial and municipal COVID-19 guidelines and have fun!