5 Things You Did Not Know About Travel Trailer Insurance in Ontario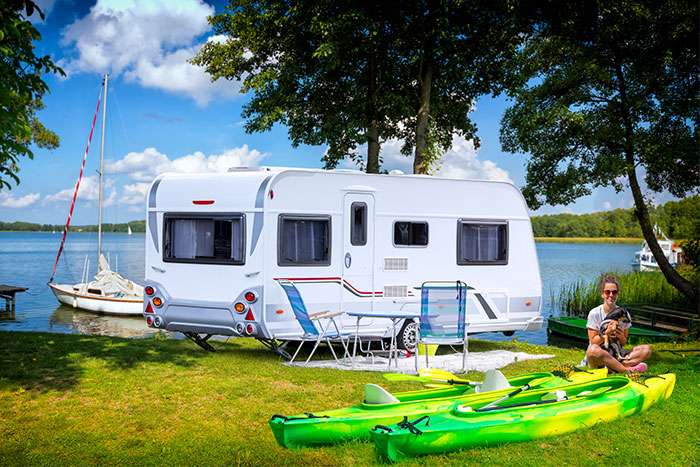 You might be wondering what type of insurance you need to purchase for your travel trailer before heading out on vacation in Ontario. Because of the different types of RVs available, it can be confusing to figure out how to insure your travel trailer.
1. Insuring your travel trailer is not required by law in Ontario, but it is important
A travel trailer is a trailer that is towed by your vehicle or a camper that is transported on the bed of your truck. By definition, a travel trailer is an RV that is not motorized. For this reason it is not legally required to have its own auto insurance policy. You are not obligated to insure your travel trailer. Travel trailers include:
Truck campers
Fifth-wheels
Pop-up tent trailers
Travel trailers
Hybrid travel trailers
Toy haulers
2. Your car insurance partially covers your travel trailer
When you are towing your travel trailer your auto insurance policy's liability insurance covers it. But if you have collision or comprehensive coverage on your auto insurance policy this coverage does not extend to your travel trailer. Your travel trailer is not covered by your car insurance when it is parked.
3. Travel trailer insurance protects your trailer from damage
One of the most important reasons to have travel trailer insurance is protecting your trailer from physical damage. Like your car insurance, travel trailer insurance can protect your investment from a range of risks. You can purchase similar insurance to what you can add to your auto insurance, such as collision and comprehensive coverage.
Collision coverage helps pay for repairing or replacing your trailer if it is damaged in a collision. This includes collisions with other vehicles, the ground, and objects like guard rails.
Comprehensive coverage protects your travel trailer from unexpected risks not associated with a collision such as vandalism, theft, weather, water damage, windshield damage, fire, falling objects, and lightning.
You can also purchase all perils coverage, which is a combination of comprehensive and collision insurance, or specified perils coverage, which protects your trailer from risks listed in your policy.
If your travel trailer is expensive or you would not be able to repair or replace it if it was damaged you should consider protecting it with travel trailer insurance.
4. Travel trailer insurance protects you from liability claims
Because your travel trailer is not covered by your auto insurance policy while it is parked, you should have liability insurance through your travel trailer insurance policy. Accidents happen and someone could be injured in your trailer and file a claim against you. Third-party liability insurance covers legal expenses associated with a liability claim, compensation for medical bills and lost income for the injured person or damage to another person's property. These types of expenses can add up quickly and could easily total more than you can afford to pay.
5. Travel trailer insurance protects your contents
Just like contents coverage is an important part of your home insurance policy, it is an important benefit of travel trailer insurance. If your trailer was damaged or destroyed the personal property inside would be covered, including items like appliances, electronics, clothing, jewelry, and household items. If your trailer was damaged or destroyed, replacing your contents would be expensive and many people would not be able to afford it.
Protect yourself and your trailer when you travel
Travel trailer insurance has many benefits and you will be glad you have it if you experience an emergency while on vacation in Ontario. It is customizable and will protect you from many risks if something goes wrong. You can even purchase coverage for roadside assistance, alternative transportation, pet injuries, and many other vacation-ruining circumstances that you do not want to be unprepared for on the road.