As a farmer, yes, you really do need hail insurance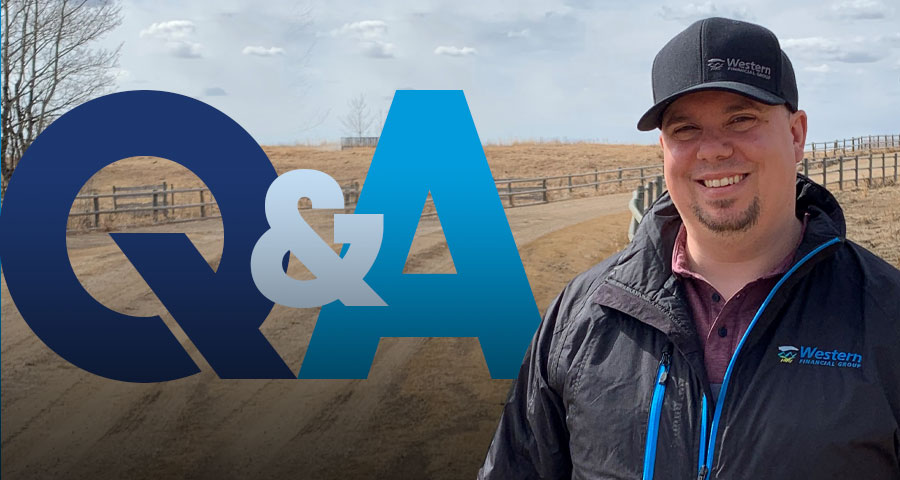 Branden Smart is a licensed account executive with Western Financial Group. A farmer with over two decades of experience under his belt, he is uniquely positioned to offer crop hail insurance — he's been providing Alberta's farm producers peace of mind for 16 years. Branden is on Western's crop hail insurance team with experts serving British Columbia, Alberta, Saskatchewan, Manitoba and Ontario.
What does serving farmers an important product such as hail insurance mean to you?
I grew up on the family farm growing cash crops and raising cattle. I have a lot of respect for what our agriculture producers go through and also the risk they're faced with regarding storms and hail. The farm is a well-respected pillar in our Canadian economic system. It's important for us to provide products that protect the farmer as well; they're an essential service to our provinces and country. I feel good being able to offer them a product that is just as essential as they are.
Why should customers come to Western Financial Group for their hail coverage?
Western has many product partners that we can broker and search for the right crop hail insurance coverage that fits clients' needs. Every company we work with offers different ratings on townships and ranges. We can even do splits between the markets that are more favorable in some sections than others. As insurance brokers, we provide individual personalized service. We're here to advise you on the products that are available, different deductible limits and answer your questions. Our experts have been serving Canadians the right insurance for more than 100 years. I'm a proud member of that Western family. Our specialized, trained individuals are ready to help clients whether they're looking for a tractor addition, farm liability placement or crop hail insurance. We do it all.
What would you like to tell farmers about crop insurance that they should know?
A lot of customers have an understanding that crop hail insurance is exactly what it says it is; it's hail. However, there's also a fire component to it, which is very interesting. You could get dry weather in the course of a year and fires could occur, which would leave all that crop sitting out exposed. Hail insurance will cover that off as well. A lot of farmers who have been buying for years don't even know that. Also, many markets have sales capacity limits and once they've hit that threshold within the year, they can close down early. Then it's impossible to buy any insurance from that provider. It's very important for clients to purchase early if they're looking to buy crop hail insurance. Lately, we've been seeing companies sell out even in early July.
Finally, many farmers feel that the Agriculture Financial Services Corporation (AFSC) is the only option. We want everyone to know that we have access to hail markets that can provide a competitive alternative or value top ups.
What are the best months to purchase crop hail insurance?
The clients who purchase and are adamant about buying it yearly are usually doing so in early to mid-June. However, that does fluctuate with crop cycles, rain, growth and sun. If you have a winter where the fields thaw late, that can push that back a week or two. When those crops are going in, it's always a good idea to start pulling quotes. It's free to quote, so it's a good time to look into product options.
Do I really need hail insurance?
It's definitely a very important product. When people have crop write-offs during a bad weather year, what is it that's going to replace that income on that farm. What's going to make those machinery payments? What will cover your input costs? Having coverage for all these is every bit as important as covering that tractor, that combine on your commercial farm policy. With crop hail insurance, you're essentially covering your revenue stream for your business.
How do I know I have the right insurance for my crops?
The key is to watch your values on what your crop is worth. It's different for barley, canola and other varieties. Everyone is different on what they want to place. Some are looking to just cover expenses and their input costs (fuel, seed, fertilizer and chemical). Others are looking to cover profit as well. It depends on what you're looking for, but it's important to have that value well defined.
What information do I need to provide to get hail insurance?
If you're just looking for a general quote, typically we'll need township and range. If we're placing the coverage for you, we'll require your full land location. Additionally, your crop variety is always very important as canola, your cereals and hemp products are all at different ratings. We need to know what that variety is and then what value you wish to place.
Is there a certain amount of loss that is required to trigger a hail insurance claim?
Some markets are a little different. The average is 5 per cent damage to trigger a claim. Fluctuation for a total write-off on that crop, starts at 85 per cent and some are 90 per cent to trigger 100 per cent coverage for a total loss.
Why is it important to always read your hail insurance policy?
Most importantly, you'll want to read to ensure there are no land location or acre errors. The number of acres per quarter section will differ and we want to make sure it's coded to the right location. We don't want anything out on land location or township, range or section that has to match explicitly.