Boat insurance for Canadians - Our expert Vera Young details the facts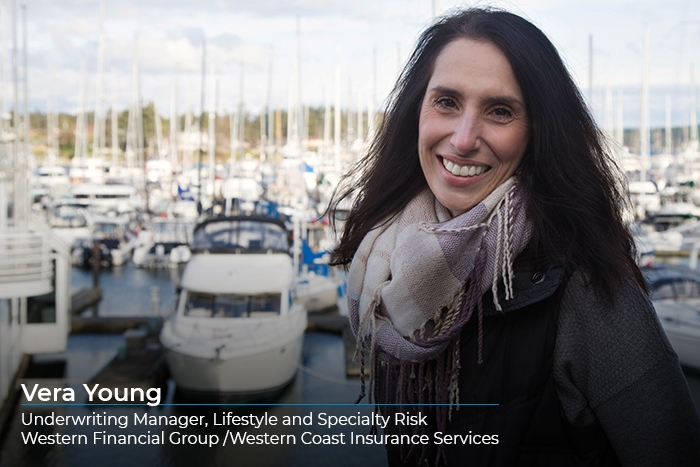 Vera Young, underwriting manager for specialty risk at Western Financial Group and our division Western Coast Insurance Services, is one of our experts on our boat insurance team. From bow to stern and port to starboard, you're in good hands when it comes to the security of your boat on and off the water.
What makes our boat insurance team stand out for customers?
When it comes to insuring boats and marine craft, we are the dedicated specialists — that's all we do. Our team of experts is licensed in multiple provinces and territories, including British Columbia, Alberta, Saskatchewan, Manitoba, Ontario, the Yukon and Northwest Territories. As insurance experts, we access top of the line insurance companies with which we place your boat insurance. We know the coverage, have a keen understanding of the industry and are ready to answer your questions.
What are some key considerations I should make when shopping for boat insurance?
Between the insurance companies that our experts access, along with our own products, Western Financial Group can insure nearly every boat. You should consider what coverages are important to you (physical damage, liability etc). Our insurance experts will also need to know where your boat will be used, its desired purpose, where it will be stored and who will be using the boat. You may be eligible for discounts and savings, so our insurance advisors will ask if you have any boating education under your belt or plan on getting it in the future. We inform our clients that the policies are written for a year and that they do take into account when you are using the boat in addition to when it is stored.
Why should I insure my boat year-round?
The policy continues its coverage while the boat is in storage. You'll still be covered for fire, theft, falling objects and snow load to name a few. In the event the boat will not be used in the summer, full term coverage provides great value as the boat may still be subject to covered losses. In knowing that marine policies are annual, it's not practical or cost effective to cancel mid-term, as there is usually no refund.
What do I need to know about my coverage when I'm storing my boat?
Insurance companies know you are not going to use your boat for the entire year and that there will be a portion of that period when the boat is going to be stored and out of use. The policy encompasses that. Some people keep their boats in the marina year-round, especially on the West Coast where the waters do not freeze. Your policy covers the boat in and out of the water as well, even if it was to be in a storage facility.
If there's snow on top of my boat in storage, is that an additional coverage?
Most of the companies cover it. There might be one or two that exclude it. This is when it is important to work with our experts and understand the product being offered. Keeping our insurance team informed about boat usage and where it is going to be stored is vital. We want you to have the coverage that suits your needs and protects your boat.
Do I need any additional insurance coverage if my boat is moored at a marina?
Most marinas require that boat owners have liability insurance, especially your protection and indemnity liability insurance. That protects their interests. If something happens to your boat and damages their dock, that policy would respond to fix the damage, or to any other boat nearby. Talk to our experts today about indemnity liability insurance and learn if you should be covered.
What are the important coverages involved with boat insurance?
Most of the boat insurers offer all-risk coverages, as opposed to named peril. The policies are typically all comprehensive. Any differences between them would be regarding the loss settlement:
Agreed Value is where the insurance company agrees to the value of your boat, based on the bill of sale, at the time of binding/quoting. If there was to be an insured loss, there would be no deduction based on depreciation.
With Actual Cash Value, the insurance company with which your broker has placed your coverage has the option to calculate and apply depreciation if a claim were to occur.
If the boat qualifies, some insurance companies offer Replacement Cost (new for old). This mean that if a boat is written off in the first two to three years of its life and if you are the original owner, they will replace it. Some companies have been known to go up to 125 per cent of what your boat is worth.
A lot of clients believe that if something happens to their boat, they will always get a brand new one — that's not the case. They're only going to get what their policy limits are and sometimes less than that if it is based on actual cash value. Let our experts help explain these important differences to you.
Boat insurance includes coverage for the physical boat itself, and additional endorsements exist for the hull, as well as the main motor (inboard/outboard, jet etc.). Then, of course there's marine liability. Under that section, most insurance companies will offer coverage for loss of use and emergency towing.
If your boat breaks down and you need to be towed back to the marina or if you run out of gas and you need somebody to bring some out to you, it is usually covered there. Companies can also offer coverage for additional items like auxiliary outboard motors, tenders/dinghies, boat houses and boat trailers.
Can my home insurance policy cover my boat?
Your insurance advisor can add a boat to a home policy, yet this often provides far more limited coverage than the robust nature of a full boat policy. For example, regarding liability, boat recovery or environmental losses, most home policies will not respond to this type of loss.
Is there a difference between sailboat and motorboat insurance?
There is no difference; it's the same policy. However, sailboats have more components to them, like the sails, the mast, the rig, but really the coverage is the same. Most companies will allow sailboats to do racing under sail whereas this is an insurance exclusion for power boats.
What should I know about watersports liability?
Most insurance companies we work with automatically offer liability which includes coverage for water sports. However, if the coverage is for a personal watercraft, then the company may require additional information and charge a different premium. Some companies cover scuba diving, others don't, yet your basic wakeboarding, water skiing is covered.
Are there any provincial differences when I'm traveling with my boat?
No, we just need to understand where your boat is going to be used and that you have the right territory marked on your policy for that use. The coverage must reflect the navigation area in which the boat will be used. This includes the transport from one location to another. If you're doing something outside that navigational territory, you should call your broker and let them know. There's typically no extra cost; we just want to make sure if you are going to be traveling outside your area.
Does Western sell insurance coverage for long distance sailing?
We insure boats around the world for offshore use. Many of our clients travel freely. The coverage is similar to what we sell locally yet is geared to international. We have conversations with our clients every year so we know where they plan on going that year with their boat and the waters they plan to navigate. The policy is tailored to their navigational area for that year. We have people sailing the Mediterranean, the Caribbean, the South Pacific, offshore near Mexico; we have clients everywhere.