Canada's #1 Spot for Hail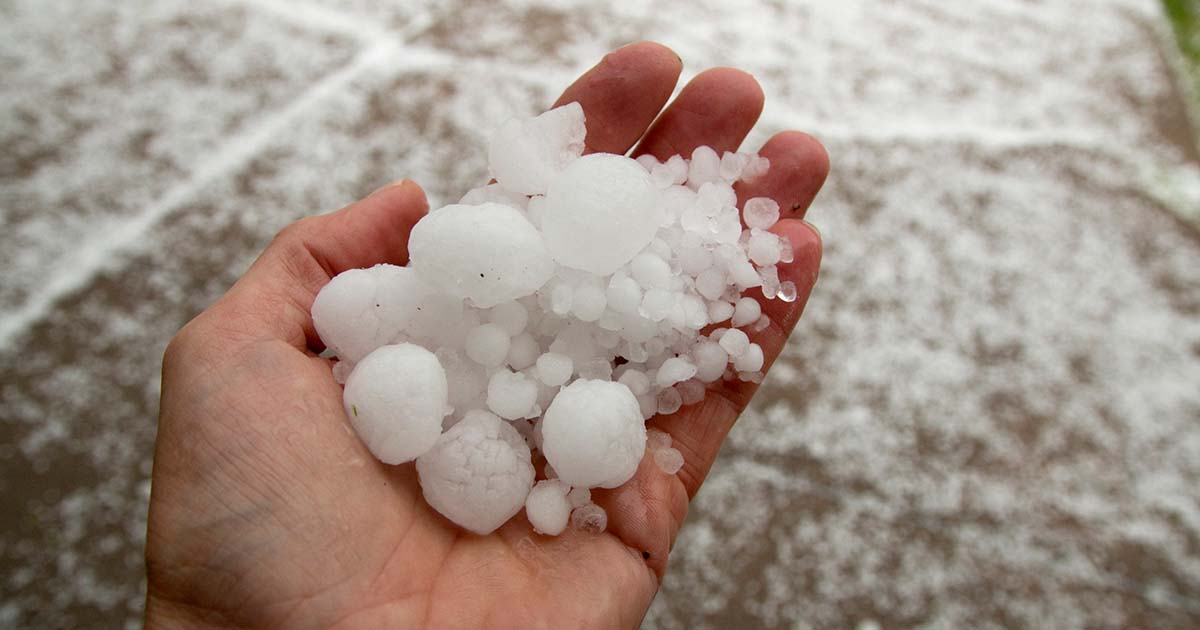 Southern and Central Alberta take Canada's No. 1 spot for hail.
It's called Hailstorm Alley and it stretches from High River to Calgary, through Red Deer to Lacombe and then westward to Rocky Mountain House. It's also called Hail Alley, which is described as the region between Edmonton and High River. Take your pick. Whatever you call it, this area is known for destructive hailstorms and it's Canada's No. 1 area for hail.
What causes hail
Hail forms in the core of a thunderstorm. When drops of water freeze together in the cold, upper regions of thunderstorm clouds they are pellets or chunks of ice called hailstones. They increase in size as more water freezes onto their surfaces and when they get too heavy, they fall as hail, producing a hailstorm. The ice pellets can become bigger, heavier and cause more damage if they collect more water on their way down. They are not frozen raindrops.
Hail can grow larger than 10 centimetres -- the size of a grapefruit, notes Environment Canada. But they can measure between 5 millimetres and 15 centimetres in diameter, and they can be round or jagged.
Environment Canada says that hail can hit the ground at 130 kilometres per hour, like a blast from the sky. A hailstorm can cause severe damage to crops, houses and buildings, and vehicles as well as injuries to people and animals.
Why Southern and Central Alberta take the #1 area for hail
It's location, location, location. The #1 spot for hail in Canada has everything to do with geography. Bordered by the Rocky Mountains with flat croplands that provide moist air, the geography can create the perfect conditions for hailstorms. The icy and dry currents from above the mountain peaks mix with the low moist air levels, creating conditions for a hailstorm.
This area gets the most intense and destructive hailstorms in Canada, which have caused more than $2 billion in damages in recent years.
Calgary is Alberta's #1 city for hailstorms
Calgary is at the heart of Hailstorm Alley. The city has had five damaging hailstorms between 2010 and 2020 and is Canada's No.1 city for hail.
The June 2020 Calgary hailstorm caused more than $1.3 billion in damages and ranked as Canada's 4th costliest natural disaster, according to the Insurance Bureau of Canada. So far, it's the costliest hailstorm in Canadian history. There were approximately 70,000 claims with the majority insured damages to personal property and vehicles, with a smaller percentage to commercial property.
In July 2014, this Calgary hailstorm caused about $450 million in damages.
In August 2012, was hit by two hailstorms. Insurers estimated the combined damage claims of the two storms totalled about $200 million.
In July 2010, baseball-sized hailstones hit Calgary properties, causing about $400 million in damages.
Insurance for hailstorms
What happens if your car or truck are damaged by hail? If you have comprehensive vehicle coverage and a declaration for storm damage on your insurance policy, the answer is likely yes. Most comprehensive policies will cover hail damage on your vehicle, but you need to check the fine print of your policy.
Home insurance covers hail (and wind damage) to the outside of your home. This includes siding, windows, and the roof. Siding and windows are generally covered at replacement cost, which means that you would be reimbursed for the cost of replacing them if they were damaged.
If your roof is damaged, there may be out-of-pocket expenses for damage to a roof in the form of a deductible or depreciation.
If you live in Canada's #1 area for hail, you should check your car, home or businesses policies and speak to your insurance expert to be prepared in case you are affected by hail damage. If you are a farmer, hail insurance is a way to protect your crops.
Alberta Hail Suppression Project
The Alberta Hail Suppression Project has been running since 1996 and its goal is to mitigate the amount of hail damage affecting urban property like homes and vehicles. It's funded by the Alberta Severe Weather Management Society, which is a non-profit organization established by insurance companies.
The project uses cloud seeding, a process involving the use of silver iodide in the form of smoke to produce ice crystals that are believed to reduce the size of hail. This process turns hail that could reach the size of a golf ball into smaller hailstones or rain before reaching the ground. It's expected that smaller hailstones or rain would not damage property and would avert major losses.
The area seeded runs from just south of High River, all the way up to Rocky Mountain House and Lacombe. This covers the cities of Calgary, Airdrie, Red Deer, Okotoks, Cochrane, and others within the protected area. Five seeding planes operate from June until mid-September in Hailstorm Alley.
Effectiveness of cloud seeding
Cloud seeding does not make storm clouds disappear and does not eliminate hail, but it can reduce the size of hailstones. However, its effectiveness has been debated.
There also have been concerns over the use of silver iodide in storm clouds, but the quantity used is quite small compared to the amount of water in the storms. The level of silver iodide found in storm water that has been seeded can be compared to the natural level of silver iodide found in surface or tap water.