Caring for our customers - Western puts health and wellbeing first during COVID-19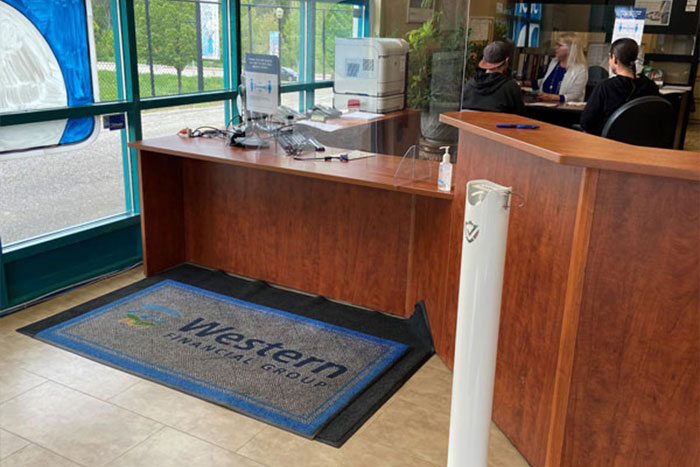 Since the COVID-19 virus hit the world in March 2020, it has impacted all of us differently. At Western Financial Group and our divisions, we adapted to become even more flexible and innovative in how we deliver services to our customers safely and efficiently. As always, the health and wellbeing of both our people and customers is at the core of how we operate our business.
Walking the Walk
At the beginning of the COVID-19 pandemic, we immediately mobilized resources and our efforts to cope with the new reality facing the world. The most consequential action that we, as Western, took was the formation of the COVID/Business Continuity Planning Response Committee.
This team met on a daily basis during the beginning stages of COVID and continues to meet to this day. Members include, but is not limited to, senior management and our executive team. Everyone is tasked with monitoring all Western branches along with our regional and head offices for impacts from COVID-19. Prior to reopening our branches to walk-in traffic, all locations had the correct personal protective equipment (PPE) to keep customers and our employees safe.
Research – COVID Directives
One driver of what actions Western must undertake to deal with COVID are directives from all levels of government – ranging from mandatory masking to capacity limits. These are monitored on a real time basis and disseminated to the committee immediately to drive the various responses from Western. Western also has frequent discussions with governmental agencies (i.e. Work Safe BC) to ensure COVID safety protocols are properly followed.
Communications
Communication to internal and external stakeholders is of paramount importance whenever crisis situations arise. Our communications, digital and marketing teams work tirelessly on communications related to COVID (i.e. safety posters, mandatory masking, social distancing, capacity limits, branch / office closures, good hygiene best practices etc.)
Facilities Team
Western's facilities team is also an integral part of keeping our branches, as well as our offices safe. Facilities ensures that locations are cleaned on a daily or ad hoc basis to the strictest sanitation guidelines and PPE (ie masks, sanitizers, Lysol wipes, plexiglass barriers) is in place. This team is also in constant talks with landlords to ensure safety standards are adhered to, procure COVID safety signage and determine government maximum capacity limits for staff and clients.
Caring for our people and customers
Throughout COVID-19, our committee has not hesitated to close branches or offices when necessary. The health and safety of both our employees and customers is vital. We have also accounted for the impact of closed schools and daycares on our employees and have made accommodations in these circumstances.
Enhancement of sick days for employees
We have also greatly extended and/or increased the number of sick days (since COVID hit) for our employees. By taking this proactive action employees would not be hesitant to take sick days because of possible exposure to COVID, purported cases of COVID or positively tested cases of COVID.
Customer Customer Customer
We put client experience at the core of everything we do. COVID-19 has further committed Western to find innovative methods of providing service to our clients in a safe and efficient manner.