Celebrating the Contributions of Employees with Disabilities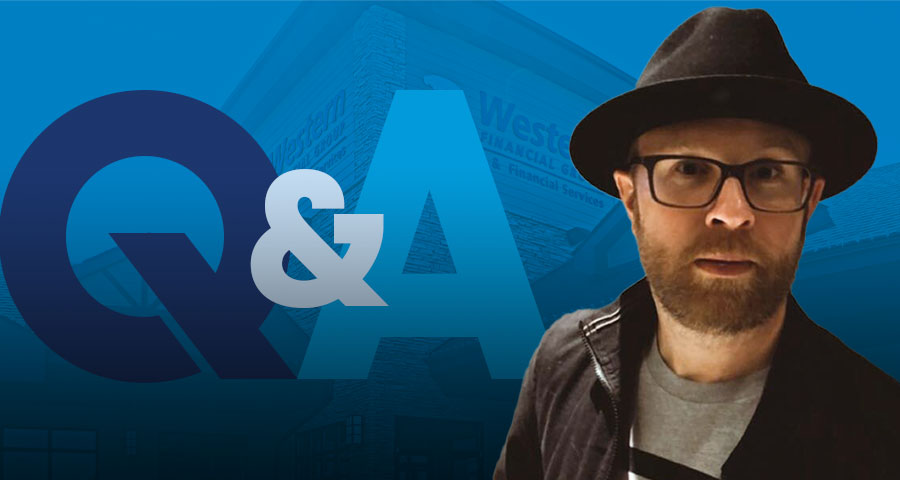 October is Disability Employment Awareness Month (DEAM). We take this month to celebrate and recognize the contributions of employees in the workplace living with disabilities. It's also a time to educate employers and the public about the value of an inclusive workforce that welcomes all abilities, talents, and skills.
For DEAM this year, we are pleased to feature Ryan Arbuckle, a Commercial Account Executive at Western Coast Insurance and Western Financial Group. Ryan lives with his wife and three dogs in Shawnigan Lake, BC.
Ryan is not only a former Para National Champion cyclist, but he also volunteers as a cycling team manager, sits on many volunteer boards within Canada, volunteers for Sportability of BC, and assists athletes who cannot afford to be trained professionally.
We recently sat down with Ryan to discuss living, working, and competing with a disability.
Q: Does confidence make a difference when you have a disability?
A: That's a hard question, you have to be comfortable with yourself and own who you are as a person. If you don't, others around you will see that and might feel sorry for you. However, what others may not see is the opportunities that could be presented to you if you are confident. Although some people with any aliment find it hard to be confident within their own skin. It really starts at an early age with knowing there is no such word as "can't." There is always a way to do something. Sometimes you just need a little help. We all do!
When I was younger I had the opportunity many could only dream of, I was one of the lucky few who were on the national cycling team. And I was able to sustain a high level of competition for 8 1/2 years. Most commercial account executives tend to be boisterous, and I will admit I am too, but everyone has their own accomplishments in life.
For me, one of those achievements is being a five-time Para National Champion and multi-time world medalist and being in many events throughout my cycling career. It was an amazing experience to travel all over the world and be able to ride my bicycle. Although it is just as rewarding now to give back to the community that afforded me so much joy.
Q: How do you look at yourself?
A: I am a person, I do not think of it any other way. Yes, I have an aliment but it does not make me any different from anyone else. I don't let it affect me, nor do any of my friends or family.
Every person has something whether it's seen or not. If we can just own it, we can grow as people. We can grow as a society.
Q: How has competitive cycling shaped your outlook?
A: I believe it shaped my outlook greatly. It taught me how to set goals, achieve them, deal with high stress situations/ the failure of not achieving what I set out to do and the work ethic it takes to be where I wanted to be. Although my family and friends assisted along the way, too. In many other ways, though, it opened my eyes to how many people in the world have some sort of ailment. I don't call it a disability. I call it an ailment because everybody has something whether it's seen or not.
Some of the athletes were blind and they were riding tandems with an able-body pilot (which is the front person on the bike), some of them were on trikes, and some of them were in wheelchairs. But their stories made them who they are.
Many athletes would say how they came to be disabled, whether they were in the military and they had an injury from one of their tours, or if they were born with it. It helped me understand that I don't have to be ashamed of who I am. Although I was never ashamed of it anyway because my family wouldn't allow that.
In saying that, I honestly think it afforded me a lot of opportunities over and above if I were able-bodied. There's no way without my earlier life experiences I could give back in the capacity that I am able to now. Cycling is one of those things that has deeply affected how I look at life.
Q: How did you come to Western Financial Group/Western Coast Insurance?

I came from another company that I had a falling out with, but when one door closes another opens and this was my opportunity to become a commercial account executive. Although before coming to the Western family, I knew it well since my wife works for us too. It was wife's boss, at the time, who recommended me to the commercial department manager.
Q: Has the increased visibility and representation of people with disabilities in the media and different areas of society helped to reduce stigma?
A: Yes, the visibility of the Paralympics, other sports, TV shows, movies, etc., are all having people talk about the stigma and changing their outlook on people who have aliments.
Moreover, it is making people with any sort of ailment (or whatever you want to call it) be more open/ forthcoming and becoming less ashamed.
In the case of many para athletes, they are now being offered amazing sponsorships much like able-bodied athletes. Not to mention para athletes work just as hard, if not harder, to achieve those goals with adaptations in most cases.