Climate Change Contributing to Wildfires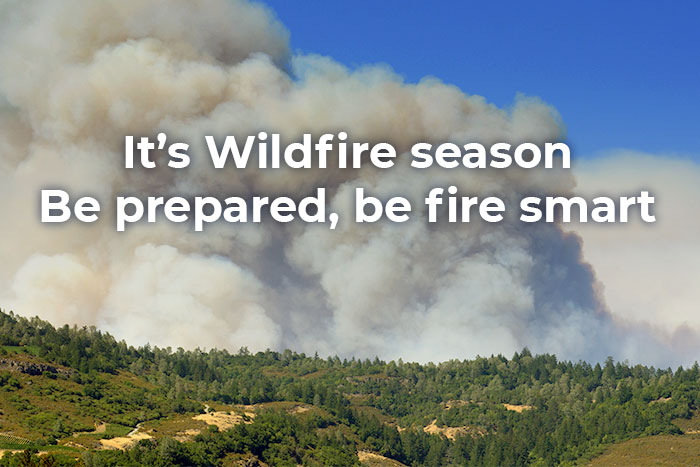 Extreme temperatures and catastrophic wildfires have been making headlines recently, with Natural Resources Canada's National Wildland Fire Situation Report listing 144 current active fires as of June 30, 2021, seven of which are classified as out of control. Forest fire season is from April to October and forest fires are most common in June, July, and August. There have been 2,611 wildfires to date in 2021 with 386,050 hectares burned. Surprisingly, the current numbers are close to the national average for this time of year and the area burned is well below average.
The Lytton wildfire
The devastating wildfire in Lytton, BC on June 30 burned the small town to the ground in minutes, leaving little or no time for the town's 250 residents to evacuate and resulted in at least two deaths. The cause of the fire is being investigated and residents saw a train braking, followed by smoke. Former mayor Chris O'Connor told Global News that he believes that the fire was started by one of the many trains that go through the area and CN Rail is assisting with the investigation.
Lytton broke the Canadian heat record for three straight days leading up to the fire and reached temperatures over 46.6 degrees Celsius on June 27, 47.5 on June 28, and 49.5 on June 29. The previous heat record of 45 degrees was recorded in 1937 in Yellow Grass and Midale, Saskatchewan and the BC record was 44.4 degrees in Lytton in 1941.
Climate change is a contributing factor to extreme weather events
Lytton is just one of many tragic examples of the devastation that can be caused by wildfires and demonstrates how easily a forest fire can start in the right conditions. According to Climate.gov, extreme heat is one of the extreme weather events that ranks high on the list of events that are influenced by climate change. Also high on the list are extreme cold, droughts, and extreme rainfall. The influence of climate change on wildfires in general and for specific events is not understood as well as for other extreme weather events but there is no denying the influence of drought and extreme temperatures on wildfires.
Wildfire prevention
Wildfires are necessary for the diversity and health of the ecosystem and not all fires can or should be suppressed but about two-thirds of forest fires are caused by people. Living in an ecosystem prone to forest fires brings with it responsibility for protecting your community and environment.
Find out about current fire restrictions and bans in your area before building a fire. Information about the fire situation in each province and territory is available on the Red Cross website here: https://www.redcross.ca/how-we-help/emergencies-and-disasters-in-canada/types-of-emergencies/wildfires/wildfires-information-facts
Only start campfires when no restrictions are in place and in fire pits. Never leave them unattended.
Do not start fires on windy days.
Always make sure to extinguish your fire completely before you leave.
Dispose of matches and cigarette butts in a cup of water or closed container.
Keep matches and lighters away from children.
Do not burn garbage or yard waste unless it is allowed by your municipality and do it in a fire pit or 50-gallon drum. Do not burn anything that is highly combustible.
Use fireworks safely and have water or a fire extinguisher. Always make sure they are extinguished completely. Do not let children use fireworks and avoid lighting them in windy conditions.
Do not park hot cars or machines in dry grass and do not allow oil or gas to spill on vegetation.
Off-road vehicles, tractors, and equipment like chainsaws need to have spark arrestors.
Be involved in fire prevention efforts in your community.
Evacuating during a wildfire
If you live in a fire-prone area, you need to be prepared to evacuate if necessary. Follow these instructions from the Canadian Red Cross.
Watch the news and weather forecasts and be aware of local conditions and the advice of local authorities. Follow news outlets and emergency officials on social media.
Keep your gas tank full.
Have an emergency kit in your home that includes everything you need to survive for at least three days. You should have a first aid kit, food, water, your emergency plan, medication, extra keys, documents, a flashlight, a radio, cash, a cell phone and charger, and any other items you may need.
Have an emergency plan and make sure everyone in your family knows what to do in an emergency and how to evacuate everyone, including pets, whether they are at work or at home. Know what route to take out of your neighborhood and make sure to have an out-of-town emergency contact.
Livestock should be evacuated if possible or left unsheltered.
Learn about procedures and alerts for your community.
An Evacuation Alert means you need to be ready to evacuate.
An Evacuation Order means you should evacuate immediately.
Have practice drills so you are ready in an emergency.
If you need to evacuate soon, be aware of road closures. Park your car so you can drive forward out of the driveway and have your valuables ready to pack in the car. Move combustibles away from the house.
Do not re-enter your home unless officials have authorized you to do so.