Insurance For Your Alberta Construction Business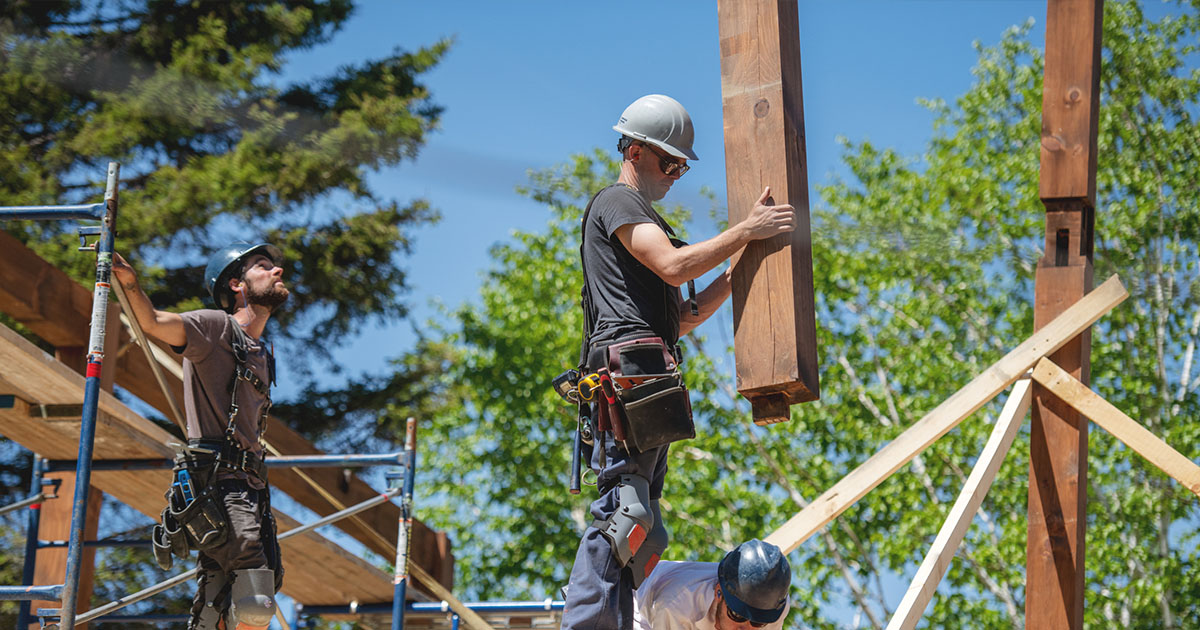 You construction business can face on-the-job risks with new home or commercial builds or other projects.
Protect your Alberta construction business with the right business insurance package.
What kind of construction insurance do I need?
A construction insurance package is a group of coverages that will protect your business. It should include protection against on-the-job risks that you face, such as third-party bodily injury and property damage.
You may be asked for proof of insurance with prospective clients and many lenders will require it.
Commercial General Liability Insurance: Construction sites can be dangerous places, especially for any visitors. If you were sued, commercial general liability insurance would cover the legal costs to defend the claim against your business in court, as well as costs to cover damages to compensate third parties.
It's recommended that you should have at least $2 million in coverage. The amount of CGL you need will depend on the size of your construction business and the work you do.
What kind of risks does commercial general liability (CGL) cover?
Injury to another person who is not your employee
Damage to someone's property
Damage to rented property
Medical bills if someone is injured
Legal costs and settlement costs of liability lawsuits filed against you
Liability lawsuits related to slander and libel
Commercial Property Insurance: Whether you rent or own your business location, this type of insurance can provide financial coverage in the case of a fire that destroys or damages your business property and its contents.
Commercial property insurance also protects your place of business or office and its contents from damage or loss related to severe weather, natural disasters, theft, and vandalism.
Mobile Property Insurance: If you regularly move equipment across different locations, mobile property insurance provides coverage for property that you don't store at a fixed location, or for equipment routinely taken offsite.
Mobile property insurance covers transit and theft that could happen due to property not being stored in a secure location, as opposed to commercial property insurance that covers property generally expected to be in a designated location.
Tools and Equipment Insurance: You need have tools and equipment insurance. This type of insurance provides financial protection for any transportable tools or equipment that your construction business uses to complete their work projects.
Tools and Equipment Insurance can provide reimbursement to repair or replace tools if they are lost, damaged, or stolen. Insured events apply to tools and equipment that are vandalized, stolen, lost, or damaged by fire or flood.
Any item valued at less than $1,500 is considered a tool. Anything valued above $1,500 is considered equipment.
Course of Construction: Course of Construction Insurance, also known as Builder's Risk insurance, insures buildings or projects under construction against the costs of repair or replacements in the event natural disasters such as a flood, fire, explosion, theft, or vandalism. It should be considered as essential to your construction business.
Construction Bonds: Construction bonds are often a requirement of construction business owners for many different types of projects. The need for bonds will be left up to the owner of the job and the level of security they feel comfortable allocating to the construction work being done.
Construction bonds may be required on both public and municipal contracts, as well as private projects and builds.
Some examples of projects that are often bonded include: Commercial and residential developments, road building, road maintenance, street lighting contracts, bridge building, hospitals, prisons, and site servicing for mechanical and electrical works.
Here are some different types of bonds that can be required:
Surety Bond: When you accept a job, you are obligated to complete it. A surety bond, or contractor bond, will pay your customer if your construction business does not complete a job. You can obtain a surety bond for a specified amount from your Western insurance business expert.
Bid Bond: A bid bond is a financial instrument that's used as a proof of commitment for a you as a construction business owner to submit a tender price for a specified project. These are typically provided in the amount of ten percent (10%), but can also be a specified dollar amount ($) or other percentage.
Performance Bond: It guarantees the performance of construction works outlined in a contract that has been awarded to a contractor. These bonds are conventionally in the amount of fifty percent (50%), but can be up to 100% of the contract price.
Labour and Material Payment Bond: It's a document that provides security for your construction business's sub-contractors and suppliers in the event that you are unable to pay them. It's usually 50% of contract value requirements but can be issued for up to 100%.
Business Interruption Insurance: This coverage supports you when your construction business can't operate due to a covered loss.
Some examples include:
Damage to your equipment from fire or vandalism
A major reduction in revenue due to a client/supplier facing losses of their own
A disruption in your supply chain
Business interruption insurance can help with expenses such as:
Payroll
Rent
Utilities
Property taxes
Alarm monitoring
Relocation of your business
This type of insurance can be the difference between recovering from a loss and closing permanently.
Commercial Vehicle Insurance: When you or your employees are on the road travelling from the shop to a job site and anywhere in-between, commercial vehicle insurance may cover your vehicles in the case of an accident. Your personal vehicle insurance will not cover you in the case of an accident.
Workers' compensation
Most employers in Alberta are required by law to have workers' compensation insurance for their paid and unpaid workers.