Create Your Dream Backyard Living Room in 4 Easy Steps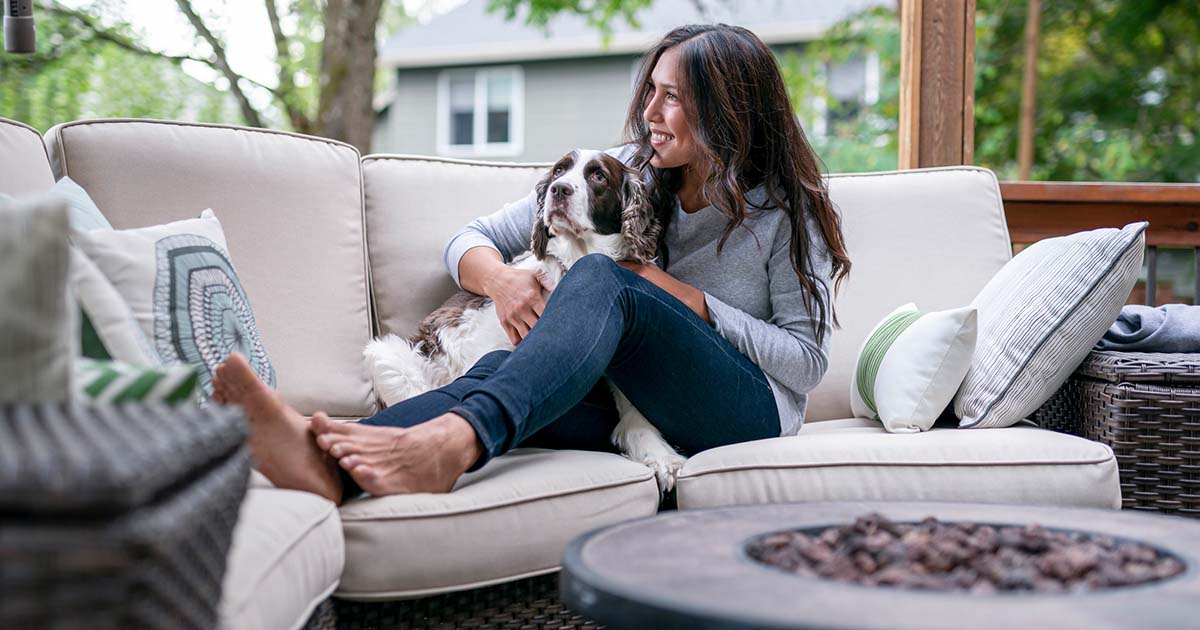 Use these easy tips to create a living room in your backyard that will make you want to stay outside until winter while increasing your home's resale value.
It's estimated that well-designed patios not only add 8-10% home value, but also earn a return on investment of 80%, notes extraspace.com. You can create any kind of outdoor living area with a little imagination and practical use of your existing space.
1. Choose a concept
Pick a main idea to work from when creating your backyard living room. What inspires or relaxes you? What do you wish you had room for indoors? You can take just about any concept outside and make it great. Choose an idea like:
A backyard kitchen
An outdoor kitchen is perfect for entertaining and you will have room for all the toys you wish you had inside. You can incorporate a barbeque or even a pizza oven! Bring out your inner chef while you are entertaining your guests in your state-of-the-art backyard kitchen.
An outdoor bar
If you do not have room for an entire kitchen in your backyard, you can still have an outdoor bar to create ice-cold mixed drinks. It will naturally become a space for friends to gravitate to during outdoor gatherings.
A fire pit
A fire pit or backyard fireplace is a classic focal point for your backyard living room. Share drinks around the fire and roast marshmallows under the stars.
A backyard movie theatre
Whether you want to curate your own film festival or would like to have the go-to game day destination, an outdoor theatre is a great way to entertain or just relax after a long day.
A water feature or pool
Water will become the focal point of your outdoor living room, whether you are an avid swimmer with room for a pool or just want a budget-friendly water feature. Pools, ponds, and fountains are great for creating a soothing summer mood in your backyard living room.
A social front yard
Your outdoor living room does not have to be confined to your backyard! You can move it to the front of your home, which is a great idea if you already love your backyard, it is small, or you would like to socialize with neighbors. Add an outdoor living space and a community garden!
A secret garden
Your backyard living room can include a secret garden in a tucked-away corner of the yard for when you want to get away from it all. Create a hideaway for any budget with walkways, plants, a trellis, or landscaping.
2. Pick a theme
What do you want your backyard living room to look and feel like? Choose a theme to go with your backyard living room concept, like modern, retro, California-inspired, open and airy, outdoorsy, or any other idea you love. Choose colors that go with the feeling you would like to create. Neutral colors are great to build from, or you can go all out with the creative color scheme your family said no to inside the house.
3. Arrange your outdoor space
You can design a cozy living area or one suitable for hosting large events based on your needs and the space you already have. According to extraspace.com, rather than starting over or creating an entirely new space, a "better option for most homeowners...would be to refinish or repair an existing patio, as repair estimates average around $1,400. This can provide an ROI of nearly 500%."
Build your own patio next to your house or in another part of the yard to make your outdoor space more permanent. It can have design elements like pergolas, decorative stones, and privacy walls.
Transform your deck with comfortable furniture, fun colors and cozy blankets.
Add curtains, plants, walls, or doors to create privacy.
Give the illusion of space in small areas by breaking them up into levels. Create a raised garden or sunken patio and divide the space with artificial turf or lawn, decorative tiles, and small walls. Crate a focal point and direct traffic with a pergola or trellis.
Keep your backyard living room cool with sun umbrellas and fans.
Consider multiple seating areas so guests can relax while others socialize. Use plants, seating, columns, and outdoor rugs to create separate areas.
4. Accessorize

Add fun elements like a hanging chair, plants, pillows, and solar or LED lights. Consider sustainable decor that uses upcycled materials, sustainably sourced wood, and natural materials like terracotta pots. Add finishing touches to turn your backyard living room into a masterpiece!